SHOP (Students Helping Our Peers), the campus food pantry that serves students living with food insecurity, is about to get a big assist from another student organization.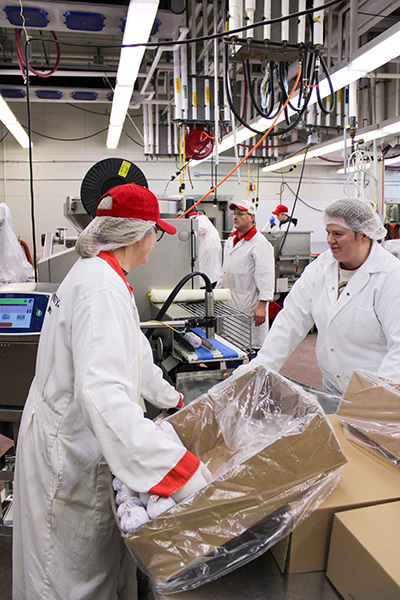 The Block and Bridle Club is teaming with the nonprofit Cactus Cares to donate meat processed by the Iowa State University Meats Laboratory to SHOP on Feb. 24. The student organization raised about $1,500 to purchase protein, one of SHOP's most requested items. Cactus Cares -- the nonprofit of Cactus Feeders based out of Texas and with farms in Iowa -- pledged to match up to $5,000.
Block and Bridle raises money at events it hosts throughout the year. Members also were allowed to wear jeans, sweatpants or leggings to meetings, an effort that raised $700.
"We have worked with SHOP before, and we know the impact it can have on the community," said club president Leah Greiner, who added fundraising will continue past February. "It is something that helps put things in perspective for our members. We may be fortunate enough to not have to visit SHOP, but we know others do, and the fact we are able to impact other students makes it worth it."
This is the first time the meats lab has partnered with a student organization to benefit the pantry, which became possible after SHOP purchased two residential refrigerators and a chest freezer in 2020.
"We will sell them whatever they want to purchase, but we will steer them to ground beef and pork, hot dogs and ham because those are things you can get a lot of value out of," said Matt Wenger, animal science program specialist and Block and Bridle faculty advisor.
Students helping students
The protein mostly is prepared by fellow students who work in the meats lab, from the time an animal arrives through packaging and selling.
Help SHOP
To maximize Cactus Cares' match, employees and student groups can donate money to SHOP through the ISU Foundation. It can be a one-time donation or a recurring amount through payroll deduction. Cactus Cares will match up to $5,000 annually.
"Projects like this allow us to do things on a larger scale and for our students to experience that," Wenger said. "One of our classes does several activities throughout the semester, including boning out hams, and this allows us to have each student work on their own ham instead of three working on one."
Cactus Cares also has a monthly order with the meats lab to benefit other food pantries in the state. That contract provides more opportunities for students to learn the steps of the butchering process, Wenger said. The meats lab is self-supported and recovers much of its costs through retail sales.
Another partnership
In addition to the upcoming donation to SHOP, Cactus Cares recently partnered with the Iowa Pork Producers Association to purchase $15,000 -- about 4,500 pounds -- of ground pork from the meats lab that went to the Iowa Food Bank Association, which also provides food to SHOP.