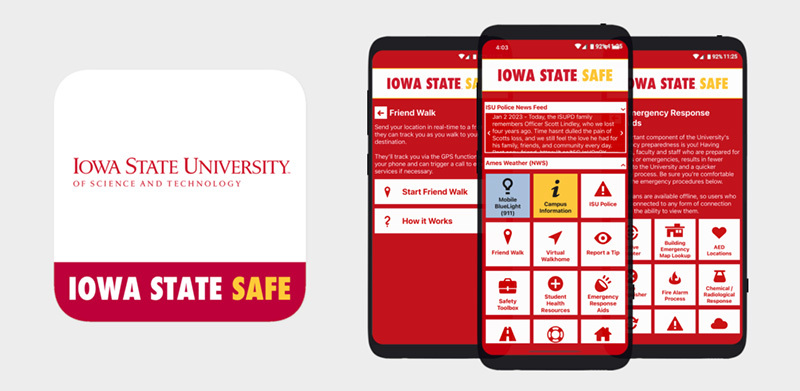 The campus community has more safety options available at its fingertips through the new Iowa State Safe app launched Jan. 19. It replaces ISU Guardian, retains many of Guardian's safety options, and features easily accessible information about numerous units across campus.
Iowa State Safe is powered by the company contracted to provide the ISU Alert system. Users can download it for free through the Apple App or Google Play stores.
"We like the conveniences of this, but we built it as a safety app," said Nick Swanson, director of emergency management in the department of public safety. "This is a simple app to use with defined services that are need-based, not department-based."
Faculty, staff and students can use the app by signing in with their Net-ID and password -- which imports information to autofill when service is requested -- or as a guest. Campus visitors also can use the app as a guest.
Safety features
The app has five safety features to use while walking on campus or when requesting a ride:
Mobile BlueLight: The one-touch button acts as a silent alarm when someone feels unsafe. It serves the same function as the outdoor blue light phone stations before they were removed.
"When someone pushes the button, it pulls up your location on Google Maps and shows ISU police your name, phone number and an officer will be dispatched," Swanson said.
Friend walk: The user sends a text to a friend telling them where they are walking to on campus, and the friend monitors progress along the route through Google Maps.
Virtual walkhome: Operates like friend walk, but ISU police dispatch receives the notification and monitors the individual.
SafeRide: People can request a SafeRide pickup on campus from 6 p.m. to 5:30 a.m. daily. Using the app, instead of calling in a request provides a more accurate pickup point for the driver.
Safety toolbox: Users can chat with ISU police, share their location with friends or report an incident, like a slip or fall.
Other features
The app has an option to send ISU police a crime tip through the app or direct call. Users also can request help with a locked vehicle, report a non-emergency crime or schedule a therapy dog session. Emergency response aids provide information on how to deal with situations from severe weather to fires and an active shooter.
"With this app, we wanted to get away from generic links to websites," Swanson said. "When you click on something in the app, it takes you directly to the information."
In addition to the safety features, the app has one-touch buttons to connect users to a range of ISU resources. That includes the ISU police department, numerous student health resources, CyRide, multiple academic resources, residence department, ISU Dining, student financial aid, office of equal opportunity and the Military-Affiliated Student Center. Many of the links provide a staff directory, the website and a one-touch call button.