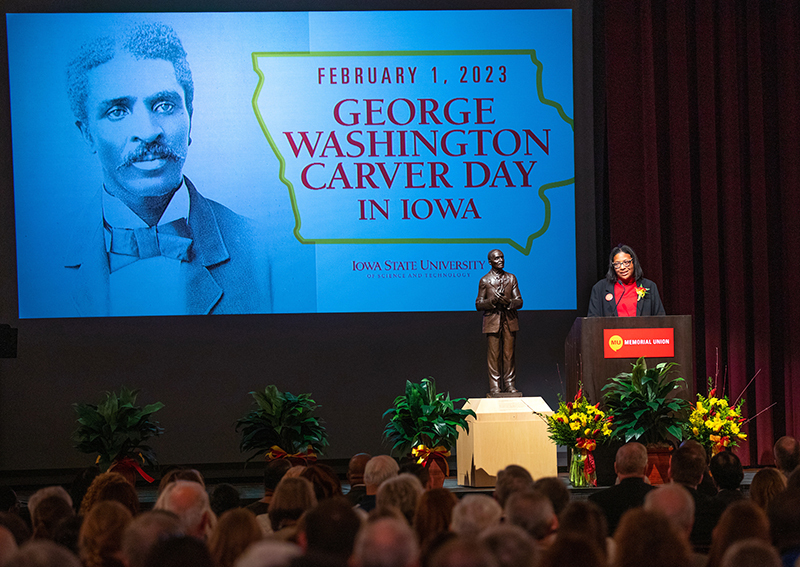 About 450 admirers of alumnus George Washington Carver -- joined by more than 100 online -- celebrated the state's inaugural Carver Day Wednesday evening in the Memorial Union Great Hall. Carver, born to slaves in southwest Missouri in 1864, earned bachelor's and master's degrees at Iowa State, and it was a group affiliated with the university in an assortment of ways that last year pursued the statewide recognition for the plant scientist.
Speakers highlighted Carver's many gifts -- as scientist, artist, writer, Christian, humanitarian, an exemplary life always sprinkled with humility.
"He would often sleep in his lab, and if you notice pictures of Carver, you would often see his suit rumpled, but you never saw a withered flower on his lapel," said alumnus Dewayne Goldmon, who serves as senior advisor for racial equity to U.S. Secretary of Agriculture Tom Vilsack. "As the story goes, he would get so deep into his work he would fall asleep in his lab, wake up in the morning, wash his face, change his flower and go right back to work."
Carver touches
A nod to Carver's work with peanuts, sweet potatoes, cowpeas, pecans and plums, food items served before and after the program included:
Flatbread with sweet potato, caramelized onions, pecans and ricotta and feta cheeses
Flatbread with plums, prosciutto and mozzarella cheese
Chicken satay with Thai peanut sauce
Sweet potato and avocado bites
Peanut butter and plum tea sandwich
Cowpea salsa with tortilla chips
ISU Creamery's Legacy ice cream, a flavor inspired by Carver and alumna Mildred Day (peanut butter ice cream with chocolate-covered rice crisps)
Other Carver-isms:
Each speaker wore a red carnation boutonniere. Carver wore boutonnieres, frequently a carnation, but sometimes the plant he was working with at the time.
The floral sprays near the lectern contained amaryllis, a nod to Carver's thesis research on the plant. Breeding the flower became his life-long hobby.
Also next to the lectern was a bronze casting of the Carver statue that artist-in-residence Christian Petersen created in 1949. It depicts an older Carver holding a single peanut.
Carver stayed on for a bit at Iowa State as the college's first Black faculty member, before Booker T. Washington's invitation drew him to the Tuskegee Institute in Alabama, where he would live and work until his death in 1943.
While Carver appeared on coins and stamps and has had numerous schools and U.S. Navy vessels named for him, his legacy went beyond his scientific achievements, said Olga Bolden-Tiller, current dean of the College of Agriculture, Environment and Nutrition Sciences at Tuskegee.
"Humanitarianism is the true and greatest legacy of George Washington Carver," she said. "Time and again, he demonstrated its four principles: Humanity, impartiality, independence and neutrality."
Agreeing to go to Tuskegee, where he thought he could do the most good and alleviate the suffering of Southern farmers, was one example. Despite his many plant food discoveries, he only filed for a patent three times, preferring to share his gifts at no cost to all people who needed them, she noted.
What they said
The program featured six speakers who talked about different aspects of Carver's life or his legacy.
Dewayne Goldmon, senior advisor for racial equity to the U.S. Secretary of Agriculture:
"As we strive to create a more equitable, inclusive, diverse, sustainable, profitable agricultural system, I think we can learn from the great George Washington Carver. Let me be clear here, 'we' is not just us here in the room. I am talking about the USDA, Iowa State, the ag industry and the stakeholders we all support in order to keep American agriculture in its place. I think we can all take a page out of Dr. Caver's book and ask how good could we be if we were embracing some of his things and resisting some of the negative things that tend to put a lid on our heads?"
President Wendy Wintersteen: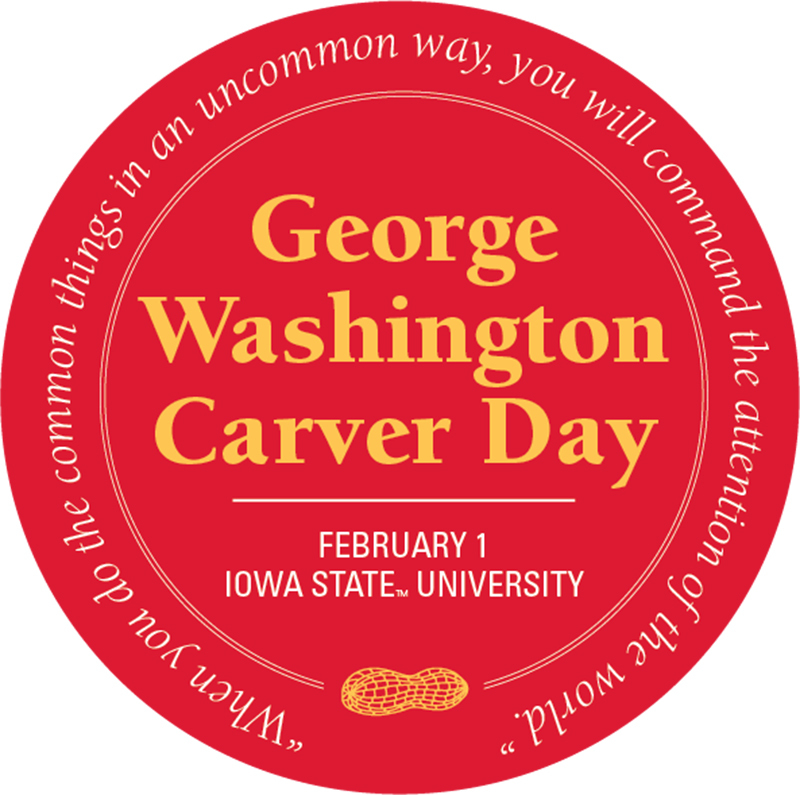 "[Carver's] degrees are important. But what was true in the 1890s and what remains true for our students today is this: The real story is what you do with your education.
"That's why the state of Iowa -- and the Iowa State University community especially -- is so proud to have played a role in Professor Carver's story. We witnessed the beginning of greatness. The roots of an extraordinary, world-renowned career were nurtured here in Iowa, a career that truly reached full bloom in his life and work at Tuskegee."
Olga Bolden-Tiller, dean of the College of Agriculture, Environment and Nutrition Sciences, Tuskegee University, Alabama:
"He had one mission that always centered on helping others, relieving the suffering of others."
Kenneth Quinn, president emeritus, The World Food Prize Foundation, and former U.S. Ambassador to Cambodia:
"Tonight, on this day and forever more, George Washington Carver will have his rightful place in the pantheon of Iowa's greatest agricultural and humanitarian heroes."
Marsha Kelliher, president of Simpson College:
"As Dr. Carver reflected, 'At Simpson College, the kind of people there made me believe that I was a human being.' His legacy lives on at Simpson College, where he has inspired generations of students to pursue their love of science. Every day on our campus, the Carver Science Center is buzzing with students immersed in scientific research and discovery."
Simon Estes, retired opera singer and F. Wendell Miller Distinguished Artist in Residence, department of music and theatre:
"I wish I could have met him. The greatest hope and honor we can give this man is that we as human beings learn to love each other. God is love and God gave life to George Washington Carver. Let's each one of us think about love, kindness and caring about one another. Let's try to eradicate hatred in the world."
Quinn and Estes, both recipients of Iowa's highest citizen recognition, the Iowa Medal, led a team of more than 100 Iowans and Iowa institutions that backed the proposed legislation and worked to see the 2022 Legislature approve it. Gov. Kim Reynolds signed it last June, designating Feb. 1 each year as George Washington Carver Day in Iowa, and encouraging government offices, civic organizations, schools, colleges and universities to recognize Carver's agricultural, scientific and global humanitarian accomplishments.