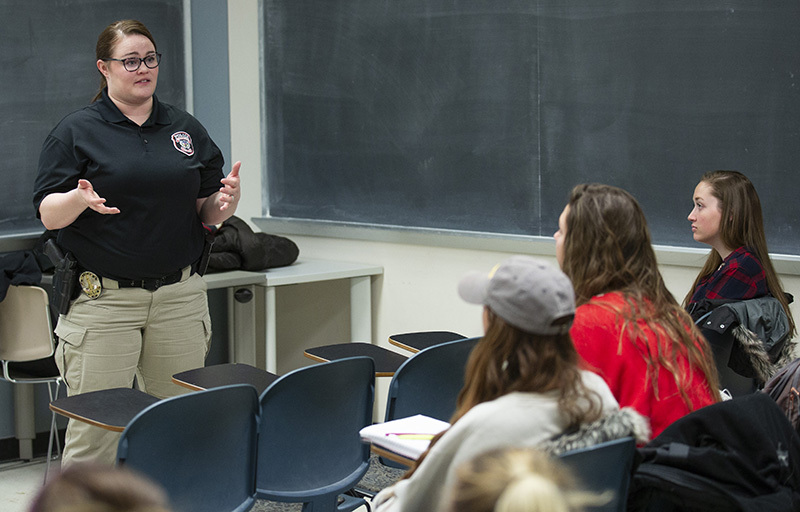 Safety is a priority for Michael Newton, which is evident with a look at the initiatives put in place or currently in development since he was appointed chief of police nearly two years ago.
"Safety is ever-evolving," Newton said. "We have to continuously monitor what's working and what's not working. We spend a lot of time evaluating if we need to change directions. Just because something works at one campus, doesn't mean it will work here."
Popular presentations continue to be offered, including self-defense, sexual assault and violent incident response (VIRT) training. Newton kick-started the development of other safety initiatives based on programs he brought from the University of Wisconsin, Madison, and ideas he and his staff picked up from conferences, peers and vendors.
"Our officers are trained to look for problems and find solutions," Newton said. "We are thinking of what else we can do to help our community, because it impacts us. Anything that impacts Ames, impacts us."
ISU Guardian
The latest initiative added to the safety lineup is the ISU Guardian mobile app, which launched March 6. Powered by the company contracted to provide the ISU Alert system, the free safety app was customized for Iowa State and offers a "safety timer" feature that provides users a virtual escort when walking alone. Newton said when GPS is enabled for the app, individuals can designate a "guardian" to alert if they don't make it to their destination on time. During SafeRide hours (6 p.m.-5:30 a.m.), that can be the ISU Police.
"If someone is concerned about walking home at night, we will be able to monitor their progress through the app. If they don't make it home, it will send us an alert and we can send officers to check on them, or we can call them to make sure everything is OK," he said.
A Net-ID is needed to log in to ISU Guardian. Other in-app features include:
Tip submission
Call directory of important campus numbers
One-touch emergency call
ISU Alert notifications
"If they're using some of those features and have the GPS enabled, we can find their location and where the trouble is," Newton said.
CyWatch
Newton said ISU Police is partnering with the department of residence to develop a CyWatch initiative. Similar to a neighborhood watch program, trained CyWatch volunteers will add a network of eyes and ears focused on campus safety. The initiative, which could expand from residence areas to other campus locations, would include awareness programming to help campus members learn what to watch for and how to be safe.
"This is a way to let the community know that we're all watching out for each other," Newton said. "I can envision us taking this out to academic buildings. We all should be watching out for what's happening."
SafeRide
The SafeRide mobile app -- an Uber-like service aimed at providing safety rides -- launched in August 2016. It offers free campus transportation between 6 p.m. and 5:30 a.m. daily. Riders need a Net-ID to use the SafeRide app and transportation requests are limited to campus locations. Uniformed student community service officers use parking division vehicles (not squad cars) to fulfill requests. More than 23,000 passengers used SafeRide in 2017.
Campus safety walk
Each fall, ISU Police partners with Student Government and facilities planning and management (FPM) staff to tour the campus grounds on the lookout for potential safety issues. Newton said anyone is welcome to join to the fall safety walk, usually held when daylight wanes in October.
Problem areas are identified -- for example, overgrown shrubbery and burned out lights -- then prioritized with input from FPM staff. Newton said issues can be reported to the FPM help desk (294-5100, online form) or police dispatch non-emergency number (294-4428) at any time.
Student advisory board
Newton said he wanted to create a student advisory board before there are issues, rather than in response to them. Student Government appointed the board's first six members last fall, which likely will expand to include an application process for additional members.
Board members gather input from the clubs, organizations and residence areas they're connected to and meet biweekly with Newton to talk about issues and campus safety concerns -- for example, safety in the Greek area, campus lighting and security cameras.
"It's important to get input from the students and give them a direct line to the chief of police," Newton said. "They are passionate about this campus, that's for sure."
Homeless outreach
Newton said homeless individuals often are reported in the intermodal facility and sometimes seek space in campus buildings and camp in wooded areas.
"Our goal is not necessarily to move them out, but to help them find a better option than sleeping outside or sleeping in one of our buildings," Newton said.
Officer Allison Bell recognized the issue and is working on a homeless outreach initiative in partnership with the Ames-based Emergency Residence Project and Ames Police. As part of the program, she collects donated everyday items and string bags to create care kits for the homeless.
"It's early stages and really is a team effort," Newton said. "She's really been pouring her heart and soul into it."