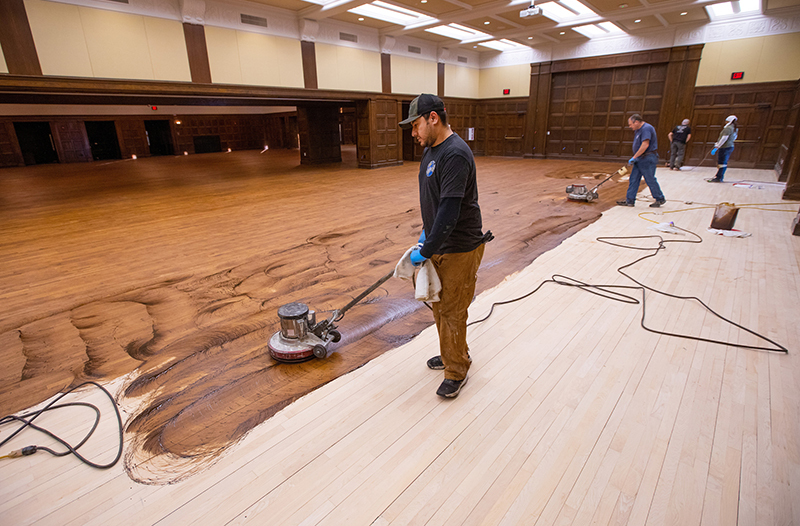 A crew from Barnum Floors, Des Moines, applies stain to the Memorial Union South Ballroom earlier this week as part of a project to strip, sand and refinish 19,000 square feet of hardwood floor covering the ballroom, Durham Great Hall and the Sun and Oak rooms.
Their work kicked off Dec. 20 immediately after graduation weekend and is on track to be finished by Friday Jan. 7. The new finish should endure for about 50 years, but this is the final time the original wood floor can be sanded.
The floor project is part of a larger plan to refurbish the Great Hall. Painting has been completed. Another piece in the works this month is replacing and modernizing the overhead theater lighting and set systems and curtain rigging in the stage area. Following demolition the last week of December, reconstruction started this week and will continue through January. Great Hall events will continue, with the front stage curtains shielding the construction zone from the rest of the room. A final item in the Great Hall restoration, new stage curtains, will arrive in April.
The contractor for the project is using the Col. Pride lounge as a staging and storage area, so that room is unavailable for university use this month.
Elsewhere in the Memorial Union, the third-floor bathrooms are renovated and compliant with accessibility standards and will reopen by the end of this week. While it's closed for the semester break, the Maintenance Shop also is getting a sprucing up, with new paint, flooring, stage carpet and bar top and additional display monitors. And the 15-month effort to renovate floors 4 through 6 for seven student-serving units remains on schedule for early May move-in.