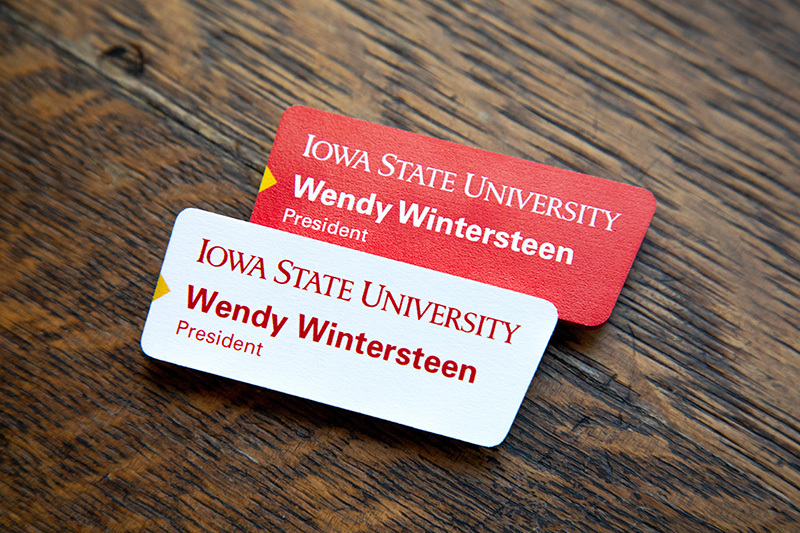 Iowa State employee name badges have been redesigned. Printing services added equipment to produce items like name badges, and university marketing worked with director Nathan Thole on the design to bring production inside the university.
University marketing director Carole Custer said durability, texture, finish, color and ability to handle alternative text were key considerations in the yearlong redesign. Thole worked to find material that isn't too shiny, avoids chipping and is readable from multiple angles.
Questions?
Any questions about name badges can be sent to printing services at print@iastate.edu.
"In the last three years, we added some flatbed printing equipment that allowed us to get into this type of product," said Thole, who noted the equipment also produces the Braille signage across campus. "We ended up with a solid red university cardinal (Pantone 186 C) and solid white foamed-PVC that was cost effective, and even if it chips the color is solid all the way through, so you don't see it."
Name badges are the latest item printing services has expanded into in recent years to serve the campus community.
The badges
Name badges for faculty and staff range from basic to detailed according to a person's preference. At a minimum, badges include an ISU wordmark and the employee name. There are two choices for the wordmark: the primary "Iowa State University of Science and Technology" or the abbreviated "Iowa State University."
Options are available to include a person's department, title and preferred pronouns. The badge size is dictated by the amount of information on it. The badge affixes to clothing with a magnet.
Employees can place orders online. If members of a department or unit desire uniformity in their name badges, Thole encouraged employees to begin the process with a conversation with the unit's leader(s).
Employees may continue to use their current name badge.
"The new name badges are very nice, and collaborating with printing services allowed us to uplift that part of our brand around innovation," said Jacy Johnson, associate vice president for strategic relations and communications. "We always want to look internally first when units within the university are capable and cost effective."
An order includes two name badges -- one red, one white -- and costs $21. A design proof is provided within a day or two, and any additional changes after that cost $8.30. It takes five to seven working days to fill an order.
"We typically pool orders together to do one or two runs per week unless someone needs a name badge in a rush," Thole said.
Johnson said name badges are ideal for any employee who represents the university in front of a group.
"Those small touchpoints do make an impression over time for the university," she said.