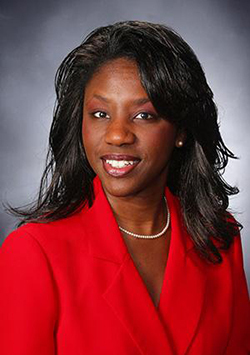 Sharon Perry Fantini from Tiffin University, Ohio, has been named the next vice president for diversity, equity and inclusion following a national search. Perry Fantini, who serves as vice provost for equity, access and opportunity and Title IX coordinator at Tiffin University, will begin at Iowa State on Jan. 18, 2022.
Her appointment is pending approval by the state Board of Regents.
"Dr. Perry Fantini is a passionate and proven leader with a deep commitment to building collaborative partnerships," said President Wendy Wintersteen. "She brings an excellent set of skills and experience that will help us move Iowa State forward to become a leader in having a welcoming and inclusive environment for our increasingly diverse campus community to succeed and thrive."
Perry Fantini has been in her current position at Tiffin University since 2009 and also serves as an associate professor of management. She is a member of the Association of Title IX Administrators advisory board; the external advisory board for diversity and inclusion for Clarkson University, Potsdam, New York; and the Society for Human Resource Management.
Perry Fantini holds bachelor's degrees in organizational management and human resources management and an MBA from Tiffin University and a Ph.D. in human resources and organization management from Minneapolis-based Capella University.
"It is an honor to join a team that embodies the same purpose I do -- fostering an inclusive campus climate in which every member of the community can thrive in a safe and welcoming environment by embracing, supporting, including and valuing our unique diversity and cultural differences," said Perry Fantini. "The opportunity to join an institution with a dedicated focus on advancing diversity, equity and inclusion within its organizational mission is one I am excited about."
In making the announcement, Wintersteen thanked interim vice president Charles Small for his leadership and members of the search committee and campus community for their thoughtful consideration of candidates.
Editor's note: This story was first shared with the ISU community Dec. 20, the date of the announcement.