It's becoming common for universities to have college-level support staff for students of color. At Iowa State, the position has existed since the mid-1980s, thanks to the groundbreaking efforts of George Jackson, an influential campus advocate for underrepresented students.
But in recent years, the network of staff in those college-based roles -- known as multicultural liaison officers since proposed by Jackson, the university's inaugural director of minority student affairs -- saw their responsibilities expanding in both scope and size. At their request, the job was renamed director of multicultural student success (DMSS) about two years ago to acknowledge the growing heft of the duties.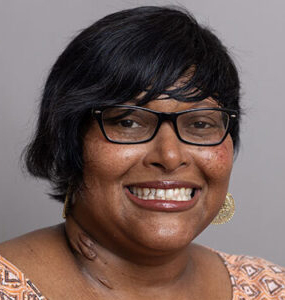 "We felt like our title no longer represented the kind of work we were doing. What is asked of us has broadened. The number of students we serve has broadened. And the challenges our students face have broadened," College of Human Sciences DMSS Carmen Flagge said.
Here's a look at what faculty and staff should know about the role, based on the perspectives of Flagge and two other multicultural student success directors who began in their positions last summer: Arnold Woods in the College of Liberal Arts and Sciences (LAS) and Brady Talley in the Ivy College of Business.
Goal of the role
Generally, the goal of a DMSS is to improve the experience of students of color on campus in a targeted way, by addressing the specific needs and obstacles in each college and of individual students. The ultimate aim is increasing retention and graduation rates.
"Many students aren't expecting there's going to be someone like that at the college level who will be there for them," Flagge said. "A lot of times, I'm saying, 'No, literally, this is what my job is.'"
Woods can understand their surprise because when he was an undergraduate at Iowa State a little more than a decade ago, he could have used help dealing with the challenges of being a Black student on a mostly white campus. But he was struggling too much to seek out assistance. That's why accessibility and relationship-building are crucial in his work, he said.
"I want to be that person who can reach the people like I was back then," he said. "When people in leadership positions reach out to students and are invested in their success, I think that has a big impact on them."
Combatting imposter syndrome is a big piece of the support puzzle, Talley said. It's a message students need to hear: "You're here because you belong here."
Wide variety of duties
The specific responsibilities of a DMSS vary by college, but most advise multicultural student organizations and lead a learning community. They work closely with student affairs staff and academic advisors to make sure multicultural students are getting help if they need it, connecting with valuable opportunities and avoiding stumbling blocks.
"These students are brilliant, but they don't have a framework for success. They don't know who to talk to. That's the gap I can bridge for them," Woods said.
The learning communities, like the Connect Four group Flagge leads, are about creating helpful networks for mentoring and developing leaders.
"We try to get students to lean into their identities as leaders," Woods said of the LAS learning community, Bridging Opportunities in Leadership and Diversity. "If you're the first person to go to college in your family, you're a leader already because you're here."
In many colleges, the DMSS also serves a role in a college's overall diversity, equity and inclusion (DEI) efforts, training faculty and staff and providing classroom presentations. Talley speaks with every first-year orientation class and said his role can involve facilitating for students, faculty or staff, as needed.
"I call it the DEI firehouse. If there's something going on, I'll respond to it," he said.
Flagge said in Human Sciences, there's an emphasis on educating all students about DEI and cultural humility to prepare them for working with future clients and colleagues. She also visits first-year orientation classes to talk about the topic.
"We want to start that conversation early about how to connect with people from all different types of backgrounds," she said. "A lot of it is based on getting everyone to think about themselves as people who have a culture."
Connected across colleges
The DMSS group collaborates heavily, meeting every other week to share ideas and plan their jointly hosted programming such as:
The pop up shop, which provides students free business attire.
Monthly study tables, which includes two rooms -- one for quiet work, one for collaboration
Twice-a-semester Real Talk luncheons, which give students an opportunity to provide the DMSS group feedback on a theme
Social outings such as reserving a recreation services court for a field day or holding a tailgate before a football game.
They also work with campus partners on numerous projects, such as the fall break dinner they co-host with the international students and scholars office and the presentations they contribute to the Academic Program for Excellence, a summer program for incoming first-year multicultural students run by Multicultural Student Affairs.
"We're not on an island," Flagge said. "We really are helping the whole campus community."
The DMSS group supports each other like a family, Talley said, turning out for one another's events and pushing as a team for new approaches and ideas.
"You can talk about DEI, you can crunch all the data, you can make processes for your processes, but you have to actually put it into practice. Our common purpose is action," he said.
A personal approach
Flagge said she gets a lot of positive feedback about her work from parents and from graduating students.
Know your DMSS
Here are the directors of multicultural student success in each college. To contact the whole group, email dmss@iastate.edu.
"Sometimes students are grateful right away, but a lot of times that comes when they start to reflect about all they went through and how they weren't alone during that process," she said.
The gratitude is always appreciated because the intensive and personal work a DMSS does can be draining.
"It's a hard job. There's an emotional tax that comes with it," Woods said. "But it's worth doing."
Woods recommended that faculty and staff interested in doing more to help multicultural students also take a personal approach when possible.
"This is a big school, so I know it's tough to do this, but get to know as many of your students as you can, especially the students who come from marginalized communities," he said. "Their wealth of knowledge and lived experiences, if utilized and recognized correctly, could really be transformative for this university."
Talley's advice for faculty and staff to promote inclusivity is to be authentic in their purpose for helping students. He often draws upon his own life stories in working with students, talking about his early struggles in school, his experiences as an Army combat medic and the balancing act it took to get his graduate degree. It helps forge a connection, he said.
"Students know when faculty and staff are authentic and have students' best interest in mind," he said.