If you were a student of color at Iowa State in the 1980s or '90s, chances are good your college experience was better because of George Jackson. A lifelong advocate for underrepresented students, including 31 years in Ames, Jackson was known for his no-boundaries effort that helped hundreds of students overcome hurdles. He served as director of the former office of minority student affairs (1978-88), assistant vice president for student affairs (1988-94), special assistant to the provost (1994-98) and assistant dean in the Graduate College (1988 to his retirement in 2009).
Jackson passed away in 2016 at the age of 75, and a memorial fund his family established then expanded in scope this spring with the goal of endowing support for three purposes:
Undergraduate scholarship for a first-year, first-time African American student (Account 2700528)
A fund from which to draw emergency grants to help underrepresented students remain in school at any point in their ISU career (Account 2705984)
Programming and events at the Black Cultural Center, 517 Welch Ave., which opened in fall 1970 and has carried Jackson's name since May 2017 (Account 2700716)
To jumpstart fundraising, the ISU Foundation launched a crowdfunding page June 2 that will stay active for 30 days. When it closes, a giving website will remain available at least through 2021. Assistant vice president for development Rob Kinsey said employees also can make gifts through payroll deduction using this form (designate the 7-digit account on the form).
"We want to make sure people remember -- or learn about -- Dr. Jackson's impact on campus," Kinsey said.
The Jackson legacy
When Iowa State hired Jackson in 1978 to help recruit and retain minority students, the Cyclone student body included fewer than 500 non-white students. A decade later, that number was close to 1,300. Working with admissions and financial aid staff, he recruited undergraduates from Chicago, Kansas City and St. Louis. Later, in his role in the Graduate College, he traveled further south to recruit high-achieving students from historically black colleges and universities to Iowa State.
Perhaps more significantly, he installed programs and services to help students of color succeed once they enrolled. He developed the Summer Enrichment Program and George Washington Carver scholarship for incoming minority freshmen and the George Washington Carver doctoral fellowship. He established an emergency loan fund and a leadership program specifically to serve minority students. He wrote the first successful grant applications for two of the federal TRIO programs Iowa State participates in today: Student Success Services (1980) and Ronald E. McNair Post-baccalaureate Achievement (1995). He initiated the structure of placing a multicultural liaison officer in each college. He solicited funding for the Graduate Minority Assistantship Program (GMAP) and its subsequent GMAP research symposium, both of which now carry his name.
Thelma Harding, coordinator of diversity recruitment and retention in the Graduate College, worked with Jackson from the time she arrived at Iowa State in January 1991 in a split appointment between the college and the division of student affiars. She learned so much from observing and listening to how he talked to students -- validating their experiences -- and to faculty, often urging them to work harder on behalf of the graduate students they had recruited who needed their guidance.
"He always had students No. 1, and helping them complete their degrees was the top priority," Harding recalled. "I can recall him telling more than one faculty member, 'I'm not asking you to lower your standards. I'm asking you to increase your efforts.'"
Jackson published many articles to help faculty and colleagues assist first-generation Black and other underrepresented students. And many semesters during his years in student affairs began with a Jackson-penned "open letter to minority freshmen" in the Iowa State Daily. He reminded new students they didn't arrive at Iowa State with all the answers, but they would need to work hard to succeed and recognize when they needed help. "Visit the office of minority student affairs and meet the staff," he implored them. "We can't help you find answers if we do not know your needs."
And when they succeeded, Jackson celebrated their achievements, big and small, with certificates of achievement, banquets and more letters in the newspaper.
A pledge to remember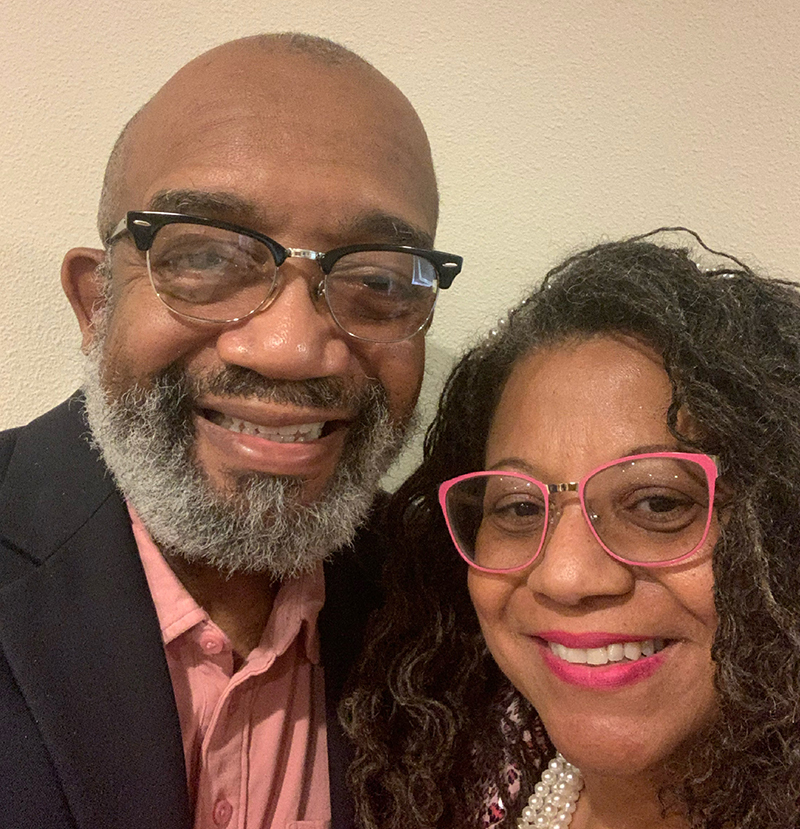 Deland and Evie Myers of Statesville, North Carolina, were instrumental in recharging Jackson's five-year-old fund at the foundation. As part of the 40th anniversary of their Iowa State degrees, they honored the pledge they made to Jackson eight years ago to create an endowed fund honoring him. The Myers met as students at Iowa State in 1980, later married and returned to Ames from 1989 to 2007. Deland became a tenured faculty member in the food science and human nutrition department and the first faculty director of the Carver Academy, which provided support services to undergraduates with George Washington Carver scholarships. Evie, who has degrees in elementary education and law, worked for Jackson for a year coordinating programs until the Myers' second child was born, consulted for the university for several years and later returned as associate director of equal opportunity and diversity.
"[George] had this passion for seeing African Americans be successful. He was instrumental in helping so many of us," Deland said. "He stood up for us when it was difficult, he challenged the administration to look at things differently."
And many times, Jackson engineered the solution himself.
"So many former students have their own story about the care George Jackson gave us," he said.
The Myers' especially rough spot hit in 1983 as Deland was defending his doctoral research and Evie was attending law school in Iowa City. At a time when a thesis wasn't stored in a computer and the researcher paid a typist to produce the document, Deland's committee's request that he rework a small piece of research threatened to derail his Ph.D. They didn't have $200 for more of the typist's time, and Deland had a job waiting for him at Pillsbury in Minneapolis. He was ready to leave Iowa State with just his master's degree.
"When Black students had a problem, they went to Dr. J.," Evie said. "So I explained our situation and he told Deland, 'You're going to get this Ph.D., you're going back to the lab to redo what they asked and I'll work on finding funds to pay the typist. You don't worry about that part.'"
And he did. Deland is quick to point out this was years before Jackson received a second appointment in the Graduate College.
"His job was to help undergrads, but he helped all students. It didn't matter to him," he said.
Evie noted that Deland's successful career in food science, which included patented work for Pillsbury, president's term at the American Oil Chemist Society and an endowed professorship at Prairie View A&M University, Texas, all happened "because Dr. Jackson made sure all multicultural students mattered at Iowa State University."
Deland recalled a Jackson expression: "All planes can fly, some just need a longer runway."
Some students take longer to acclimate to college, and Jackson was determined to provide what he could -- mentoring, direction, tutoring, extra funds -- "to get them to where they needed to be," Deland said.
The Myers' gift will help set up the emergency funds account.
"Iowa State is a tremendous university. We got our degrees there, grew our professional lives there." Evie said. "It's a university that welcomed George Washington Carver when not many universities would. We want to make sure it stays that way, that there always are opportunities for African American students. One way to do that is to endow this fund that helps students complete their degrees.
"And what better way to do it than to include the name of George Jackson, who embodied all of that?"
The Myers said their prayer is that many people contribute to the fund to "keep alive the legacy of Dr. George Jackson to help other multicultural students graduate from Iowa State and realize their dreams."