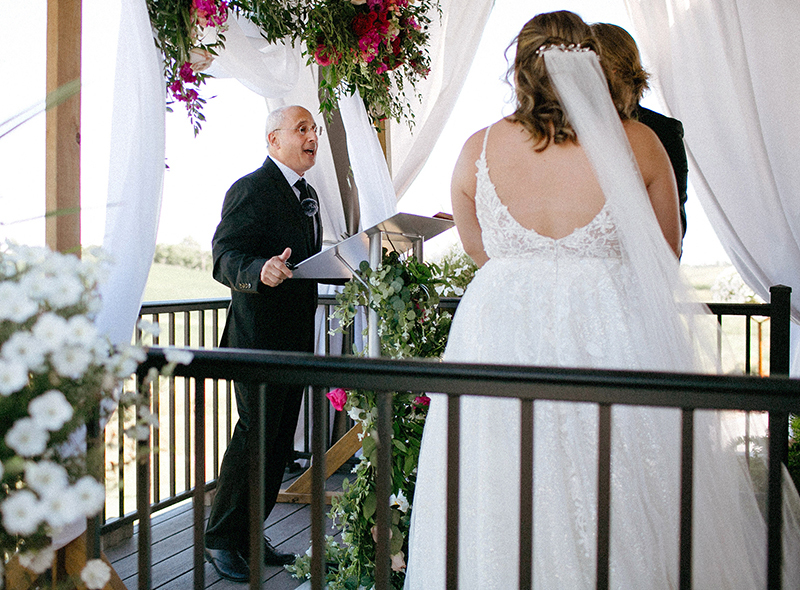 Alan Constant -- with the bride and groom facing each other in front of him, their hands clasped -- introduced the big event that had attracted about 100 friends and family to the covered patio at the Alta House Event Center in Newton.
"Welcome to Jonathan and Sara's matrimonial roast," said the teaching professor in materials science and engineering, and on this sunny summer Saturday, the officiant for the wedding of high school sweethearts Jonathan Zaugg and Sara Medina.
Constant's roast was more of a toast to the smiling, laughing couple, Jonathan in a cardinal bow tie, Sara in a flowing veil and train.
To Jonathan: "You are one of the most academically gifted students I've ever had in my 30 years of teaching. Was that OK, Jonathan? Remember, I don't accept personal checks but I do take PayPal."
To Sara: "Congratulations, you are about to become a nurse. You're one short preceptorship from that goal. I imagine being a nurse requires a lot of patience and a lot of hard work. And you're going to need both, because Jonathan over here is going to need a lot of help."
It was all personal and chatty, full of quick asides and little sidetracks. It was Alan Constant being Alan Constant.
Early in the ceremony, right there behind his officiant lectern, Constant took off his tie, featuring crystal structures, and gave it to Jonathan. Then he returned an old favor from Sara and presented her with a souvenir coffee mug.
Later -- at the ceremony's "midterm," as he called it -- he got a little more serious. This, after all, was a wedding, and families and futures were coming together. This was why he became an ordained minister of the Universal Life Church.
"In lieu of a wedding sermon, I'm going to do what I always do in class when I'm at a loss to explain something," he said. "I'm going to tell a short story."
That story began "with possibly the strangest conversation I've ever had in my life," Constant said.
"Shortly before the end of spring semester, Jonathan came up to me at the end of class. This is Jonathan's fourth class with me and I thought I knew him pretty well by then. He said, 'Dr. Constant, are you perhaps an ordained minister?
"I said, 'What about everything I've ever said to you, Jonathan, would suggest that?' Jonathan smiled and -- I'll never forget this -- he said, 'Do you want to be?'"
Looking for a personal touch
Jonathan and Sara started dating in the winter of 2017, his senior year and her junior year at Southeast Polk High School. It started with a trip to the original Sugar Shack Diner in Altoona. There was a new server working that night. It took 90 minutes for dinner to arrive, so they talked and talked. They knew of each other from band -- he was the lead clarinet and she was the lead flute -- and now they were actually getting to know each other.
The relationship grew from there, and in July 2020, they got engaged and started planning for an August 2021 wedding. At wedding time, he would have just finished his bachelor's in materials engineering, ready to start working on an Iowa State doctorate. She would be wrapping up a bachelor's in nursing from the Mercy College of Health Sciences in Des Moines, with the goal of working as an obstetrics nurse.
They weren't planning on a church wedding. So what could they do? Who could officiate?
Well, as they were making plans, they went to a friend's wedding. The officiant was one of the bride's high school teachers.
"We liked the personal aspect," Sara said.
"It was nice to hear the personal stories," Jonathan said. "That's not something we'd get with a random pastor hired to marry us."
And so, who was the best storyteller they knew?
"Would Constant do it?" asked Jonathan, a veteran of four Constant courses. (Those included an introduction to materials science and engineering, an introduction to electronic properties, a class about electronic and magnetic properties and a materials design and professional practice course).
"He's a very funny guy and makes learning fun," Jonathan said. "He makes you want to be in the classroom."
Sara, having heard all about Constant's jokes and his commitment to teaching and students, agreed to a meeting.
"The first thing he said when we sat down was, 'Are you sure?'" she said. By the time she left that meeting her answer was, "Yes, absolutely."
High honors for a teacher
During his family's regular "Thirsty Thursday" online gatherings during the pandemic, Constant brought up Jonathan and Sara's request to officiate their wedding.
Constant and his wife Kristen, vice president and chief information officer, have three sons who are now scattered to Pittsburgh, Boston and Rochester, New York.
The Constants were married in Kristen's family church in Osceola. It was a traditional, religious, June wedding.
Constant, who grew up in a Catholic family in Queens, New York, summarizes his religious views this way: "God, good. Religion, uhhh …"
And so, he asked his family that night on the internet call, what should he do about this wedding request?
"Everybody said, 'You've got to do this.'"
So Constant, who in 2015 won both the university's Award for Outstanding Achievement in Teaching and the Louis Thompson Distinguished Undergraduate Teaching Award, thought more about it.
"What he asked me is probably the greatest honor I've ever received as a teacher. This really meant something. I must have had some impact on this guy," he said.
Time for the vows
Jonathan and Sara, a garden-green soybean field cresting a big hill behind them, were still holding hands when Constant wrapped up his story about becoming a minister and preparing a wedding ceremony.
The couple, he said, had asked him to include a Scripture reading (Colossians 3:14-17):
"And over all these virtues put on love, which binds them all together in perfect unity …"
Constant added a final, good word to the couple:
"I've heard it said that the secret to a happy marriage remains a secret. And although that is meant to be humorous, I actually think it is true in essence. Because I think each couple will find their own way to happiness."
Then it was time for the formal vows.
Constant: "Do you take Sara to be your lawfully wedded wife …"
Jonathan, interrupting: "I do."
Constant: "No," shaking his head. "Not yet."
Laughter all around. The groom threw his head back. The bride pointed to him.
Constant, resuming: "Do you promise to support her completely and love her unconditionally so long as you both shall live?"
Now Constant pointed to the groom.
Jonathan: "I do."
Constant, smiling, with more shakes of the head: "A-minus."