The way Mike Giles sees it, vaccines are as critical to students' health and wellness as fitness machines or a vigorous game of badminton. The recreation services director called it "a no-brainer" to move some programming from State Gym's three south courts to accommodate the university's mass vaccination clinic the second half of spring semester. It likely will continue into the third week of May.
"Our role is to serve the students -- and we do that through recreational opportunities. But this is a health pandemic and the clinic serves our students -- and faculty and staff, too," he said. "If we can help bring campus back to some level of normalcy heading into fall that allows all of us to get back to serving students at the level they're accustomed to, we're glad to do it."
Giles said one of the three courts held fitness equipment moved there this year to accommodate physical distancing during the pandemic, and it was moved to other spots in State Gym. The other two courts had been used in March for volleyball, badminton and pickleball, and those nets were relocated to the Lied recreation center.
"We were able to accommodate what we were losing at other locations. Maybe it wasn't as convenient and we recognize people like their routines, but for students and our members, very little was disrupted," Giles said.
Preparing a site
The university team tasked with setting up a vaccination clinic, led by emergency manager Clayton Oliver, toured and evaluated about 20 campus facilities as possible locations. Once senior leaders approved the State Gym site, units completed various accommodations to suit the layout plan. For example, to make the clinic fully accessible, a facilities planning and management team installed a concrete ramp in less than two days at the building's south entrance, the clinic's designated "front door" but previously an emergency exit. And recreation facilities staff purchased suction-adhered pulls for that same door void of exterior handles. Every morning of the clinic, the handles go on, and every evening they come off, Giles said.
"That's what happens when we act as one team to accomplish a task. Rec services is only one member, but we're very proud to be a part of that team," he added.
State's strengths
And why did State Gym get the nod? Oliver said the strengths of that location include:
The three basketball courts provide more than 18,000 contiguous square feet -- and all of it is being used. Few locations on campus offer that much real estate in one space. The curtain walls allowed the emergency management team to scale up from the initial smaller clinics (using one court) to the current large-scale operation.
Across-the-street proximity to the Thielen Student Health Center is convenient for retrieving supplies and adjusting the clinic's medical staff as needed, according to demand.
Convenience also is a factor in getting people to come in, and State Gym is a walkable location for most students and many employees.
To assure access control, it isn't necessary to "take over" the whole building. The clinic's footprint is contained to the south basketball courts, leaving the rest of the building open for normal student and employee use.
A clinic in State Gym doesn't affect revenue-generating events. The facility is supported through student activity fees. Many of the other site options considered would have caused some disruption to academic, athletics or special events.
History repeats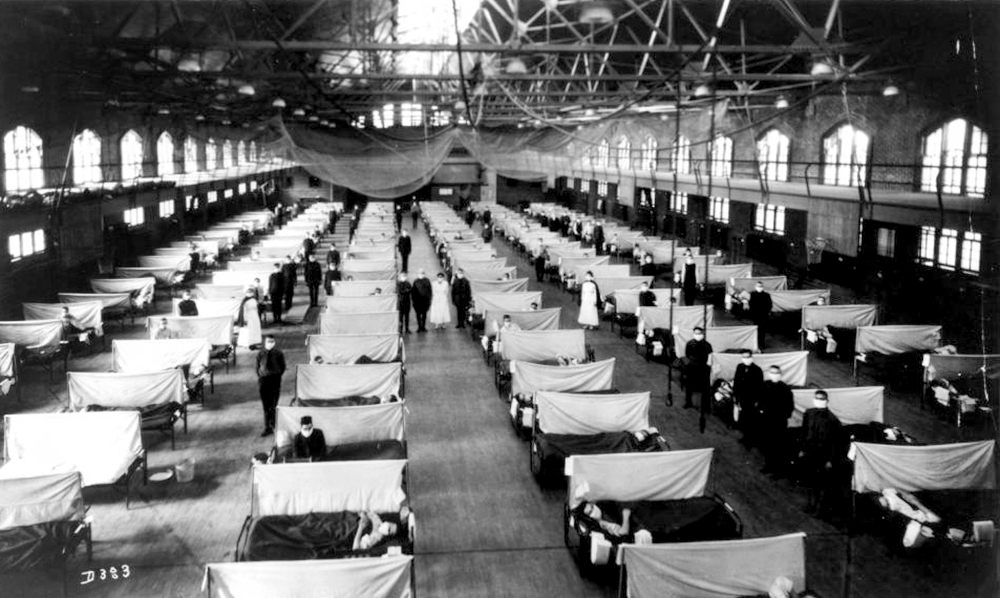 This spring is not the first time State Gym served the university during a pandemic. The lone court in a 5-year-old State Gymnasium was converted to a hospital for ill soldiers during the Spanish influenza pandemic of 1918, in the closing months of World War I. According to historical records, without a vaccine to protect against influenza infection -- and no antibiotics to treat secondary infections associated with influenza -- control efforts were limited to strategies such as isolation or quarantine, good personal hygiene, face coverings, use of disinfectants and limitations on public gatherings.