Iowa State seniors are taking advantage of the university's first-ever winter session. The senior class, which made up 34% of ISU undergraduates this fall, represents 43% of the 2,297 students enrolled as of Dec. 16. Classes began Monday in a compressed 25-day term that concludes Jan. 21 with final exams. Classes won't meet on the four university holidays between now and then.
Five of the 52 courses offered for winter session filled, and another 19 reached 90% -- or higher -- of their enrollment capacity. Just one course was dropped due to low enrollment.
"Our students' interest exceeded all expectations," said Beate Schmittmann, dean of the College of Liberal Arts and Sciences and co-chair of the winter session planning committee. "This is an experiment. We really didn't know what to expect, but I'm not sure we thought we'd get to 2,000. It's a very good response from our students."
Schmittmann said for several courses the LAS college actually added resources to assist the instructor -- for example, a graduate assistant or grader -- and raised the enrollment cap in response to student demand. About one-fourth of all courses offered this session are in the LAS college.
Enrollment by level
| | | |
| --- | --- | --- |
| Students | Number enrolled | % of total |
| Seniors | 989 | 43 |
| Juniors | 605 | 26 |
| Sophomores | 425 | 18 |
| Freshmen | 271 | 12 |
| Not seeking degrees | 7 | <1 |
| Total | 2,297 | 100 |
15 into five
Emmanuel Agba, teaching professor of mechanical engineering and a former Ford Motor Co. engineer, has taught the 400-level computer-aided design for five consecutive semesters, with the class typically filling the first day of registration. The waiting list for spring semester contains more than a dozen names. So, the demand is there and he has a library of digital resources, but he hadn't offered the course on a compressed schedule. He praises the computer savviness of ISU students, so much so that when his department chair inquired about winter session, he responded "let's try it" and carved his project-based content into five weeks.
The goal, he said, is that his 27 students spend no more than six hours a day on ME 419. Four mornings a week, he will spend 80 synchronous minutes with them, delivering a live lecture he records and posts in Canvas and leading them into that day's project. He follows with "office hours" from 11 a.m. to noon -- an opportunity for one-on-one discussions about their projects -- and responds to many emails. Studying and completing the project and weekly exams round out the student's day.
Agba said the most difficult part for students about the five-week term may be deciding if they're on board with the volume of work. Once they commit to that, "now they don't have to worry about it, they just have to do a lot of work."
He observed this week that students who retained skills they learned in prerequisite courses -- or perhaps are using them in an internship -- will be successful in the five-week term. There may not be time in a compressed schedule to relearn or research previous material, he said. That's why the class's synchronous session includes project work time, "so we can move quickly and get some of the work done in class every day."
All six undergraduate colleges are offering courses that likely hit one or more of these targets:
Meets a university requirement (for example, general education, diversity)
Useful to students in a variety of majors (popular electives)
Offered previously in an accelerated summer format
Enrolls large numbers, particularly in the spring semester (offering it now could alleviate some of the pressure on spring sections)
Full-time effort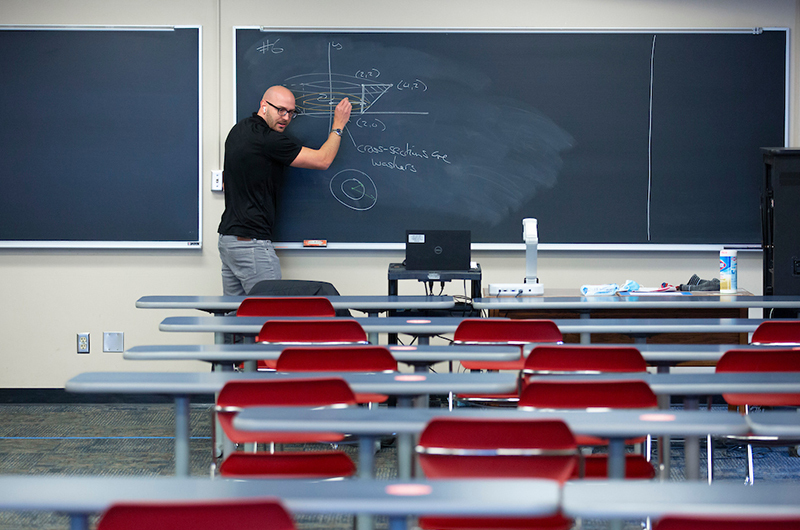 Math assistant teaching professor Dane Mayhook is leading one of the few four-credit courses offered winter session, Calculus II. His students consume at least two lectures a day (recorded by department veterans Steve Butler and Paul Barloon and archived on the department's YouTube channel). Mayhook leads daily synchronous help sessions, reviews daily homework and administers an end-of-week exam to keep his 70 students moving forward.
The course marks the first time Iowa State is offering calculus in a session that's shorter than eight weeks.
"I'm optimistic about the outcome," he said, "but I advised them to treat this class like a full-time job. It's a lot of work."
An experiment
Associate teaching professor Sayali Kukday, genetics, development and cell biology department, previously taught the 200-level Principles of Biology for a 15-week semester and eight-week summer term. She said she's approaching the five-week term "as a scientist approaches an experiment."
"I recognize this will be a huge challenge, but I'm excited about it," she said. "When the instructor and the students work together, I know I can help them get to the finish line."
In addition to organizing her winter course content into four modules -- when a student completes one the next one unlocks -- she said she's putting extra effort into communicating expectations and supporting students' needs. In fact, she made "develop a sense of community" one of her course goals. Teaching asynchronously online has taught her that students who feel like they are part of a community are more likely to ask questions and collaborate with classmates.
Kukday leads three of the daily synchronous help sessions each week, and her undergraduate assistants lead the other two. Each day's session, at least for now, has a focus such as vocabulary building, study skills or content/concepts.
Hindsight
Schmittmann said key considerations for the planning committee in measuring the success of winter session after it concludes are:
Students' ability to complete the coursework
Student and faculty interest in doing it again