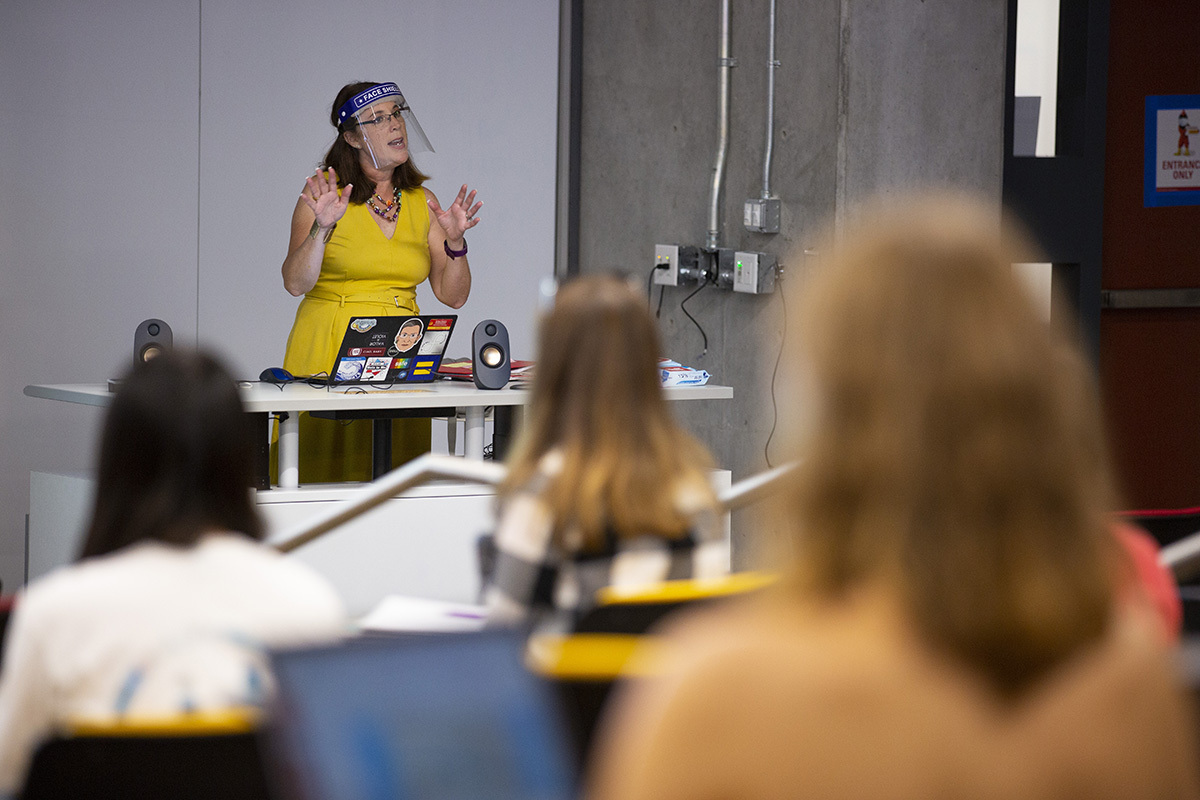 Back in the classroom
Several months of planning led to the first day of classes Aug. 17 which is part of a fall semester that is an academic experience like no other. Fall in-person class breakdown:
44% in-person component
28% fully in-person
16% hybrid format (in-person and virtual)
It was just one week of the fall semester, but it was an important one.
Last week represented the first in-person classes on campus in 150 days since their suspension as a result of the pandemic. Plenty of precautions still are in place -- highlighted by the Cyclones Care program -- but in-person instruction joined online and hybrid teaching this fall.
Inside caught up with a few faculty to see what it was like to be back in the classroom.
Pleased to be back
"It was wonderful."
It is a sentiment shared by numerous faculty who rushed to get courses online last spring but are more than happy to be able to look their students in the eyes again.
It didn't take long for sociology professor Susan Stewart to see the impact of being together in the same room.
"I think we are all just starving for social interaction and intellectual engagement with each other," she said. "I think professors and students did a fantastic job last spring, but it is just not the same as being in the classroom."
Stewart is teaching in a new room in the Student Innovation Center that seats more than 100 and provides plenty of opportunities to physically distance. Stewart is more than 8 feet away from students -- allowing her to use a face shield, which she believes is key.
Other adjustments will help make the safety measures less obtrusive. For instance, students have a harder time being able to hear instruction, and face masks could impact class participation.
"Students can be shy and don't speak up, so just being able to only see their eyes makes it tough to anticipate a question," Stewart said. "I worry it will hamper class discussion, so I am working on a way to have students feel more comfortable asking questions with the mask on."
New enthusiasm
Matt Rouse, a teaching professor in civil, construction and environmental engineering, is instructing a pair of in-person classes. He was pleased to be back in a classroom and glad to see students following all of the safety guidelines.
"They were plugged right in and easy to work with," he said. "They seem more focused and engaged."
Rouse used a checklist his first day to follow the safety protocols. He wears a mask until all students are seated before going to a face shield so his whole face is visible. After just a week, things feel more normal with the exception of students wearing face masks slowing his ability to remember names, Rouse said.
Online instruction helped him prepare for the fall semester.
"Being organized to the nth degree is key," Rouse said. "Having students there gives you a little more flexibility, but I do take some of that organization from an online course into the classroom, which helps everybody."
In this together
Mechanical engineering associate teaching professor Jackie Baughman wanted students to have a say when setting up her three in-person classes.
"I sent out a survey to give them options and receive any other options they felt were available to us," she said. "I wanted to optimize that space and work in class as much as possible."
Baughman has four students taking the class online and is limited by the number of students who can be in the room to satisfy social distancing needs. Students are broken into teams with one online student in each. Interaction is a must, which requires the groups to formulate a communication strategy.
"It is actually really good practice for the students to interact with other people online because in their industries they will have to do that," she said.
Students were enthusiastic to be back in class, and preparation is key to keeping the classroom running smoothly, Baughman said.
Hybrid teaching
World languages and cultures associate professor Sebastian Braun had some apprehension about going back into the classroom. The unknown of what campus would look like on the first day or how his students would act led to some extra stress.
"It is still there to some degree, but it has been pretty positive for me and I am able to teach like it is a non-COVID class," he said. "All the students have been really good about physical distancing and wearing masks."
In addition to his in-person class, Braun also is teaching a hybrid course which demands more of his time to create online content. He has broken the class into thirds with each meeting in-person once a week.
"I planned the course differently because of the virtual experience," he said. "I really paid attention to how I planned it and am focusing on the main points."
Even with the return to classrooms, it is important for instructors to remember there is a higher level of stress on faculty and students, and to manage expectations accordingly.