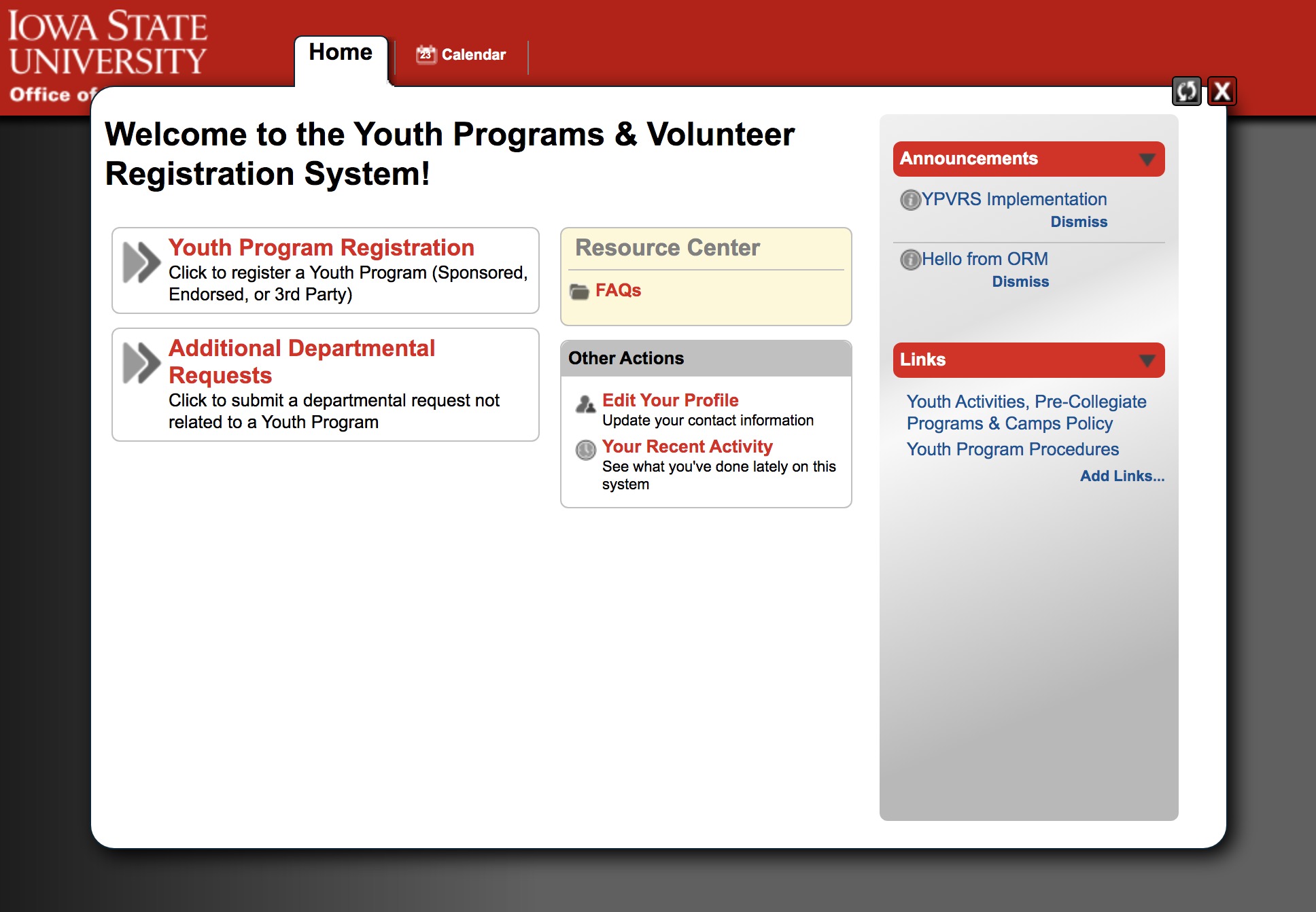 A new online system launched this week simplifies registration and approval of university-sponsored youth programs, automating much of what's been a time-consuming process.
Youth programs must be approved by the director or chair of the sponsoring unit or department and the relevant dean or vice president. Program staff, whether ISU employees or volunteers, need to take a child abuse awareness and prevention training course, undergo a background check (different levels depending how they'll be interacting with children) and fill out an agreement that includes emergency contact information.
Depending on the program, other paperwork might be necessary. There's a form for programs that include contact with animals and another for online activities. If program staff will be operating a vehicle, a check of their driving record is mandated.
Securing the required sign-offs and documentation has meant back-and-forth emailing of forms printed, signed, scanned and sent at each step. That's burdensome for the office of risk management, which administers the registration process for youth programs, which served more than 46,000 participants in fiscal years 2019. It can also be daunting for program leaders, especially those who oversee multiple programs.
"It's not necessarily what you want to spend your time on when you're running a program," said Brandy Cunningham, risk management's youth and volunteer programs manager.
Under the new system, automatic emails route approval requests to leaders who authorize programs and onboarding documents to program staff. The registration software generates prompts for needed forms, and program and department/college leaders can see updated data about what steps haven't been fulfilled, sending reminders via the system if needed.
The new system prevents program staff from filling out redundant forms by automatically recognizing if they've taken the child abuse training or have a valid background or driving record check on file.
"The system we're rolling out has so many features that our program leaders and volunteers will really benefit from. This has been a long time coming," Cunningham said.
Accessing information collected on youth programs will be easier under the new system, too. Risk management can quickly retrieve emergency contacts for program staff or look up every program involving a particular individual.
"That's just peace of mind," Cunningham said.
The system also creates a searchable database that makes overall program assessment more effective, allowing leaders to identify program trends or deficiencies, she said.
The project has been in the works for about three years. The platform provided by a third-party vendor, Ideal-Logic, will be accessible with an Iowa State NetID. The launch of web-based registration comes with some updates to the youth programs website, including the addition of FAQ content, improved navigation and program administration tips.
Risk management will offer small-group training sessions first to program leaders who have events planned in the summer or fall and then expand training opportunities to all program leaders. Sign up for a training session online. Step-by-step written aids also will be available.
Email questions about the new system to youth@iastate.edu.