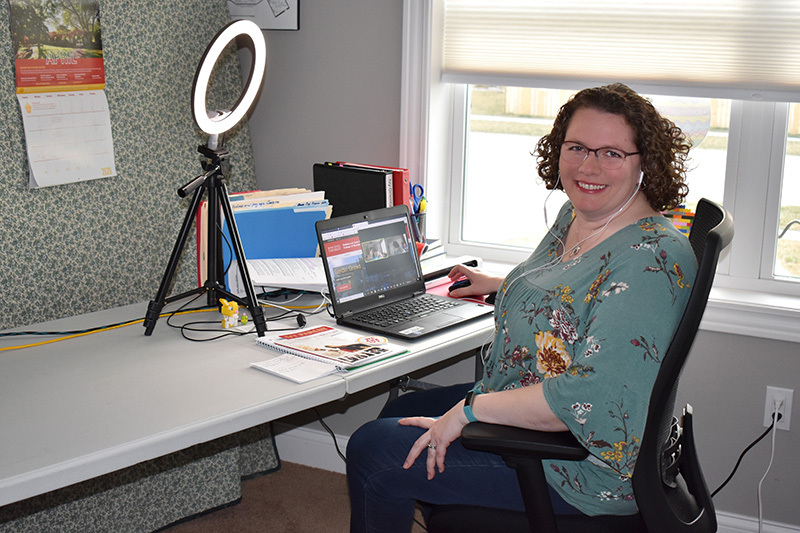 The first week back from spring break often is a hectic time for academic advisers, who can get swamped with one-on-one office visits in March and April as students prepare for summer and fall registration. This year was stressful not because their offices were packed but because they were empty, like most workspaces on campus during the coronavirus pandemic.
Though shifting academic advising into virtual mode may be simpler than moving learning online, it dislocates a regular, important and personal interaction for students at a time when they have many questions. Four advisers who spoke with Inside Iowa State the first week of virtual instruction described how they and their students were handling the change.
How they're connecting
Making sure students are well-informed with so much in flux is a priority. Some advisers set up new email newsletters for advisees or a Canvas page to share news and resources. Succinctness has been a focus, as students are being inundated with information.
Registration, scheduled to begin March 23, was pushed back a couple weeks, with start dates for classes throughout April. The extra cushion helped make time for checking in with students. Many advisers prefer videoconferencing, especially for these types of contacts, because it heightens the personal connection.
"That has been more impactful than I initially thought it would be," said Kelly Pistilli, an Ivy College of Business adviser. "I can see that stress melt a little bit when they know somebody is there, right? We are still here. We are still working for them, making sure they're making it through and being successful in whatever this looks like."
Autumn Cartagena, an adviser in the College of Liberal Arts and Sciences, said her team of four that advises open option LAS students is providing them information about what types of questions and concerns work best for different methods of contacting them.
For Austin Haytko, an Ivy College adviser, email is almost always the most efficient route. He estimates 95% of situations can be resolved by email, with phone calls for more complicated matters.
Creating community can have value, too. Pistilli asked her seniors to contribute mood-boosting songs to a shared Spotify list, which she planned to open up to all her students. Part of the goal, she said, was to model for students how they could connect to each other on their own.
Common struggles
Students have had numerous questions about the implications of a policy allowing them to take courses that shifted online as pass/not pass for full credit toward academic progress.
"There's a lot of 'I don't knows' flying around out there. That's hard for students," Haytko said. "Typically, students come to me for an answer, and I have it. Now they're coming to me for an answer, and I have to say 'I have part of it, and as soon as I get the rest, I'll get back to you.'"
Widespread modifications in courses have made some students feel less confident about their academic performance, Pistilli said.
"There's a lot of uncertainty. The rules have all changed, literally," she said.
Cartagena and her colleagues talked to a group of in-training peer mentors about how they're managing during the crisis, and students overwhelmingly said their professors were helpful and accommodating. But many who had moved back home were concerned about obstacles they hadn't considered, such as doing homework in a house with siblings and parents also working and studying.
"One comment that I thought was really great was a student who described it as a mixture of summer, high school and college, all at one time and all really fast," she said.
In the same boat
In some cases, ISU employees and students face similar challenges, said Amber Kargol, a food science and human nutrition adviser.
"It's all about time management, and I think that's true for all of us," she said. "I think students find comfort in knowing we're in the same boat together."
In a similar vein, Pistilli said the video chats that put her students at ease also reduce her sense of isolation.
"It's amazing how these face-to-face conversations make me feel better," she said. "It makes you feel not quite as weird."
Students and employees are learning about the value of their campus relationships, Cartagena said.
"A lot of our students are finding out how much people care about them. They're finding that the institution cares about them, their professors care about them, their advisers care about them," she said. "To go through this and find out you're not alone is a positive for students. And that's been true for me as a staff member, as well. I have felt cared for."
Kargol agreed that the difficult circumstances have brought her colleagues together, prompting extra collaboration and compassion.
"We're being a little more intentional about being supportive of each other," she said.
Students overcoming
One recurrent theme advisers brought up was the resilience of students.
Haytko said the reward of seeing a student realize they can overcome difficulties and succeed is what drew him to advising and what keeps him there, and he's seeing that toughness lately.
"In general, students are resilient. If you give them some assurance that they can do this, they are up for the challenge," he said.
It's been exciting for Cartagena to watch students figure out they can pick themselves up after an interruption and keep going.
"They still want to be engaged and be successful. They have ownership," she said. "I think students are finding out how resilient they are."