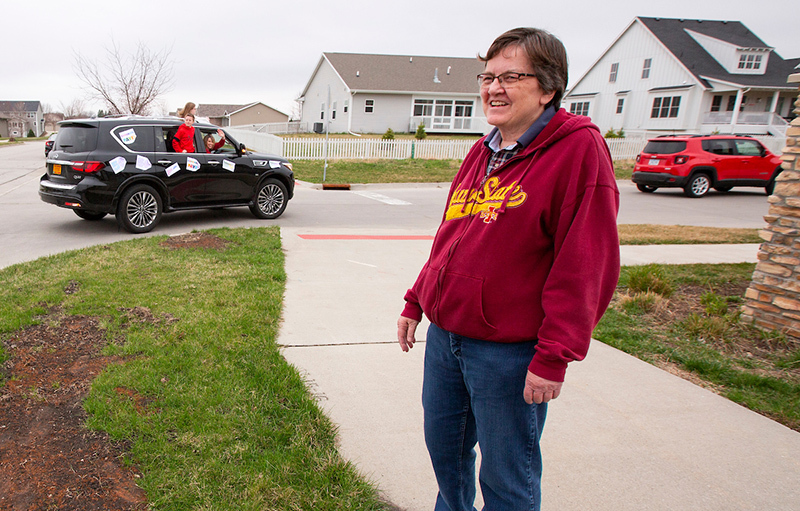 Disappointed they had to cancel a campus reception to honor her 50th anniversary at Iowa State, Faye Draper's colleagues in the admissions office decided to not take it lying down.
"We couldn't let April 6 pass by without doing something special for Faye," said admissions associate director Phil Caffrey. "She's an amazing employee, and she's been the backbone of our operations team for decades."
So, shortly before noon Monday, about 50 current and former officemates decorated their vehicles and surprised Draper with a parade outside her south Ames home, complete with horns, lights, balloons, hollering, Silly String and even a police siren. (Caffrey, her supervisor, faked a meeting with her to make certain she'd be available, and called her a few minutes in advance to ask her to look outside.)
"We knew we needed to do something to honor Faye's accomplishment," Caffrey said. "The number of persons who've worked 50 years at Iowa State is very small, and the number who worked 50 years in the same department is even smaller."
Hired as an 18-year-old by former admissions director Karsten Smedal, Draper evaluates thousands of high school transcripts every year in her work as a record analyst.
The parade, she said, was "a great surprise."
Between the parade and a congratulatory video her colleagues sent later in the day, "I felt blessed by a lot of love and appreciation," she commented.
Draper said she never imagined on April 6, 1970, that she'd still be an admissions team member 50 years later.
"It's been a great place to work and an awesome group of people to work with throughout the years," she said.