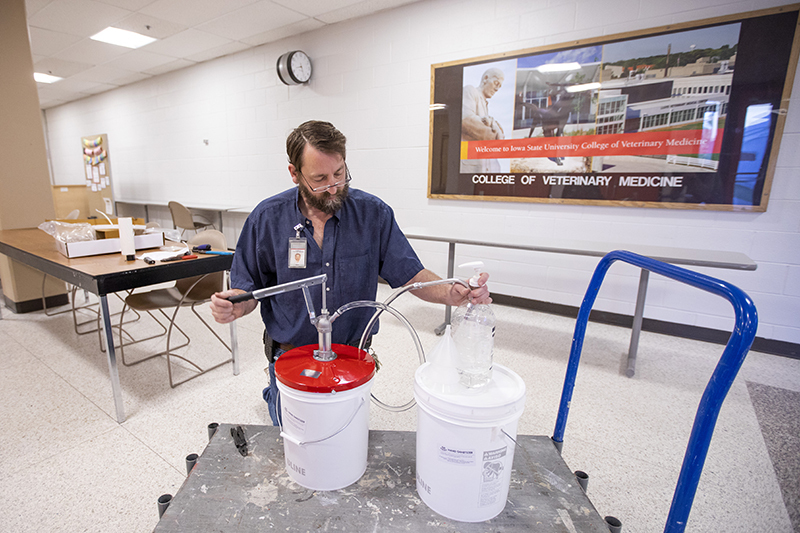 S&B Farms Distillery usually makes whiskey, the College of Veterinary Medicine (CVM) usually has no trouble finding hand sanitizer and the former usually has nothing to do with the latter.
But lately, there's nothing unusual about cooperating to overcome unexpected challenges, which is how a network of helping hands on campus and beyond assisted the Bancroft, Iowa, distillery in supplying Vet Med facilities with needed sanitizer last week.
"This is truly an example of Iowans working together to address issues in a very challenging situation," said Renee Knosby, the college's operations director.
Hand sanitizer was one of the first products that became difficult to find in the coronavirus crisis, with stores selling out well before the virus was detected widely in the U.S. Knosby said the college began trying to replenish its sanitizer inventory on March 2, acting on concerns a Vet Med faculty member expressed about COVID-19. Sanitizer was on back order already. By March 20, supply was getting low at CVM facilities.
Since the H1N1 influenza outbreak a decade ago, the college has stationed hand sanitizer dispensers near its classrooms and throughout the Lloyd Veterinary Medical Center and the Veterinary Diagnostic Laboratory. Typically, the hospitals alone go through about two gallons per month, but usage is roughly double that right now because hygiene practices are heightened and personal protective equipment is being conserved for human health care, Knosby said.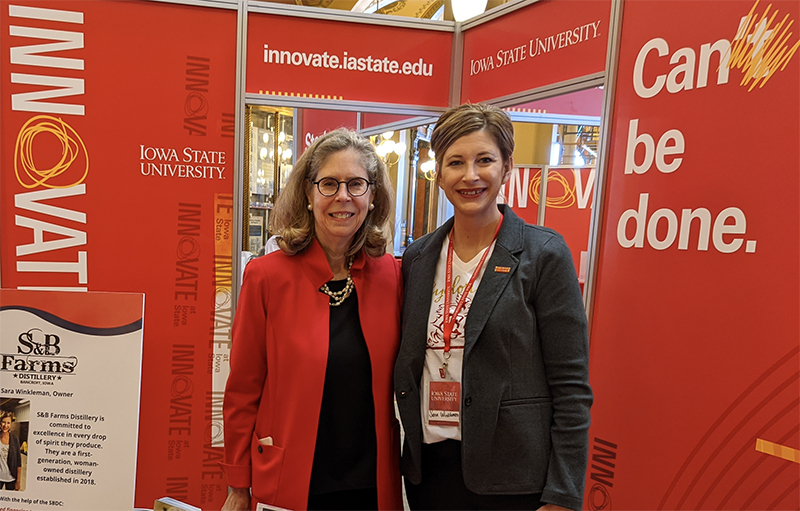 CVM dean Dan Grooms, in hopes of finding some leads on sanitizer sources, inquired with Iowa State's other deans. Ivy College of Business dean David Spalding referred CVM to Lisa Shimkat, state director of America's SBDC Iowa, the statewide small business development center hosted by the Ivy College.
Shimkat had been working with S&B Farms owner Sara Winkleman as the distillery rapidly shifted its stills to begin making alcohol for sanitizer about two weeks ago, after federal regulators gave distilleries emergency approval to produce hand sanitizer.
"We decided this is our way we could step up and help out," said Winkleman, who was named the 2019 Deb Dalziel Woman Entrepreneur of the Year by America's SBDC Iowa and participated in ISU Day at the State Capitol last month.
The distillery turned to the SBDC for support in tracking down some of the required ingredients for sanitizer that also are difficult to locate now, such as glycerin, a thickening agent.
"It's been above and beyond," Winkleman said of the SBDC's assistance. "They've been nearly a godsend to me."
Shimkat said the SBDC was happy to do its part.
"The only way to make a difference is to step up and make it happen," she said. "That is what everyone did, and we were lucky enough to be a part of it."
SBDC staff also helped S&B Farms find a supplier for extra ethanol to keep up with the staggering demand the distillery is seeing from health care and emergency personnel in the region.
"We are inundated on orders," Winkleman said. "The calls are nonstop."
Vet Med's order was for 30 gallons, and it was delivered as collaboratively as it was produced. Shimkat picked up the six 5-gallon buckets March 25 in Bancroft, more than an hour north of her Fort Dodge home. CVM facilities manager Brian Adams drove to Fort Dodge to haul them back to the Vet Med campus.
Knosby said the sanitizer should last the college for two to three months.
"Maintaining the continuity of the public's access to animal health care services provided by all of these units is essential and critical," she said.