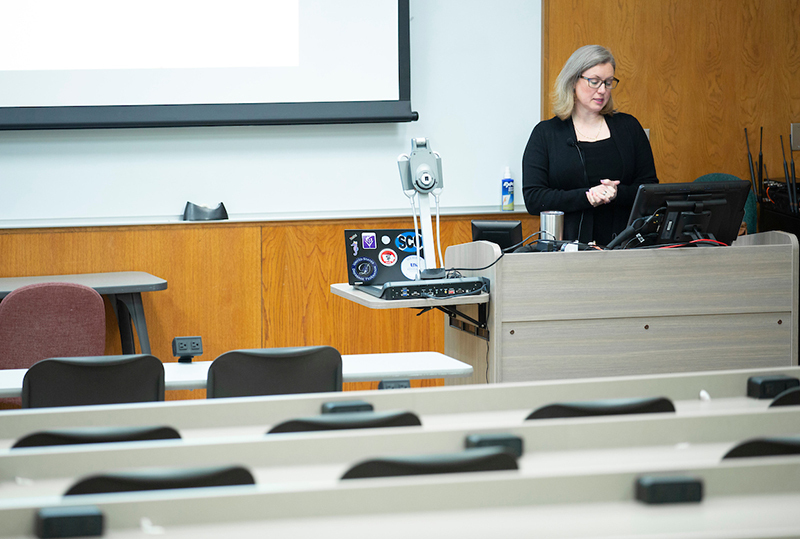 The English department had quite a math problem.
When the university transitioned to virtual instruction, the department had little more than a week to figure out how to move 350 spring course sections online.
Associate professor Abram Anders is the director of ISUComm foundation courses English 150 and 250, one of three major multicourse programs in the department. The foundation courses involve 69 instructors and 2,688 students in 117 sections.
That was a daunting task, but did not include programs in speech communication and advanced communication, which span English 302, 309, 312 and 314. Speech communication includes 44 sections, 26 instructors and 1,056 students. Advanced communication adds 92 sections, 42 instructors and 2,132 students.
"It was a pretty mammoth undertaking, but the one thing we had going for us is chair Volker Hegelheimer has really promoted developing online courses, especially for these programs," Anders said.
Virtual visit
The College of Design is using a virtual tour offered by Davenport's Figge Art Museum to engage industrial design students in the museum's Henry Dreyfuss exhibition. Among its many accomplishments, Dreyfuss' team designed the John Deere tractors of 1960.
The process
The work to move classes online began March 11, and English department leaders worked quickly to put together an FAQ and sample announcement for instructors to distribute to students. Finding ways to support instructors with varying experience levels and anticipating student needs were two major challenges.
The speech communication and advanced communication courses had an online presence under directors Anne Kretsinger-Harries and Jenny Aune, respectively, while the foundation courses were in their second semester of an online pilot program.
"It was all-hands-on-deck, and we were working 24/7," Anders said. "I didn't ask them to do that, they just did it."
The department developed work teams and pooled available online resources, including the College of Liberal Arts and Sciences online program. Anders -- along with foundation courses assistant directors Bremen Vance and Amy Walton, online instructors Carrie Anne Johnson and Brenna Dixon, and online learning coordinator Katie Fulton -- used the days before spring break to prepare information which they shared with instructors by the Tuesday of spring break.
"We needed to record a bunch of new material, and we quickly developed Week 10 and 11 modules and pushed those out to our instructors," Anders said. "We had to create huge step-by-step tutorials to explain how to get those installed into [instructors'] Canvas sites and how to set them up correctly."
Interviews with experienced online instructors followed to learn best practices of delivery to keep students engaged in the virtual environment. To help students adjust to remote learning, Anders provided a productivity guide and schedule template. Finally, the department developed a guide with week-to-week suggestions to avoid overwhelming students or instructors.
Results
Relying primarily on Canvas, the English department was able to build its courses around easy to access and use tools. These included:
Three- to five-minute lecture videos focused on key concepts and skills
Video-based presentation assignments
Video-based tutorials
Student discussion activities
Micro-drafting exercises to apply concepts to complete major assignments
Peer conferencing and review of draft work through discussion boards and collaborative writing apps
CELT and ITS
The needs and capabilities of nearly every college and department are different, but they can all turn to the Center for Excellence in Learning and Teaching (CELT) and information technology services (ITS).
On March 10, 63% of the university's spring courses had a Canvas presence, and by March 19 that number jumped to 86%. The remaining 14% were largely honors seminars, dissertation seminars or learning communities that would not be using Canvas. In about two weeks, 6,100 in-person course sections were converted to online delivery.
"A vast majority are using Canvas, but others are using tools like Zoom, Webex or some other type of online communication," said Ann Marie VanDerZanden, associate provost for academic programs.
The big undertaking started when VanDerZanden contacted department chairs who identified instructors who needed to transition their courses. That is where CELT stepped in.
With limited staff, CELT set up a virtual call center to answer instructor questions.
"We had about 15 instructional designers, and they took 20-25 calls per day," said CELT director Sara Marcketti, who supervises a staff of 13, including faculty fellows.
By chance, when last year's polar vortex canceled classes, CELT developed a starting point for its assignment this spring. Staff compiled vast amounts of information to answer questions, provide instruction and give suggestions for quickly moving online.
"That gave us a good jump-start of thinking, 'What does it look like if campus closes?'" Marcketti said.
Questions that could not be answered on campus were handled through Canvas' 24/7 help line available to all faculty and instructors.
CELT faculty fellow for faculty programming Monica Lamm was among those doing one-on-one consultations with faculty.
"Just sharing what I am doing with my own courses has been pretty effective for most instructors," she said. "Talking to someone who is in the middle of it and getting their ideas can be very useful."
It required working seven days a week, a common theme across campus, to fuel the impressive effort.
"I think the Faculty Senate resolution really speaks to the fact that our faculty value this experience they are creating for their students," VanDerZanden said. "They are going to do everything they can to make it a high-quality, engaging learning experience."
When classes resumed March 23, online instruction was off to a strong start. According to ITS manager Korine Spengler, 3,326 Webex meetings took place that day with 14,938 participants logging 95,081 minutes. Those numbers include instructor/student, instructor/instructor, student/student and staff meetings. For the week (March 23-27), the university community logged 15,193 meetings involving 69,570 participants for 540,345 minutes.
Vet Med
The College of Veterinary Medicine had a unique challenge to move its courses online given the hands-on nature of its curriculum. In addition to lectures that no longer could be conducted in the classroom, clinical rotations occur year-round.
Courtney Vengrin, director of curricular assessment and teaching support for the college, developed a website that centralized assistance for the switch to virtual instruction. Fortunately, the college has used the Echo360 video platform for at least five years.
"Our lectures have been live-recorded," Vengrin said. "For every classroom, the live recording and audio capture starts five minutes before and ends five minutes after every class."
Vengrin helped faculty access past lectures and load them into their Canvas courses. But courses like the third-year surgery course are difficult to simulate virtually.
"We are really looking for those areas where we can prepare the students as best we can for when they are next in the classroom," she said.
Restrictions on out-of-state travel led to the cancellation of some externships and preceptorships. Instructors are working to replace those experiences.
Another hurdle with the move online is testing. When tests are conducted in the classroom, computers are locked down so no other applications can run during that time, but issues can arise with computers freezing. The college's information technology team is available to troubleshoot, but not in the virtual setting.
"That can't happen if our students are all in different time zones, so we have discussed with faculty best practices for open-book exams rather than closed-book," Vengrin said.
Partners
Fourth-year rotations continue and consist of two-week blocks with about 25-30 rotations running at a time for 47 different blocks.
The college received help from organizations like the American Association of Equine Practitioners and American Association of Bovine Practitioners with free access to educational resources typically available only to members.
"Our partners have been great. Some of them have given us free memberships so we can use their educational resources for an entire year," Vengrin said. "That saves us thousands of dollars."