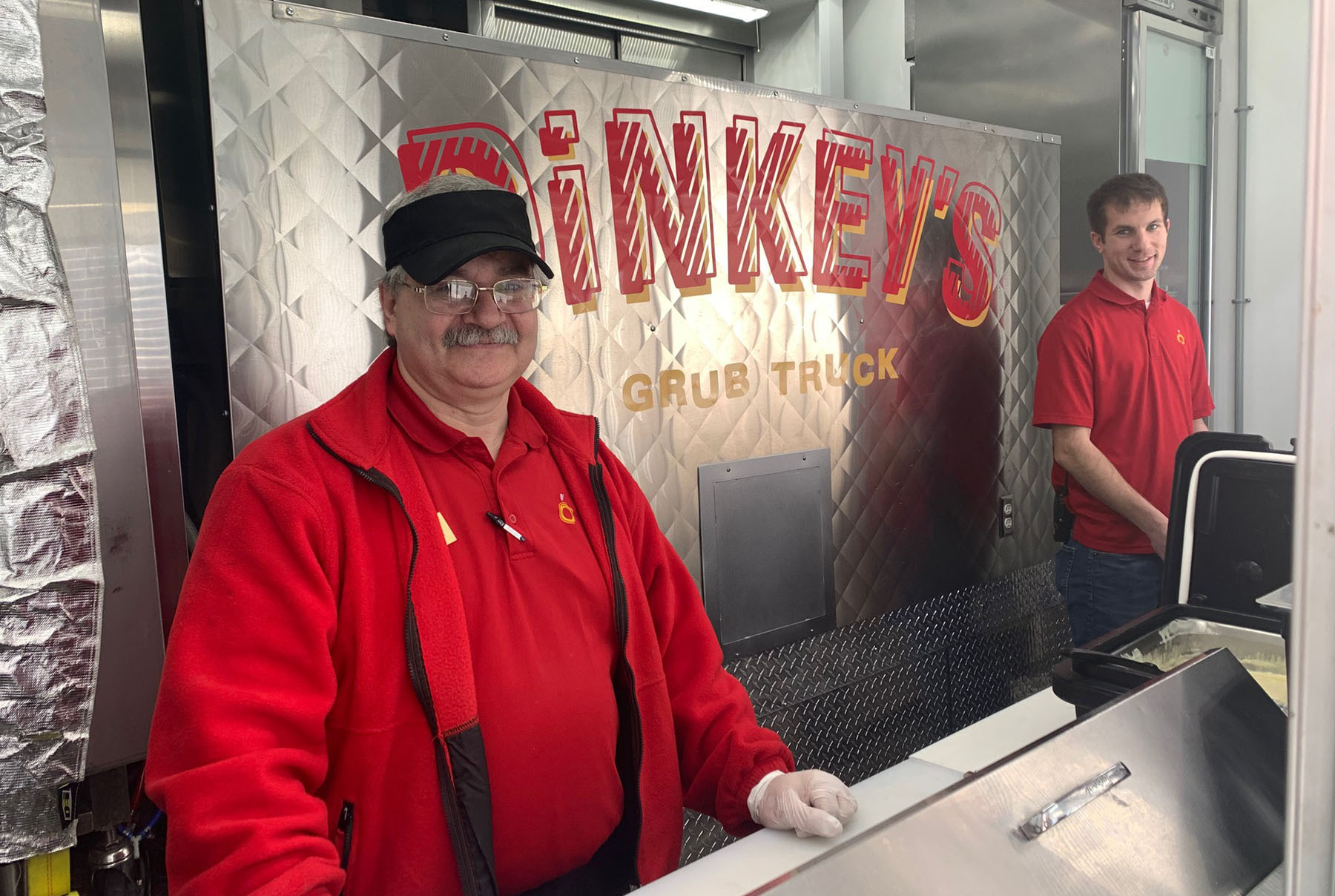 What does it take to feed about 500 students still living in the residence halls? A monumental shift from serving thousands of meals daily at 26 campus venues, to providing daily pickup service at three designated locations.
"Reality hit us very quickly," said Karen Rodekamp, assistant director of engagement in ISU Dining. "Our team has worked to stay ahead of the next governmental guidelines, always trying to see into the future."
That proved to be the case when Gov. Kim Reynolds issued a March 17 statewide mandate prohibiting dine-in eating.
"We found out at 10:30 a.m. that at noon, dine-in would no longer be an option. We were proactive when we saw what was happening in California and New York, and we already had about 30,000 to-go containers ready. We were able to switch over in a heartbeat," Rodekamp said.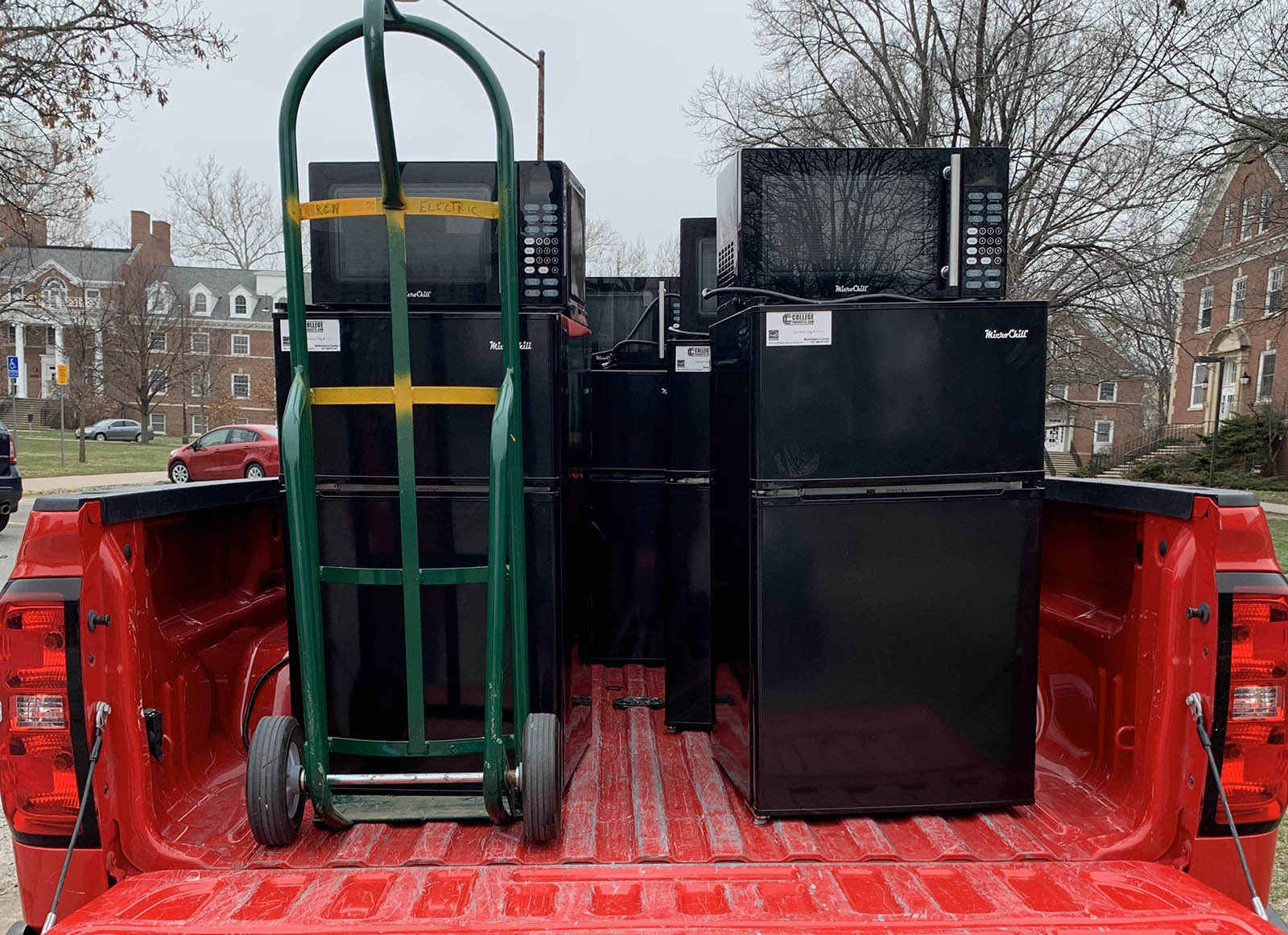 How does it work?
Rodekamp said the pickup service is primarily for students living in residence halls who are required to have one of four dining plans -- Cardinal, Cyclone, Gold and CyFlex -- and students living in Wallace-Wilson who have a broader range of meal plans.
The first order of business was to make sure the students were able to store and heat their pickup meals. Residence department staff located and delivered nearly 100 MicroFridges -- an appliance with a combination microwave/refrigerator/freezer -- by the March 26 start date for pickup service.
Students choose a week's worth of dining via a Qualtrics form, then get up to three complete meals -- lunch, dinner and tomorrow's breakfast -- in one daily trip to their designated pickup spot. Locations are Friley Windows, Seasons Marketplace and Storms Dining, with pick up available from 11 a.m. to 1 p.m.
The culinary team prepares the food and cools it quickly in a blast chiller, then the packaging team creates individual meals in microwaveable containers. When 15 of ISU Dining's 19 retail locations were shuttered, those food and drink inventories were added to the mix. Snacks, for example chips and candy bars, also are included in the pickup meals.
"We throw treats in the bag, just little bonuses," Rodekamp said. "Not only do they get a meal, but they get snacks in there, too."
Limiting risk
ISU Dining switched to pickup service to make it safer for their employees and students. It also provides an established, safe method to continue service if a shelter-in-place order is issued.
"We flipped the service to limit contact, create distance and keep people out of a facility with high-touch surfaces such as ketchup pumps and pop machine buttons," Rodekamp said. "We want to be ready to serve the students to the best of our ability and limit, as much as possible, the need to travel outside their residential facility."
ISU Dining workers are following safety recommendations while preparing and packaging the food.
"We certainly have increased our precautions, and our standards are transforming almost daily. We have a quality assurance and food safety manager who has been with us every step of the way," Rodekamp said.
Bonus snacks
Beginning this week, the Dinkey's food truck is bringing a snack to residence areas such as Maple-Willow-Larch, Wallace-Wilson towers and Friley. Rodekamp said the truck will visit locations daily with "bonus snack options" such as nachos, hot dogs and soft pretzels with cheese.
"Those students can come get a whole new snack option as a study break in the afternoon. It won't deduct meal swipes, it's just a good-will measure to keep their spirits and morale up, and to show that ISU Dining is here for them," Rodekamp said.
Other food options on campus
Limited grab-and-go service still is available in a handful of locations, too. Operating times and venues are available on the ISU Dining website.
"We have four retail service locations to service those students who have more retail-based plans and staff who are essential or remain on campus," Rodekamp said. "We increased the range of grab-and-go sandwiches, salads and other items at locations that typically don't provide many of those options."
Rodekamp said ISU Dining donated its overstock of perishables to the Food at First community food bank to eliminate food waste, and plans to donate its overabundance of coffee to front-line COVID-19 locations, including medical centers.