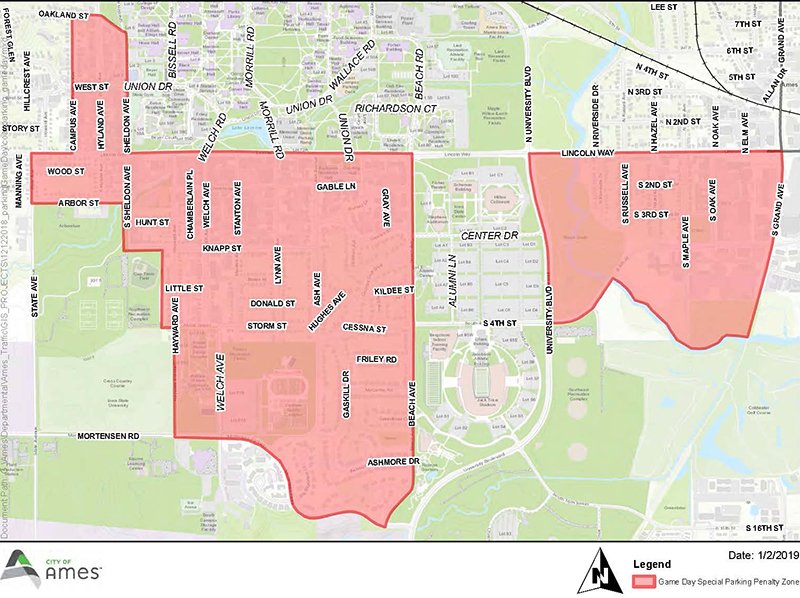 One of Iowa State's most anticipated football seasons begins Aug. 31, but where fans park before entering Jack Trice Stadium to watch the Cyclones may change.
A new city game day parking ordinance goes into effect for the seven home games on the 2019 schedule.
Video
Recreation services director Mike Giles talks about the constuction near Jack Trice Stadium. The work being done does not impact game day parking.
It creates parking penalty zones with increased fines during home football games. Those illegally parked in the designated neighborhoods from 6 a.m. to midnight on game days will pay a $40 fine, double the previous amount. The city posted more than 500 signs in the areas to alert drivers and also will use portable message boards, sandwich boards and yard signs to remind drivers of the change. The Ames Police Department is responsible for enforcing the ordinance.
"For any change we have had through the city it is all based on neighborhood complaints, and I think it just finally built up to that point," Ames parking enforcement coordinator Sheri Nelson said. "We get out and enforce and write hundreds and hundreds of tickets, and it doesn't deter anyone from parking illegally when the paid parking is just as much as a city ticket and much closer to the stadium."
Penalty zones
There are penalty zones east and west of the stadium. Generally, the zones stretch from Lincoln Way east to State Avenue, west to South Grand Avenue and south to Mortensen Road. Parking is available on some streets, but drivers must obey all posted regulations.
As in many Ames residential neighborhoods, street parking in the penalty zones generally is limited to one side of the road. When vehicles park on both sides of a street it becomes a safety concern, and residents can have issues trying to enter or exit their driveways.
"A lot of the issues are in the south campus neighborhoods, and we are seeing the same issues east of the stadium," Nelson said.
How much of a deterrent the increased fine is, and if the penalty zones push parking issues farther from the stadium, could lead to other game day changes in the future, Nelson said.
Off-street options
Parking is available in game day lots and some campus lots. Cyclone Club parking lots open at 7 a.m. or six hours prior to kickoff, whichever is earlier. Public parking lots open six hours before kickoff.
"I encourage people to come early because there is some construction, and people may be parking in different locations than they are used to," ISU police chief Michael Newton said. "Give yourself extra time to get to where you want to be."
The city encourages fans to walk, use CyRide, park remotely or carpool to limit congestion near the stadium.
Tailgating
The athletics department's tailgating guidelines remain in effect for the 2019 season for the safety and enjoyment of all fans.
Be considerate and respectful of others.
Limit your tailgating to your one parking space. ISU parking staff will enforce the one-space-per-pass rule.
Do not block the driving lanes for other vehicles parking or accessing parking lots or stalls.
Maximum tent size is 10 feet by 10 feet.
No glass bottles or kegs.
No open fires.
No tailgating from elevated surfaces such as vehicle beds, roofs or trailers.
Professional sound equipment, for example, a DJ booth, is prohibited without prior written approval from the athletics department. Small "boom boxes" are permitted but should be contained to your area (70 decibels limit, about the volume of a hair dryer).
Clean up your area and dispose of trash before departing.
State law prohibits hard liquor consumption or possession of an open bottle of hard liquor on public property -- which includes university parking lots. Tailgaters of legal age may consume beer and wine in the parking areas.The clear bag policy began at the stadium last year. Fans can carry either a clear tote bag no larger than 12-by-6-by-12 inches or a one-gallon plastic freezer bag into the stadium.
The athletics department also provides a list of prohibited items in the stadium.