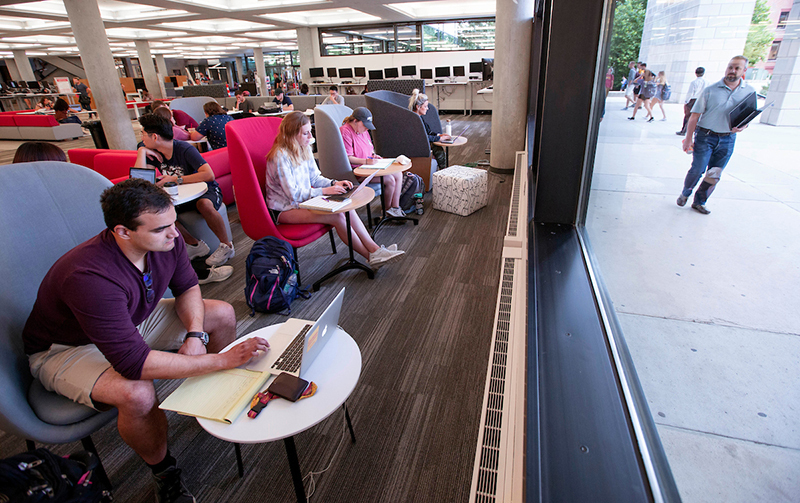 Global resource systems senior Joe Lavastida (left) was among the students who grabbed a chair in between classes Monday in the just-opened collaboration commons area in Parks Library's south first floor. On the former footprint of the circulation desk and staff offices, the summer renovation created six technology-equipped collaboration rooms, a reconfigured main desk and both community and individual study spaces. It features height-adjustable desks and lots of electrical outlets to accommodate electronic devices. The new collaboration rooms are equipped with interactive displays that combine several functions into one: touch/presentation screen that runs Windows applications, whiteboard and video/audio conferencing.
Soon, the new "main desk" (formerly the circulation desk) will begin operating just south of the open stairwell. Until it's ready, main desk services -- such as materials checkout and return, course reserve inquiries, group study room key pickup and return, and others -- are available at the temporary desk in the front lobby.
Library staff formerly housed in the south end of the first floor have relocated to other parts of the library; business services staff to the second floor (204) and course reserves staff to another part of first floor. Staff members who had desks within the circulation desk will move behind the main desk when it opens.