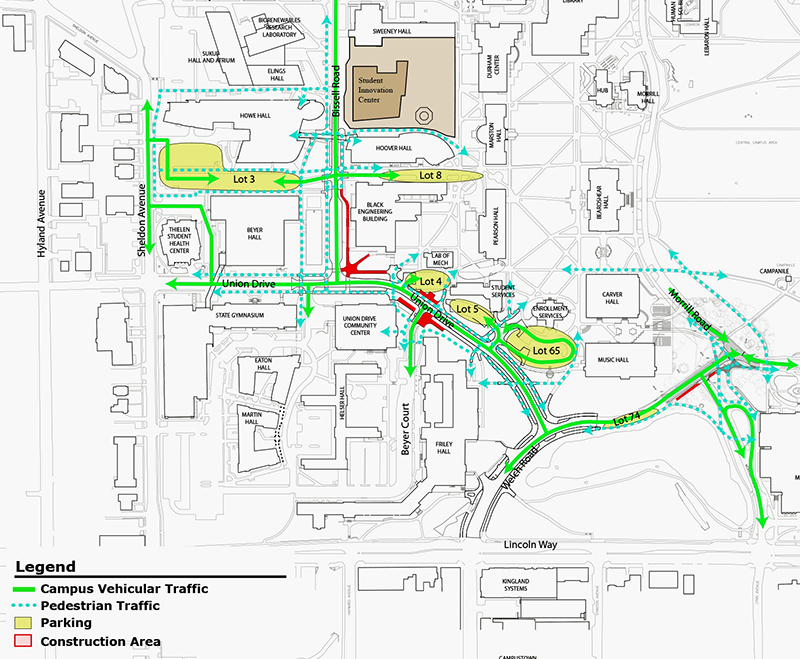 It's been a one-of-a-kind summer for drivers trying to navigate campus. Between early March and early July, every north-south arterial angling through central campus closed -- either to be reconstructed or for nearby building construction.
An unusually soggy June and unanticipated discoveries as roads were dug up slowed down the projects, but campus construction managers anticipate all roads will be open Monday morning for the start of the semester. CyRide buses are scheduled to resume their routes through central campus Monday morning, too. Crews are working 12-plus-hour days to pour adjacent sidewalks by the weekend. Street lights, street signs, bicycle loops and bus shelter pads are not likely to be in place by Monday.
Inside put together this Wednesday afternoon update.
Union Drive at Morrill Road
As of Wednesday afternoon, the lone road section yet to be paved was a short connector east of Lake LaVerne between Union Drive and the south leg of Morrill Road. Senior construction manager Rob Ebel, facilities planning and management (FPM), said it would be poured Thursday, weather allowing. Morrill Road is complete. Supplemental crews are assisting this week with pouring sidewalks at the Union Drive-Morrill Road intersection, and Ebel was hopeful that most, if not all, could be completed by Monday. Sidewalks on the west side of Morrill Road (near the lake) will be the last ones installed.
The Union Drive-Morrill Road intersection closed July 8 for what was planned as a 5-6 week road replacement project. Early on, several underground structures scheduled to remain instead needed to be replaced, adding time to the project, Ebel said.
Union Drive west of Welch Road and
Bissell Road north of Union Drive
Both roads are paved and the intersection is connected, said Leroy Brown, FPM senior construction manager. Concrete crews on these projects also are working long days -- and will work through the weekend, if necessary and weather permitting -- to pour new 10-foot-wide sidewalks on both sides of the roads and open driveways to parking lots. Brown said sidewalks will reopen in sections once concrete forms are removed and black dirt filled in at their edges for an even surface. Sidewalks on either side of the Beyer Court driveway and on the Black Engineering Building corner likely will be the last ones poured.
Colored concrete pads for new CyRide bus shelters on Bissell and Union can begin when the sidewalks are in, Brown said.
"We had enough rain days in June to move this project completion back to mid-September, but our contractors are working hard to substantially wrap this up before Monday," Brown said. "We've been pushing them, and they've been working hard to hit the Aug. 26 date."
Sections of Bissell and Union closed during spring break for phase 2 of a two-summer project to expand the storm sewer and/or chilled water networks beneath the two roads. The new replacement roads are narrower (27 feet) and the sidewalks wider to create pedestrian-friendly zones and reduce vehicle traffic through that part of campus.
Wallace Road, adjacent to the Gerdin Building
Ebel said a short section of Wallace Road -- from the Union Drive intersection to just west of the parking deck's north entrance -- which closed after spring commencement, will remain closed through January 2021. The road and lawn south of it are providing a staging area in a tight construction zone for the Gerdin Business Building addition.