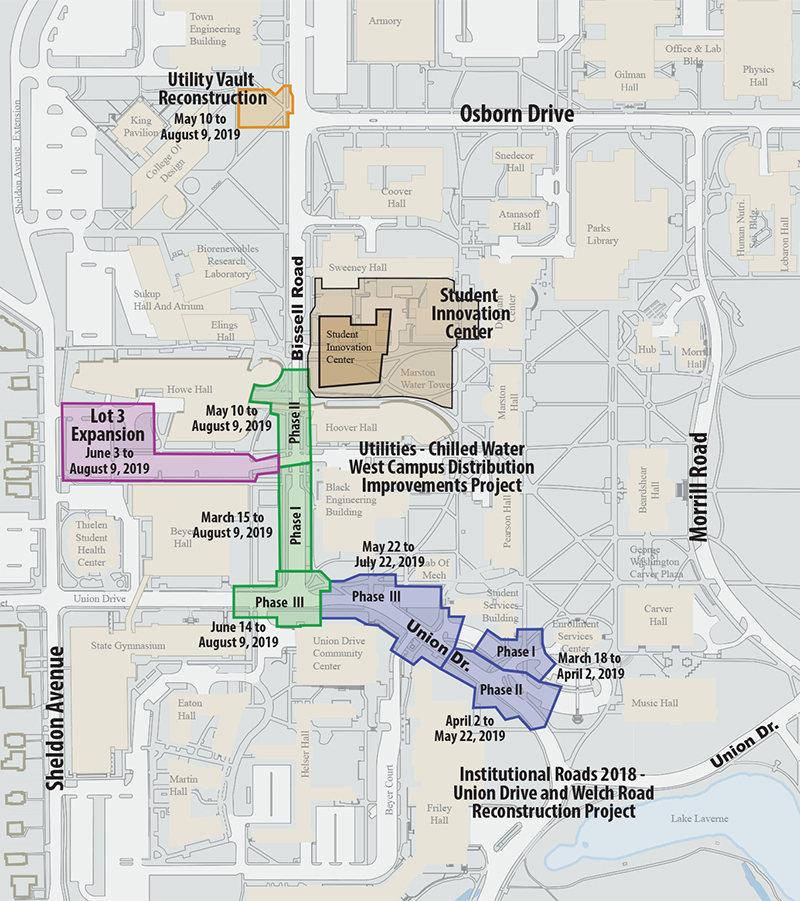 Work resumes in mid-March on several west campus road replacement projects that include underground utility work. As occurred last spring and summer, the projects will close sections of Bissell Road and Union Drive in phases. By its targeted mid-August completion date, numerous improvements should be done:
Large chilled water pipes will be added beneath Bissell Road between Osborn and Union drives, expanding the capacity of the 50-year-old system in this area of campus. Buildings in the west and southwest parts of campus will be much easier to cool.
Larger storm sewer lines will be installed beneath Bissell and Union between Osborn and College Creek. This will replace an undersized 78-year-old storm sewer installed when west campus was mostly undeveloped.
In concert with the utility work, sections of Union, Bissell and Welch roads will be removed and reconstructed. (The Welch Road and north Bissell work was completed last summer.) The new narrower roads and wider sidewalks are designed for pedestrian safety and comply with federal accessibility requirements.
Phased work on two roads
The Bissell and Union projects each have three scheduled phases this summer but keep their own timeline. Weather permitting, Bissell's phase 1 closes the stretch of road west of Black Engineering (excluding intersections at both ends) on Friday, March 15. Parking lots 3 (south and west of Howe Hall) and 8 (north of Black Engineering) remain accessible from the north on Bissell through spring commencement weekend. On May 10, a second section of Bissell -- roughly in front of Howe Hall -- will close. Phase 3, from approximately mid-June to early August, will remove the Bissell Road-Union Drive intersection, with all three phases rebuilt near the end of the summer timeline. In effect, Bissell will be closed to through traffic from spring break through early August.
The Union Drive first phase won't impact the road. Beginning March 18 and lasting for about three weeks, the entrance to the north half of parking lot 65 (Enrollment Services Center) will close to create a future single entrance to lots 65 and 5 (Student Services) and realign sidewalks in that area. Phase 2, from early April to late May, closes a section of Union Drive just north of Welch Road as well as access to the south half of lot 65. Phase 3, beginning in late May, will close access to parking lot 4 (Lab of Mechanics), Beyer Court (between Friley and Helser halls) and permanently remove the current entrance to lot 5. Impacted sections of Union Drive will reopen as phases 2 and 3 conclude.
Angie Solberg, facilities planning and management project manager on the Welch Road-Union Drive reconstruction, said there will be a pedestrian walkway on one side of Union Drive and Bissell Road throughout the project, with road crossing zones well marked.
The finished product
When fall semester begins, the road corridor from the Bissell/Osborn intersection south to the Lincoln Way/Welch intersection will look and function consistently. Road widths will narrow from as wide as 40 feet to a uniform 27 feet, and sidewalks will widen to 10 feet. A single traffic lane in each direction (13.5 feet wide) will be shared by vehicles, buses and bicycles. The Union Drive bus stop near the Enrollment Services Center will be consolidated with the larger stop near Lab of Mechanics, and lighting and landscaping throughout the corridor also will be replaced.
"The priority of the road work is to protect pedestrians in some very heavily traveled zones," Solberg said.
Nearby summer projects
Expanding and improving lot 3 (south and west of Howe) is a separate project but will begin June 3. The project adds 17 parking stalls, improves storm water management and replaces lighting. The lot will be offline through early August.
Reconstructing an underground utility vault west of the Bissell Road-Osborn Drive intersection (May 10-Aug. 9) will reroute pedestrians in that area but shouldn't impact vehicle traffic.