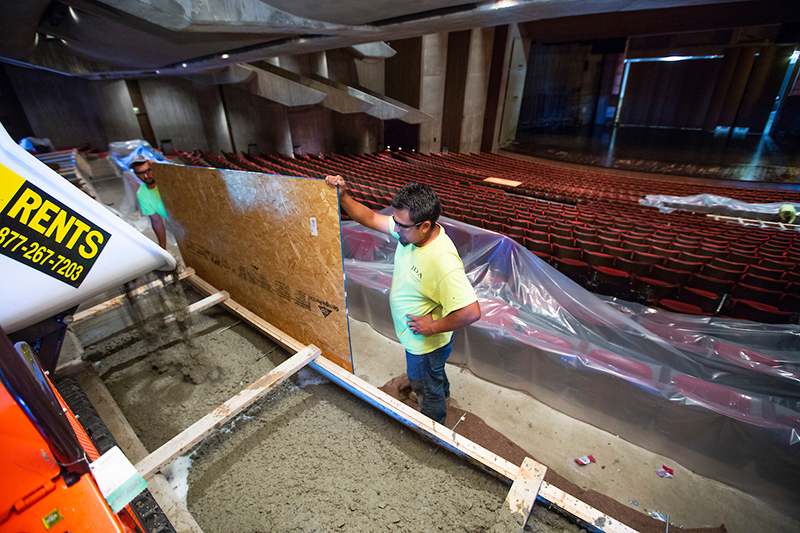 Summer projects inside Stephens Auditorium will triple the seating for theater guests who use wheelchairs and replace and expand guard rails in the upper levels of the building. All of the work should be complete when Ringo Starr and his band take the stage Sept. 5. Attendees at the College of Veterinary Medicine's white coat ceremony (Aug. 17) or President Wendy Wintersteen's installation (Sept. 21) also will notice the improvements.
Stephens Auditorium turns 50 next year, and its 1969 opening predates federal legislation on accessibility.
Tammy Koolbeck, executive director of the Iowa State Center, said accessibility and restrooms at Stephens have been constant meeting topics since she started in the post in 2015. A 2013 feasibility study addressed the issues, but the $30 million cost to renovate was prohibitive.
"These two areas were affecting the quality of our patrons' experiences at Stephens, even though our staff did everything they could to accommodate our wheelchair and limited mobility patrons in locations that were less than ideal," she said. "We knew we needed to move the needle somehow."
Koolbeck said planning for the upgrades goes back to spring 2016, with facilities planning and management coming on board last fall to assist with design drawings and bidding the project.
Wheelchair seating for 18
Seating modifications in Stephens targeted seat rows either at ground level or adjacent to an elevator. Iowa State's maintenance and improvement committee awarded $42,000 from the university services facilities overhead use fund to pay for the changes.
Near the back of the main floor, a total of 46 theater seats were removed at the ends of rows 30 and 31. In their place, poured concrete platforms each provide space for up to six wheelchairs and chairs for companions. Both of these areas are within 15 yards of an elevator.
Closer to the stage, 42 theater seats were removed from the west end of rows 10 and 11 for another two-row platform, also with a capacity for six wheelchairs and companion seating. Row 11 is on the same level as, and adjacent to, the ground-level accessible entrance at Stephens' southwest corner.
Still, it's not a perfect option -- yet. Koolbeck noted there are no restrooms on this level of Stephens, though there are plans to add them, pending private fundraising (see below). In the meantime, guests in wheelchairs seated in row 11 would have to exit Stephens at the southwest corner and re-enter the building at the northwest corner to use a restroom. She said Stephens ushers will assist with this move until ground-level restrooms are completed.
Mid-house aisle
While it's more about convenience than accessibility, crews also removed all 61 seats in row 12 last month to create a middle aisle across Stephens. Previously, patrons had to use the outer staircases to traverse the theater, Koolbeck said.
Handrails
Beginning Aug. 6, crews will remove the guard rails at the front of Stephens' three balconies and loges and replace them with railing that sits a few inches higher. They also will install handrails on the end of each row and side wall in the balconies. A lead gift helped launch this project, which Koolbeck estimates at between $70,000 and $100,000, depending on fluctuations in steel prices.
Up next
Koolbeck said fundraising will begin soon for two more projects in Stephens.
Renovating the building's southwest entrance to make it fully accessible and reclaiming a section of the backstage area for an accessible, gender-neutral restroom with multiple individual stalls will cost up to $750,000.
Adding LED stair lighting and handrails at either end of each row on the main floor will cost an estimated $200,000.