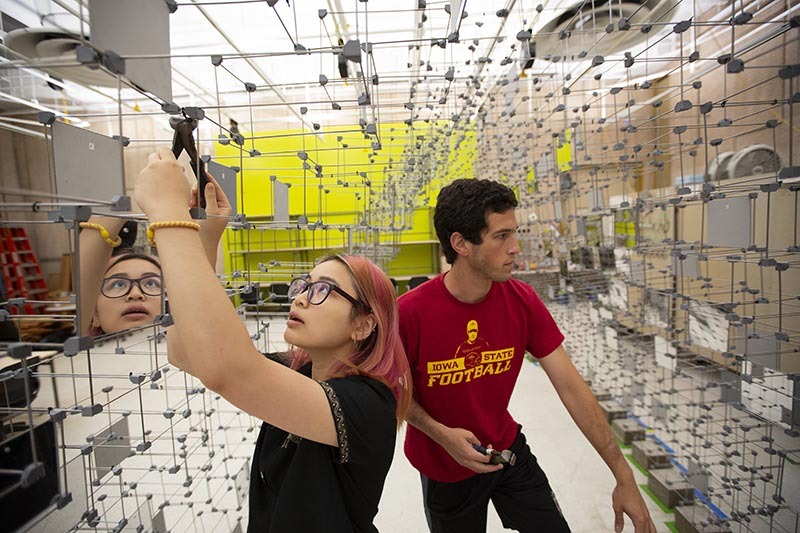 The university's exhibit at the Iowa State Fair will be hard to miss.
University Marketing partnered with the College of Design this year for "Think Outside the Square: Design That's Shaping Iowa's Future." The 1,800-square-foot Iowa State exhibit will include a 300-square-foot pavilion designed and built by design students, faculty and staff.
The exhibit will be open from 9 a.m. to 9 p.m. daily in the Varied Industries Building at the state fair, which runs Aug. 9-19.
IM_RU2 is a redesign of a pavilion created in a 2017 interdisciplinary design-build and digital fabrication studio led by Shelby Doyle, assistant professor of architecture. The pavilion is constructed with low-cost 3D-printed joints, mirrors, wires and LED lights.
The most noticeable difference in this iteration is the lights will be -- you guessed it -- cardinal and gold. Both pavilions were produced in the architecture department's Computation and Construction Lab.
It took 800 hours just to 3D-print the pavilion's 3,200 joints from plant-based plastic, which will be recycled after the fair. That doesn't include the hours spent building IM_RU2 this summer -- including attaching 400 LED lights and 400 mirrors to the 800 joint-wire boxes.
"In our increasingly digital world, people perceive and engage with the environment through a fabricated lens," Doyle said. "Our perceptions of ourselves and the world are subjective, and can include counterfeit realities: convincingly realistic representations of things that never occurred or existed. By exploding and scattering what is seen, the IM_RU2 pavilion shows through architecture and public space that a person is simultaneously confronted with a wide range of individual and collective perceptions."
The name, IM_RU, is a play on the phrase "I am [blank], are you?", allowing the viewer to insert any word or phrase in the blank.
"The original IM_RU conveyed an Iowa City fashion festival's message of inclusivity of all people, shapes and sizes by pixelating your self-image," said Erin Hunt, Computation and Construction Lab associate. "This redesign focuses on diversity, civility and recognizing that we're all connected. Seeing ourselves and others in fragments -- as you do in IM_RU2 -- provides us with different perspectives on our individual identities and our place in society."
Due to the pavilion's size, it was deconstructed on campus before being transported and rebuilt in the fair's ISU exhibit. A GoPro will record a time-lapse video of the reconstruction, which will then play throughout the fair.
The ISU exhibit will also include four Dremel 3D printers to show visitors how structures like IM_RU2 and other printed models are made. Visitors will get to see firsthand the architecture department's design-build tradition and advanced computation and digital fabrication capabilities.
"This is an opportunity for Iowa State to show industry that you can create larger 3D-printed models, and you can do it with recyclable materials at a much lower cost," said Carole Custer, university marketing director. "This is research that impacts the building industry, architecture industry and design industry."
More than 130 volunteers will help at the ISU exhibit throughout the fair, including College of Design representatives who can give insight into the IM_RU2 pavilion, the college and its seven departments.
Volunteers are also glad to help fairgoers with broader questions about Iowa State, or direct them to resources on campus. Coaches, athletes, deans and senior administrators will be at the ISU exhibit at times throughout the fair, as will President Wendy Wintersteen.
Cyclone swag and a chance to meet Cy
Iowa State's fair exhibit includes not only IM_RU2 but the ISU Book Store. Fairgoers can expect a wide variety of Iowa State merchandise, gifts and apparel, including new, brightly colored T-shirts in sizes from newborn to adult.
Visitors can see athletic trophies from the past year and receive a temporary Iowa State tattoo, as well as football posters, magnets and key tags showing the football schedule. They can also enter ticket drawings for Iowa State Center productions, football and volleyball games and gift cards to the ISU Book Store. Five winners will be announced daily.
Cy will make special appearances at the Varied Industries Building on Saturday, Aug. 11, and Friday, Aug. 17, thanks to a partnership between Iowa State and the Iowa Farm Bureau. Cy will bounce between the two exhibits both days. He will be accompanied by members of the ISU Spirit Squad.
Fulfilling land-grant mission through 4-H, Extension and Outreach
During 4-H Day on the Concourse, Friday, Aug. 10, Cy will stomp grapes with ISU horticulturist Mike White, who oversees the fair's daily grape stomp at Grandfather's Barn. ISU Extension and Outreach will be outside the Administration Building on 4-H Day handing out sunscreen sticks and visiting with fairgoers.
The state fair would be incomplete without 4-H, headquartered at Iowa State and available in all 99 counties through ISU Extension and Outreach. 4-H'ers will have 4,500 contest entries on display in the 4-H Exhibits Building, as well as 5,000 livestock entries at various venues. Throughout the fair, the College of Agriculture and Life Sciences and College of Liberal Arts and Sciences will award scholarships to selected 4-H'ers.
Animals and the Cyclones who care for them
The College of Veterinary Medicine will again play an important role at the state fair, with Dr. Troy Brick, assistant professor of veterinary diagnostic and production animal medicine; and Dr. Adam Copeland, food animal resident in veterinary field services, serving as the state fair veterinarians, overseeing the health of all animals at the fair.
Elizabeth Brehm, Dawson LaBorde, Parker Robison and Holly Salzbrenner, all fourth-year veterinary medicine students, will assist the veterinarians. Several other veterinary medicine students will assist with 4-H and the Future Farmers of America sheep check-in.