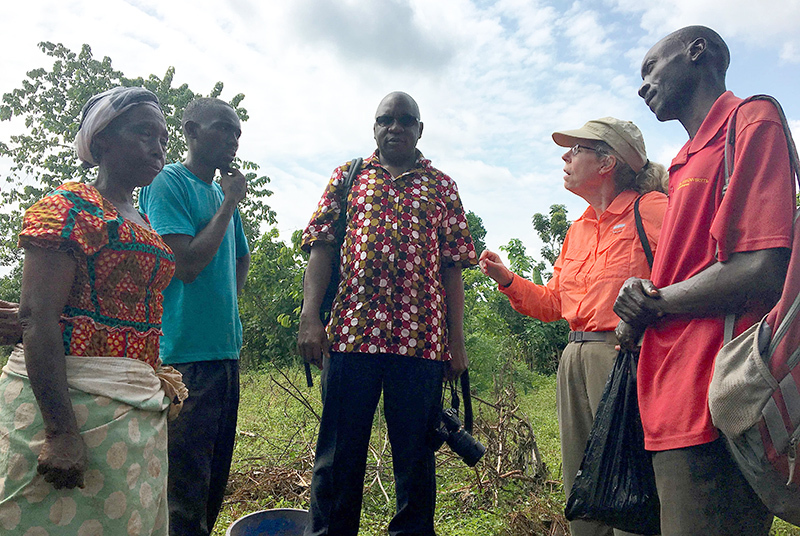 A new rural training center dedicated July 11 in the East African country of Uganda will help the Center for Sustainable Rural Livelihoods expand food and agricultural programs that serve local families. It also will provide more service-learning opportunities for ISU and African students.
"The Mpirigiti Rural Training Center epitomizes what can happen when donor support and Iowa State's land-grant mission unite through a passionate, compassionate vision for change and progress," said President Wendy Wintersteen, who spoke at the dedication.
The facility is the latest milestone in the 14-year history of the Center for Sustainable Rural Livelihoods, which has become a model for university international ag education programs and an inspiration for students to address global hunger and poverty. The ISU center has impacted thousands of lives through programs that help rural Ugandans gain skills in farming practices, nutrition, sanitation, and income-generating and entrepreneurial opportunities.
The $2.7 million Mpirigiti ("Em-pir-i-GIT-ee") Rural Training Center will be an education and training focal point for farmers, teachers, community leaders and students. Nearly 100 donors made it possible, with the office of the senior vice president and provost also providing support.
More than 80 people took part in the July 11 dedication, including:
Faculty, staff and administrators from the College of Agriculture and Life Sciences (CALS) and its Ugandan partner, Makerere University
Staff in ISU's Uganda Program, a nongovernmental organization established in 2015 to facilitate operations in the country
Donors to the facility
36 Iowa State and Makerere service-learning students and interns
Features of the training facility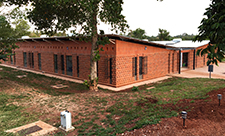 The 22,000-square-foot training center, which officially opened in March, sits on 13 acres. The main building has offices for the 20 ISU Uganda Program field staff who work in community nutrition, agronomy, land use, livestock, post-harvest technologies, youth entrepreneurship, school gardens and service learning. It also contains a library, meeting spaces, kitchen and dining area.
The complex has a 48-bed student dormitory; rooms for visiting faculty and guests; and demonstration areas for livestock and crop production, grain handling and agroforestry. A soccer field is open to the community and a basketball court will be constructed soon.
Local architects, engineers, contractors and labor constructed the facility. Local materials also were used, including 30,000 compressed earth blocks and locally sourced furniture and furnishings. Gardens and orchards supply fresh produce to students and visitors.
"The design was guided by green principles. We planned the facility to reduce our carbon footprint as much as possible," said David Acker, CALS associate dean for academic and global programs, who oversaw the training center's planning and development.
The facility conserves water by collecting and using rainwater. Wastewater is recycled using an anaerobic biodigester and constructed wetlands. A water purification system reduces the need for bottled water. Solar water heaters provide hot water, and photovoltaic panels generate power. Natural ventilation, ceiling fans and shade trees preclude the need for air conditioning.
Hub for learning
Since 2006, more than 250 Iowa State and Makerere students have participated in service learning in Uganda's Kamuli district. Over the years, students lived in 11 scattered locations.
"It always was a dream to have all the service-learners living together in one location. Now it's a reality," said Gail Nonnecke, associate director for education programs for the Center for Sustainable Rural Livelihoods, and a University Professor, Morrill Professor and Global Professor in Global Resource Systems.
This summer, the service-learners lived in the training center dorm and worked in teams with children both in school and out of school, farmers and families. Their projects emphasized agroforestry, beekeeping, school gardens, post-harvest handling, poultry production and school health/sanitation.
In the Lusoga language, "mpirigiti" is the name of a native tree highly prized for its healing and medicinal properties.
"When Ugandans see and hear the name of the training center, it will convey the concepts of health and wellbeing, both high priorities for the work of the Center for Sustainable Rural Livelihoods," Acker said.
Last year, service-learning students successfully dug up and moved a 25-foot mpirigiti tree in the path of construction. The tree survived and today shows new shoots and leaves. This year, a young mpirigiti tree was planted near the main building in honor of Acker's leadership and dedication to the project.