Although the city of Ames is the host for Tuesday's RAGBRAI stop, Iowa State is a partner for the event. Incorporated into the "Cycling Power: Taking the State by Storm" theme for the event, Iowa State will host the welcome site and several camping and parking locations for RAGBRAI participants.
The Cycling Power welcome rally on South Fourth Street is free and open to the public. It includes an optional "Cyclone Loop," giving bikers a chance to take a lap around the field in Jack Trice Stadium. Vendors -- including university units -- will have displays, merchandise, food and beverages in the welcome area, with pep rallies scheduled on the hour from 1 to 3 p.m.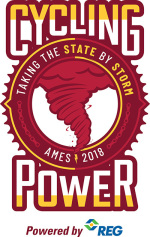 Reiman Gardens will have live music and on-site vendors offering food and beverages from noon to 6 p.m. Tuesday. RAGBRAI riders receive a $2 discount off general admission (regularly $9, or $8 for seniors).
Tuesday evening, visitors are invited to central campus for the third guest performance of this summer's carillon concert series. Ray McLellan, university carillonneur at Michigan State University, Lansing, will perform a six-song program at 7 p.m. Lawn chairs, blankets and bikes are welcome at the free concert.
Get involved
Volunteers still are needed at various locations. Position descriptions and available shifts are available online. Community members also can host RAGBRAI riders in or at their homes -- from parking spaces, to available beds, to yard space for tent camping.