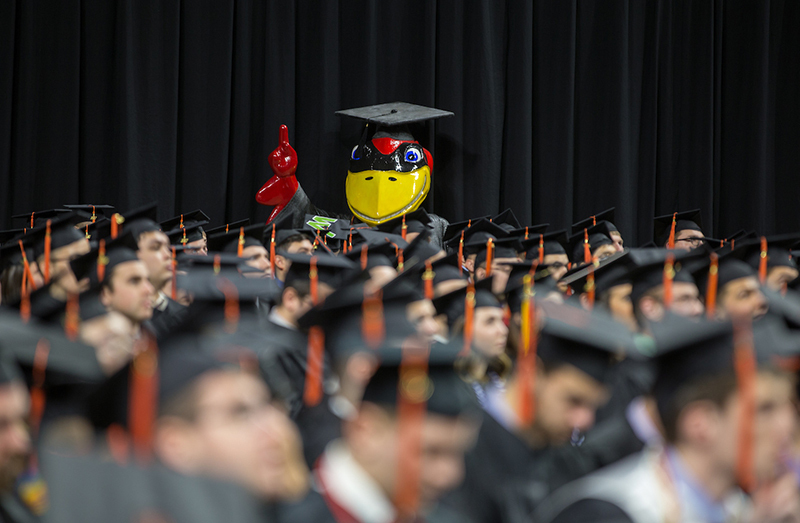 Iowa State will split its spring undergraduate commencement into two ceremonies on the same day, with graduates from three colleges recognized at each.
President Wendy Wintersteen announced the change March 1 following several months of study by a task force. Their work included an early fall survey of the senior class that garnered nearly 2,200 responses.
A ceremony for students in the colleges of Agriculture and Life Sciences, Business, and Liberal Arts and Sciences will begin at 10 a.m. Saturday, May 5; a ceremony for students in the colleges of Design, Engineering and Human Sciences will begin at 2:30 p.m., both in Hilton Coliseum. This college split should result in a similar number of graduates at each event.
Two smaller ceremonies is intended to provide graduating students with the elements they indicated they prize in their graduation day, such as having their names read as they walk across the stage, a seat for all their guests, a shorter event and multiple colleges sharing a ceremony so they can celebrate with friends.
The new plan applies to spring commencement only. Interim registrar Jennifer Suchan, who chaired the task force, said this option received the highest recommendation by the task force among six options it developed. It rose to the top by addressing student wishes, the guest experience, weather variables, ceremony length, adjustments to the final exam schedule and the overall Iowa State experience, she said.
For the last two years, undergraduate spring commencement was held outdoors at Jack Trice Stadium, in part to provide unlimited seating for students' families and friends. But record-high graduating classes on the heels of a 40 percent enrollment surge made for a lengthy ceremony -- nearly four hours last May.
"We knew that was not a sustainable model. We decided last May something would have to change," Suchan said. "We're excited about this plan."
Commencement stage officials
The Iowa State representatives who process in and sit on the stage also will be split among the two undergraduate ceremonies, as will student marshals. Several university officials -- the president, senior vice president and provost, and senior vice president for student affairs -- will attend both. Wintersteen will speak at both events and her remarks will replace a guest speaker -- in most cases. However, the president will have the flexibility to invite a speaker(s) to spring undergraduate commencement.
Impact to college events
The addition of a Saturday morning commencement ceremony in Hilton puts four college convocations there on Friday at three-hour intervals (10 a.m.-7 p.m.). This includes the colleges of Agriculture and Life Sciences, Business, Human Sciences, and Liberal Arts and Sciences. On Saturday morning, the College of Design will use Stephens Auditorium for its convocation. The College of Engineering, which prefers to recognize its students at department-level receptions, will continue this tradition at locations across campus and at Ames' two secondary schools.
Suchan said seniors wanted the option to wear their academic robes at their college convocation, which wasn't allowed the last two years. As a result, college deans will set the attire rules for their own events.
Suchan said this flexibility may impact attendance at the university ceremonies, but she doesn't anticipate a significant drop in student participation.
Compact exam schedule
With the new schedule, final exams will conclude Thursday evening instead of Friday noon. The exception is the Online Testing Center, which will remain open Friday. Nine exam periods designated for specific high-enrollment courses were consolidated into seven so that the two Friday morning exam periods could be moved earlier in the week. The exam originally scheduled at 7:30 a.m. Friday will begin at 7 p.m. Tuesday; the original 9:45 a.m. Friday exam period will begin at 2:15 p.m. Tuesday. All exam periods remain two hours long.
Graduate events
The Graduate College commencement ceremony will stay in its Thursday evening slot, beginning at 7 p.m. May 3 in Hilton Coliseum. The College of Veterinary Medicine will continue to hold its ceremony for Doctor of Veterinary Medicine candidates at midday Saturday in Stephens Auditorium. The start time has been pushed back 30 minutes, to 12:30 p.m.
Related stories
December commencement will return to two ceremonies, Sept. 7, 2017
Graduation weekend changes intended to improve everyone's experience, Jan. 21, 2016