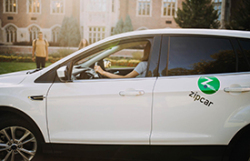 Zipcar is the new provider for Iowa State's car-sharing program, with vehicles scheduled to arrive on campus the first week of January. The contract runs through June 2021, with an annual renewal option thereafter. Enterprise's CarShare program had been on campus since fall 2011.
While the program's target audience is students, employees are welcome to enroll as well.
Car sharing's popularity is based on economy and sustainability. Drivers reserve vehicles by the hour or day for personal use -- shopping, dining out, visiting friends -- to avoid the expense of purchasing and maintaining their own set of wheels. Car sharing can be a factor in reducing the number of student vehicles on campus.
Transportation services remains the vehicle provider for university-sponsored travel.
Learn more
The world's largest car-sharing network, Zipcar also services the most college campuses -- more than 600 across North America. Zipcar pricing includes gas, insurance, maintenance, 24-hour roadside assistance and 180 miles of driving (per 24 hours). Members must be at least 18 years old and have a valid driver's license.
The Cyclone fleet
Initially, the Zipcar fleet at Iowa State will feature three vehicles, two of which will be Ford Focuses (the third is to be determined). Demand for the program could increase this number over time. Two vehicles will be parked in the Stange Road lot just north of the railroad tracks (Lot 119) and one will be parked west of Martin residence hall (Lot 59A). The Zipcar reserved stalls are identified with signs.
"Offering this 24-hour, on-campus service provides our community members with access to cars when they need them," said director of sustainability Merry Rankin. "It also eliminates the hassle and challenge of maintaining and parking a personal car."
How to join
The Zipcar annual membership fee is $25, but Ford, which is a Zipcar partner, subsidizes the first year, reducing the cost to $15 for students, faculty and staff. Current Enterprise CarShare members may join Zipcar for free through Zipcar's Iowa State website.
Ford also subsidizes the hourly rate for its vehicles on university campuses. As a result, the hourly rate starts at $7.50 and the daily rate at $69.
Members can apply online. Membership cards, which provide access to the Zipcar vehicles, are sent within a week via U.S. mail. Zipcar reservations -- from one hour to seven days -- are made online or via a mobile app. Members hold their card over a card reader on the windshield to unlock and lock a Zipcar. Keys and a gas card are kept in each vehicle.
New provider
Zipcar is a subsidiary of Avis Budget Group. Procurement services rebid the service this summer and director Cory Harms said Zipcar employees have shown a willingness and capacity to promote and expand car sharing at Iowa State. Under the previous contract, three assigned vehicles had shrunk to two.
"We're confident this is a better program and will get utilization up," Harms said, noting that car-sharing programs at universities the size of Iowa State typically have 10 to 15 vehicles.
Driver rules
Zipcar requests these six courtesies from its members:
Report damage to the toll-free Zipcar number (and inspect the car before driving)
Clean out trash and personal items when you return a vehicle
Don't smoke in the car
Fill the gas tank if it's down to a quarter tank or less (use the fuel card inside the car)
Return the vehicle on time (avoid a late fee)
Keep pets in travel carriers