An estimated 2,449 students are completing Iowa State degrees this month and will be honored at commencement events this weekend. That's about 300 more than last year's record-setting December, and for the first time in eight years, the university will hold two graduation ceremonies. Tickets are not needed for either ceremony. Both will be streamed live online and archived on the registrar office's YouTube channel.
Graduate ceremony
An estimated 125 doctoral and 281 master's degree recipients will be recognized at a 7 p.m. Graduate College ceremony Friday, Dec. 15, in Hilton Coliseum. A video livestream will activate just before it begins.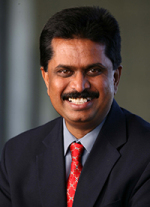 Anumantha Kanthasamy, Clarence Hartley Covault Distinguished Professor in Veterinary Medicine and Lloyd Endowed Chair and Eminent Scholar in Veterinary Medicine, will address the graduates. Kanthasamy joined the Iowa State faculty in 1999 and has led the biomedical sciences department since 2011. He also directs the Iowa Center for Advanced Neurotoxicology, located at the college.
For more than two decades, Kanthasamy has pioneered research on the cellular and molecular mechanisms of neurodegenerative disorders, such as Parkinson's disease, caused by errant protein folding in the brain. His work has looked at new therapies for such disorders, as well as the role of agrochemicals, metals and other environmental factors in contributing to them.
Undergraduate ceremony
An estimated 2,043 students completing bachelor's degrees this fall will be honored at the 1:30 p.m. undergraduate ceremony Saturday, Dec. 16, also at Hilton. A video livestream will activate just before it begins.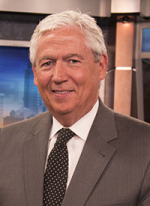 Kevin Cooney, a 1974 alumnus of the journalism program and former news anchor at KCCI television, Des Moines, will give the undergraduate address. A Des Moines native, Cooney worked part time at the station during high school and college, and upon graduation, landed a full-time reporting job there. He left for two years, 1980-82, to work in San Jose, California, but returned to KCCI as an anchor for the evening newscasts and remained for 33 years until his November 2015 retirement.
Some of Cooney's notable work includes inauguration coverage for former presidents Bill Clinton and George W. Bush, reports during the historic Des Moines flood of July 1993 and, in 1991, live reports from Germany when hostages -- and ISU alumni -- Terry Anderson and Tom Sutherland were released after six-plus years in captivity in Lebanon.
Graduating students and their friends and family members are invited to participate in a live Twitter feed before and after the undergraduate ceremony. Tweets won't be added during the ceremony. Tweets that contain #CyclONEgrad will be included in the online tagboard conversation.
College receptions
Final exams conclude by noon on Friday, allowing colleges to honor their graduating students during college or departmental events Friday afternoon and evening and Saturday morning. Traditional aspects of commencement -- such as wearing caps and gowns or conferring diplomas -- will occur at the two university ceremonies. Details about college receptions and convocations are online.