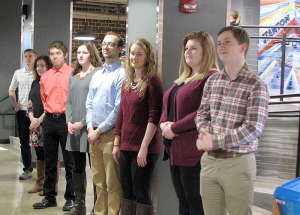 To give students dairy research and development experience, the food science and human nutrition department organized a signature ice cream contest this fall.
The winning concept, "Cyscream," was announced during a Dec. 8 ceremony at Friley Hall's Windows dining center. It was developed by a four-person team of senior food science majors and members of the dairy products evaluation club. Team members said they had about six weeks to develop the concept and submit a proposal.
Cyscream's name and ingredients reflect Iowa State and its traditions, as explained by the team in its promotional video. The peanut butter ice cream flavoring is a nod to alum George Washington Carver's research. Alumna Mildred Day, creator of the Rice Krispies treat, inspired the chocolate-covered peanut butter rice crisp bites, and the swirl of fudge represents the "Cyclone" moniker.
R&D experience
"We don't have a commodity-based program," said Stephanie Clark, professor in food science and human nutrition. "We have a very broad program -- food processing, food chemistry, food microbiology. Some students are very interested in dairy, so we have classes where they can delve deeper into their interests. This contest gave them an opportunity to use some of those skills, to put them into a real application."
The contest, sponsored by Wells Enterprises (Blue Bunny) and ISU Dining, was open to all students. It was extracurricular -- no class credit. Written proposals and promotional videos were submitted to an eight-judge panel that looked at both the creative image and technical aspects of the ice cream concepts. Cash prizes were awarded for first ($500), second ($250) and third ($100) place.
"This is to launch Iowa State's first signature ice cream," Clark said. "I foresee the potential for another contest in a year or two, because there's so much creativity, and new ideas emerge."
She said a pilot plant to produce ice cream is being created in the Food Sciences Building. Once that clears its hurdles, including state inspections, Clark anticipates the winning flavor to become a reality when ice cream production could begin next spring. Look for it at special events, such as weeklong celebrations for the colleges of Human Sciences, and Agriculture and Life Sciences -- both of which house the department.
"We have to finalize the recipe," Clark said. "There are some components of the ice cream that need additional development."
The other finalists
The runner-up and third-place entries were, respectively:
"Cardinal Tracks," French vanilla ice cream (sweet corn-based) with raspberry swirls, 3D-printed chocolates in the shape of Cy's footprint and medallions with Iowa-related emblems
"Ice Cream of the 'Day,'" vanilla ice cream with marshmallow fluff, mini marshmallows and Rice Krispie treats (named for Mildred Day)