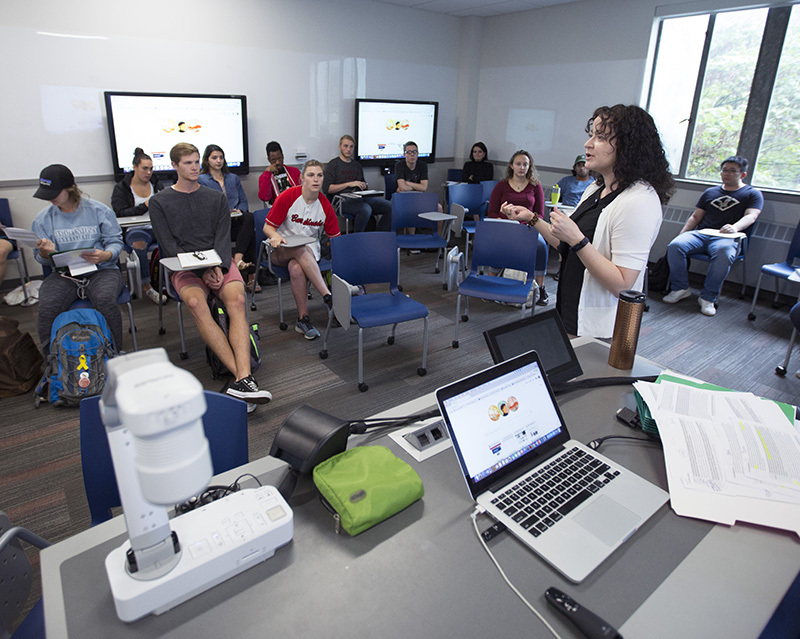 Classrooms have changed a lot over the years, especially in how much they can change.
Iowa State experts involved in creating the university's newest learning spaces say flexibility is one of the top trends in modern classroom design, a capability that makes it easier to use active and team-based teaching styles to engage students.
"If we're going to ask faculty to do this, we need the space that will support it," said Ann Marie VanDerZanden, associate provost for academic programs and former director of the Center for Excellence in Learning and Teaching (CELT).
That means chairs and tables move easily, allowing students to form small groups even in lecture halls. Walls flanked with monitors, projection screens and white boards create more front-row seats and opportunities for teamwork and sharing. Teaching may extend beyond a room's walls, with monitors and tables in hallways for instructors to answer student questions after class without holding up the room.
Those innovations -- and other features common in new classrooms -- are informed by nationally recognized best practices and a unique focus on incorporating faculty input.
Finding feedback
Until just a few years ago, it was unusual for Iowa State faculty to have much say in general classroom renovations, said Katie Baumgarn, coordinator of instructional facilities for facilities planning and management.
Increased faculty involvement in design was recommended by a classroom improvement study in 2014, a report that also prompted an ongoing 10-year initiative to renovate the university's 210 general-use classrooms -- spaces not managed by departments or colleges.
"It's exciting to sit around the table with them and have them really share with us," Baumgarn said. "At first when I started working with faculty, they'd look at me like, 'What am I supposed to say because it's not going to happen.'"
Though budget constraints don't allow every idea to be implemented, faculty input helps tailor rooms for how they'll be used.
For instance, in classrooms in the new Bessey Hall addition, projection screens were installed instead of monitors to facilitate large photos shown in biology classes, Baumgarn said. In an upcoming renovation in Heady Hall, she said, a new style of white board that doubles as a projection screen is being considered because it's perfect for highlighting material in spreadsheets.
"When classes are in the right room, it can be a beautiful thing," Baumgarn said.
A natural feel
The new Pearson Hall classroom where Stacey Weber-Fève teaches French 304, a cultural study of French business environments, matches well with her focus on small-group learning -- students interacting and being accountable for their own education.
In Pearson 2125, the 32-seat room's three supplemental monitors have made breakout sessions more natural, she said. When assigned group work, her students intuitively cluster around the monitors without being instructed.
"It added an authentic element that I'd never experienced in a more traditional classroom," she said. "It was a cool feeling to experience that."
Having students huddled closely around monitors also expands what materials Weber-Fève can display during group work, allowing the use of more visuals because they're physically close enough to images to examine them.
Her students have been so much more enthusiastic that the conversational volume, plus the multiple monitors, has been overstimulating for Weber-Fève, at times.
"But they don't seem to be phased by it all," she said.
Lecture learning
CELT has had a seat at the table in classroom upgrades, beginning with targeted remodels a few years ago in MacKay and Gilman halls and most recently in eight new Pearson classrooms and two in Hamilton Hall that opened this fall.
"As we've talked to colleagues at other teaching centers, very seldom do they get that opportunity to be part of that planning phase," VanDerZanden said.
It's a big reason why new classrooms aid active learning. For undergraduates, that style of teaching is familiar to their K-12 experience, said Laura Bestler, a CELT program coordinator involved in classroom renovations.
"If you take those students and plop them into a lecture hall space where they can't interact with other students, it may not be conducive to their learning," she said.
Heather Bolles, a senior lecturer in mathematics, has seen evidence of that in her own classroom. In a 153-seat auditorium in Sukup Hall, she teaches a team-based introductory calculus course that has improved student outcomes.
Like many other new lecture halls, every other row of fixed seats swivels around, allowing students to collaborate easier. Without swiveling seats, it would be difficult to organize teams of more than just a couple students, she said. Bolles also appreciates the spacing between seats, which is wider than in similar, older rooms.
"There's room for instructors to circulate," she said.
Driven by teaching
Flexibility isn't the only hallmark of a modern classroom. Responding to student feedback, extra electrical outlets and larger writing surfaces are added. Chairs are designed to be more comfortable. Natural lighting is used whenever possible. Sightlines and acoustics are important. CELT uses a national survey, the Learning Space Rating System, as a framework to guide some of those considerations.
Making technology easy and consistent is another emphasis, making tasks like dimming lights, connecting laptops and operating document cameras as simple as possible.
"Faculty won't want to deal with it if it's not easy and takes away from their time teaching the class," VanDerZanden said.
While those improvements are typical in any new learning space, not every classroom needs to have movable seating and multiple monitors. Some of Iowa State's best teaching faculty are traditional lecturers, Bestler said.
"It all depends on how they lecture and how they captivate the students," she said.
The approach to new classrooms hasn't been uniform for that very reason, VanDerZanden said. The point is to match faculty with spaces that work best for them.
"The decisions haven't been driven by the latest technology that we have to have in the space. It's driven by the teaching," she said.
Plans in place
There are many factors that determine which classrooms to overhaul. In general, the focus at first has been on underutilized small rooms in centrally located buildings, Baumgarn said. The university aims to have classrooms in use two-thirds of the time.
Financial considerations dictate the pace of classroom remodeling, and some of the same concepts could be used more broadly in teaching labs and other space controlled by departments, VanDerZanden said.
But the work done in the past few years on classroom design has positioned Iowa State to take maximum advantage of available opportunities, she said.
"We're always ready to say, 'This is what we know we need to do next,'" Bestler said.