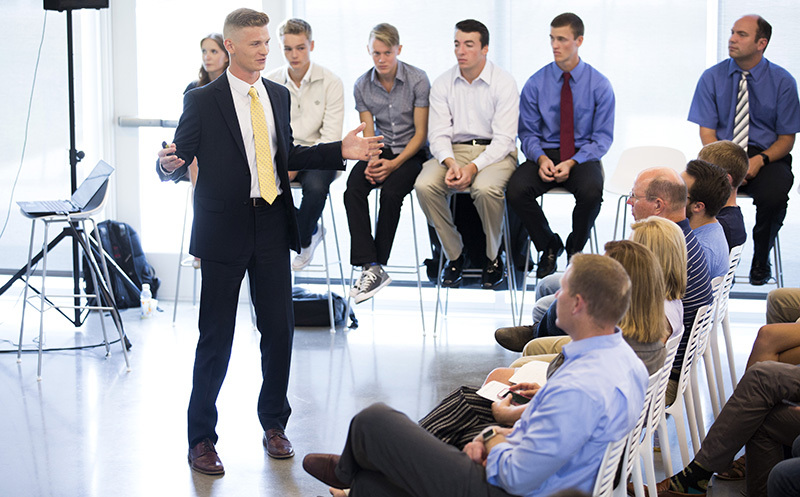 As a dispersing crowd milled about in the atrium of the building that houses Iowa State's economic development agencies, Brian Tapp had an impromptu tip for Jake Oswald.
Oswald, a recent landscape architecture graduate, had just finished presenting the business idea he worked on this summer in CyStarters, Iowa State's 10-week student startup accelerator. The Osceola native, a member of one of 12 teams to outline their ideas for an audience that filled the communal space on the building's first floor, started the program with a plan that fizzled out. He pivoted instead to a traveling story-sharing notebook.
Tapp, regional director of the Small Business Development Center (SBDC) based out of the same building, suggested another tweak. Sell the same story-sharing concept, but in a corporate consultant context, as a bonding or ice-breaking exercise. After Tapp walked away, Oswald marveled at the casual morsel of mentoring.
"That's the third or fourth interaction I've had with that man in this square," Oswald said. "It's invaluable."
Productive chance encounters are meant to be routine at the Economic Development Core Facility, which opened last summer as the gleaming new nexus of the Iowa State University Research Park.
"That proximity, that constant interaction and opportunity for interaction, is where innovation springs from," said Mike Crum, vice president for economic development and business engagement.
At the same table
While digital collaboration has its benefits, clustering agencies with intersecting purposes is helpful for clients and makes staff more effective. Or as Judi Eyles, assistant director of the Pappajohn Center for Entrepreneurship, puts it: "There's just nothing better than sitting across the table."
The core facility collects under one roof the university's concerted efforts to help businesses form and blossom. "These units were all over the place," Crum said.
The Pappajohn Center, SBDC, Crum's office and the student-staffed CyBiz Lab were in research park buildings. The Center for Industrial Research and Service was in Howe Hall, while the Iowa State Research Foundation and the intellectual property and technology transfer office were in the former ISU Press office building on State Avenue. The core facility also gives an Ames home to the Cultivation Corridor, a public-private partnership focused on advances in agriculture and biosciences.
Putting all those offices in the same place means a client's meeting with one agency can turn into a consultation with another at a moment's notice, Crum said.
"Before, they had to make the connections themselves," he said. "Now, we're making those connections."
Recruiting tool
The impact of the $12 million facility, built with state money Iowa lawmakers approved in 2013, will stretch beyond its glass-and-whiteboard walls and custom-tailored collaborative spaces. As the first building in the research park's largely undeveloped 200-acre third phase, the core facility is designed to be the park's town square and a catalyst for commercial development sought by tenants – a health clinic, a restaurant, a fitness center and a child care center, for starters.
"I'm not sure I'd call them amenities any more. Necessities," Crum said.
The addition of such on-site services is a big reason why Steven Carter, the park's president, believes the complex is poised to attract more mature companies and grow to host 5,000 workers by 2025, triple the number employed there now.
"We have, to a degree by necessity, grown incrementally over the years and put ourselves in a position to accelerate that growth in the last three years," said Carter, who also is director of the Pappajohn Center. "Now we sit well-prepared to grow at a much more purposeful, faster rate."
The new building is valuable as a recruitment tool of sorts, a physical embodiment of the university's investment in economic growth, Carter said.
"Had we not had this central facility, which brings these university functions together in a place that can be utilized by the university and the companies and is now being surrounded by these other sorts of amenities, it wouldn't have been nearly so compelling. I think this facility has exceeded all our hopes and expectations about how key it is," Carter said.
Game-changer
For students who work in the building, the upgrade has been striking and surprising, Eyles said.
"We had no idea how great it would be to be in a space like this," she said.
In the summer, student entrepreneurs such as Oswald who win acceptance into the burgeoning CyStarters program work in the wing of the core facility also used by the CyBiz Lab. About 40 students work for CyBiz during the school year, along with a smaller group in the summer, tackling real-life projects for paying clients.
Before landing in their new home, CyBiz students were embarrassed to meet clients at their former office and had to hold staff meetings in the hallway because none of their rooms were large enough, Eyles said. The core facility has been "game-changing" for them, she said.
"We were in a place where nobody wandered through, ever," Eyles said. "There's just a level of culture that is completely different than it used to be."
But who the students share the space with is as important as the space itself, Oswald said.
"It is great to have it all in one place, but it also has to do with the spirit of the people here," he said.