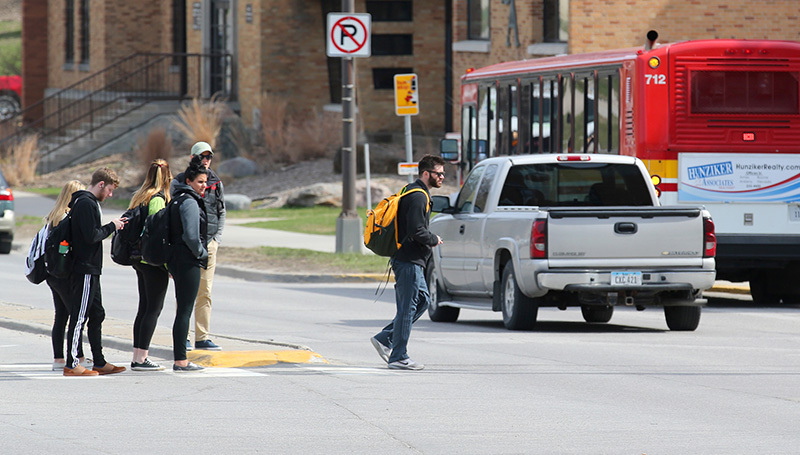 Phase 1 of a Lincoln Way safety study for the segment between Sheldon Avenue and University Boulevard found little amiss with the engineering or physical conditions along the route -- but room for improvement in pedestrian behavior at the various intersections.
At its July 25 meeting, the Ames City Council accepted a report on phase 1 and gave the go-ahead for phase 2. The city and Iowa State are splitting the cost of the study -- about $32,000 total for phase 1 and up to $50,000 for phase 2. SRF Consulting, Omaha, Nebraska, is doing the work. The phase 1 assignment was to study the intersections and identify significant problems that warranted solutions. Much of the data collection happened in March 2016.
Lincoln Way is the city's street, but safety concerns about it are an outcome of the university's enrollment growth and subsequent development in Campustown.
As councilwoman Gloria Betcher noted, "the corridor's unpredictability is its scariest feature."
Pedestrians unintentionally may end up in the street, she noted, when they start crossing against the signal and the center median is already full of people when they reach it.
Council members appeared to agree that changing the speed limit (30 mph) might be part of the solution. At that speed -- or the higher speeds some drivers prefer -- they don't have time to correct for the random pedestrian behavior around them.
While Lincoln Way is a primary east-west route through Ames, council members discussed slowing down vehicle traffic for six to eight blocks, perhaps to match posted speed limits (25 mph) around Ames' schools.
Up next
Phase 2 will focus on four ways the consultants and city staff believe could improve safety along the "Iowa State stretch" of Lincoln Way:
Alter the timing of the traffic signals on Lincoln Way to reduce wait times for pedestrians crossing and slow down vehicle traffic
Develop an education campaign that encourages pedestrians to activate -- and comply with -- the crossing signals
Address the Stanton Avenue-Lincoln Way intersection, currently without a pedestrian crossing or signal (40 years ago it did), but a popular pedestrian crossing site with a vehicle crash rate trending upward
Address the Welch Avenue-Lincoln Way intersection, where there's a higher-than-normal severe crash rate
City traffic engineer Damion Pregitzer, who presented phase 1 results to the council, said the first two likely could be fast-tracked and rolled out sooner than the other two.
He also told council members that the survey portion of the study generated considerable talk about building pedestrian bridges over Lincoln Way. For several reasons -- flatness of the corridor, cost of purchasing adjacent properties and the likely refusal of pedestrians to use them -- make that an unlikely option, he said.
"The report has been very helpful in showing us that our biggest challenges to safety on Lincoln Way aren't due to infrastructure configuration, and it provides clarity about where we should focus," said Cathy Brown, assistant director for planning in facilities planning and management, who serves as a liaison to the city on this project. "We're looking forward to seeing the phase 2 recommendations and the opportunities to address pedestrian activity. In the meantime, we're working on an early fall campaign to better inform the community about safety in the Lincoln Way corridor."
Pedestrian behavior
A key piece of the consultants' data collection was observing pedestrian choices and behavior along the corridor. The consultants define "compliance" as pedestrians who, when approaching on a "don't walk" signal or red light, either:
Press the walk activation button and wait for the "walk" signal
Don't press button but wait for the "walk" signal
Pedestrians not in compliance:
Press the button but proceed on "don't walk"
Don't press the button and don't wait for a "walk" signal to proceed
During the peak pedestrian time of the day (identified as 11:30 a.m.-12:30 p.m.), compliance across all Lincoln Way crossings in the study zone was 35 percent. For intersecting street crossings, it was 22 percent. For Lincoln Way crossings, just 28 percent of pedestrians arriving on a "don't walk" signal/red light even pressed the walk activation button. For cross streets, which primarily are two-lane streets, the percentage pressing the walk activation button was 15 percent.
Compliance was higher at what is considered a peak vehicle hour (4:30-5:30 p.m.): 46 percent for Lincoln Way crossings and 68 percent for intersecting street crossings. At this time of day, 33 percent of pedestrians crossing Lincoln Way used the walk activation button; 25 percent of pedestrians did who were crossing an intersecting street.
Compliance also was higher at crossings -- like Sheldon -- that don't have a center median for pedestrians to perch on while they wait for vehicle traffic to pass.
Other pieces
In addition to pedestrian crossing behaviors at signals, the study looked at:
Pedestrian crossing behavior at two mid-block locations: between Stanton and Lynn avenues and east of Beach Avenue at the Iowa State Center
Bicyclists' behavior and compliance with crossing signals
Existing traffic operations and timing
Sight distances for drivers on Lincoln Way or cross streets as they approach Lincoln Way, including crash data
Effectiveness of overhead lighting
Responses to a two-question community survey (what are your concerns about the corridor, what solutions do you suggest?)
The safety study is independent of a Lincoln Way corridor plan the council adopted in April as an advisory document for future development along the road through town.
Related story
ISU, city team on Lincoln Way safety study, March 24, 2016