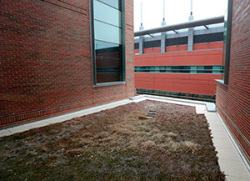 Iowa State's sustainability efforts received a few more endorsements in the last month. The university successfully recertified at the gold level in the sustainability tracking, assessment and rating system (STARS) sponsored by the Association for the Advancement of Sustainability in Higher Education. And Sukup and Elings halls received gold certification for new construction in the Leadership in Energy and Environmental Design (LEED) program of the U.S. Green Building Council.
STARS gold
Iowa State first received the three-year STARS certification in 2013. Gold is second only to platinum in the four-tiered STARS ranking system.
Director of sustainability programs Merry Rankin called the certification "the only recognition of its kind that provides a full campus perspective."
A university must show achievements in four areas: academics, operations, engagement and planning/administration, and can apply for additional credits in an innovation/leadership category.
"Like many [green] programs, the bar keeps rising and the sponsors continue to add items to the certification requirements," Rankin said. "This achievement touches all corners of campus.
"It reflects a commitment to policies and procedures, but it's also a reflection of many individual consumption choices," she said.
Listed below are a few strengths of ISU's application in each of the four achievement areas:
Academics
Every college has learning outcomes related to sustainability
Ninety-five percent of departments are doing research related to sustainability, 48 percent of ISU research is related to it
Semester and summer immersive programs that focus on sustainability
Operations
Practice of single-stream recycling
Guidelines for sustainable purchasing across commodity categories and the university
Transportation incentives including makeup of ISU vehicle fleet, RideShare vans, occasional parking pass option for employees who primarily walk, bike or bus to campus
Engagement
Iowa State's sustainability collaboration with the city of Ames
Student opportunities to learn life sustainability skills such as the Student Organic Farm, SHOP food pantry, GreenHouse Group (campus housing)
Continuing education offerings, such as Master Gardeners, that address sustainability
Planning/administration
Counseling, referral and wellbeing services for students and employees
University nondiscrimination statement and Campus Climate Response Team
Support programs and scholarships to help low-income students be successful
LEED gold
ISU's LEED-certified projects (13)
Platinum: College of Design King Pavilion (2010), State Gym (2012)
Gold: Biorenewables Research Laboratory (2011), Hach Hall (2011), Small Animal Hospital at the Lloyd Veterinary Medicine Center (2013), Troxel Hall (2014), Hansen Agriculture Student Learning Center (2015), Curtiss Student Services Mall (2015), Curtiss Harl Commons (2015), Sukup and Elings halls (2017)
Silver: Morrill Hall (2008), Bergstrom Football Complex (2014), Lagomarcino/School of Education (2016)
In certification process: Frederiksen Court residence halls (6), Morrill Hall operations and maintenance, Marston Hall renovation, Geoffroy residence hall
In construction: Bessey Hall addition, biosciences Advanced Teaching and Research Building
In design: Student Innovation Center
Sukup and Elings halls, home to the agricultural and biosystems engineering department and phase two of the Biorenewables Complex, are the university's 13th project in 10 years to receive LEED certification. All but three of those achieved gold or platinum levels for their environmentally sensitive design, construction, operations and maintenance.
"Sukup and Elings continue what we started with the [Biorenewables Laboratory] and show off the best of everything we have learned to date," said Kerry Dixon, project manager with facilities planning and management and ISU's LEED-accredited professional.
She noted that evolutions in the design and construction industries "actually make this easier to do" now than 10 years ago. For example, building materials such as drywall, ceiling tiles and carpet that contain recycled content -- which LEED smiles upon – have become less expensive than products made from raw materials. And nontoxic paints that used to be sold only by national paint retailers now are common at stores such as Lowe's and Target.
LEED measures achievements in five categories and awards a credit total. Extra credits are awarded for exemplary achievements in any of the five. In the Sukup-Elings submission, five of the 43 points are extra credit.
The project received all points possible in the water efficiency category for its landscaping selections; absence of an outdoor irrigation system; and dual-flush toilets and low-flow urinals, sinks and showerheads. Together, these choices reduce potable water use by 89 percent from the state building codes.
Other credit-earning features of the buildings are:
Office window interior light shelves (positioned above a window blind), that bounce daylight across the room and lessen or eliminate the need for overhead lights.
A four-story atrium with no parallel walls, designed to diffuse noise and be acoustically "dead"
Sidewalks and a west loading dock area made from noncolored, reflective concrete that helps keep the site cooler
Two roof sections contain vegetation, with the rest of the roof surfaces white to reflect light and stay cooler
Carpet, composite wood, paints, adhesives and sealants that emit low levels of toxins and assure indoor air quality
Occupants' access to public transportation, bicycle storage and changing rooms
Availability of community services such as restaurants, post office, fire department, library within one-half mile
LEED projects at Iowa's regent universities
| | | |
| --- | --- | --- |
| | Registered* | Certified |
| Iowa State | 25 | 13 |
| U of Northern Iowa | 4 | 2 |
| U of Iowa | 14 | 8 |
| U of Iowa Hospitals and Clinics | 6 | 4 |
| Total | 49 | 27 |
*Registering a project with the U.S. Green Building Council shows intent to receive LEED certification, whether the application ultimately is successful or not. The figures include projects in design or construction phases and certified projects.