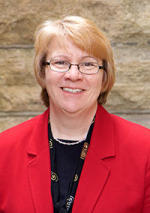 Beate Schmittmann, dean of the College of Liberal Arts and Sciences, has been reappointed to a second five-year term.
Since her arrival in 2012, Schmittmann has been successful in managing the college's explosive enrollment growth; expanding online course offerings; improving retention, graduation and placement rates; strengthening the research infrastructure and external funding record; and enhancing the success of LAS fundraising efforts. Under her leadership, the college recently was awarded an equity gift of approximately $93 million, one of the largest gifts in Iowa State history.
"The College of Liberal Arts and Sciences is Iowa State's most academically diverse college, encompassing everything from computer science and chemistry to psychology and theatre," said senior vice president and provost Jonathan Wickert. "Beate has done an outstanding job leading her college over the last five years, and I look forward to its continued growth."
The LAS College has 8,500 students and nearly 700 faculty among 22 academic departments, one professional school, 25 cross-disciplinary and interdepartmental programs, and six research centers.
"Leading the College of Liberal Arts and Sciences, and working with its students, faculty and staff, has been an exceptional and profoundly meaningful experience," Schmittmann said. "I am excited to continue our work."
Wickert expressed thanks to the LAS dean review committee, chaired by Michael Golemo, professor and chair of the music and theatre department, for managing the comprehensive review process. Wickert also noted his appreciation to faculty and staff in the college who participated in the review process through surveys, open forums and communication with the review committee.
Schmittmann earned a diploma in physics from RWTH Aachen University in Germany, and a Ph.D. from the University of Edinburgh, Scotland. She served as professor and chair of physics at Virginia Tech University, Blacksburg, prior to her ISU dean post.