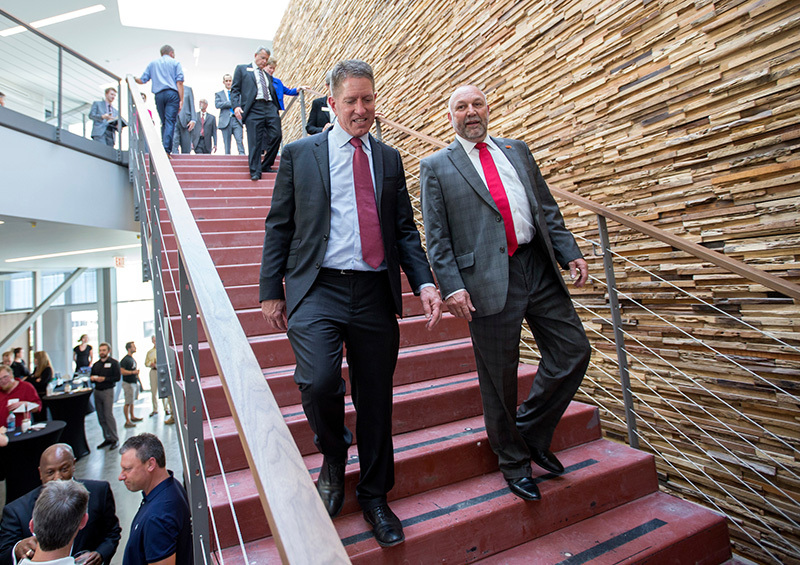 Auburn University in Alabama named Steven Leath its 19th president on March 20. Leath completed his fifth year as ISU president in January. In his resignation letter to the state Board of Regents, he wrote that his last day at Iowa State will fall between May 8 and June 2.
Senior communications officer for the board Josh Lehman said Wednesday that board members hope to hold a special telephonic meeting within the next week to discuss the presidential transition, including interim leadership.
In a letter to the university community earlier this week, Leath wrote, " I leave with a promise fulfilled, and that was to leave the university better than I inherited it."
Highlights of his leadership years include:
Student enrollment rose to more than 36,660 students in fall 2016, including 20,713 Iowans, the most at any Iowa university.
Freshman one-year retention (88.1 percent) and undergraduate six-year graduation (74.1 percent) reached all-time highs last fall.
The placement rate upon graduation has been 95 percent for the last three years.
With an eye on bringing down the student-faculty ratio, Iowa State hired nearly 450 tenured or tenure-track faculty over five years.
Last fall, the ISU Foundation launched the public portion of a $1.1 billion fundraising campaign, the university's largest. More than $550 million -- including $200 million alone in student scholarships -- was raised in the quiet phase of the campaign.
The average debt for ISU students graduating with debt has dropped 6.8 percent since 2012.
The university's technology transfer and economic development functions are now housed under one roof in the ISU Research Park for greater effectiveness and efficiency.
Land size of the ISU Research Park has more than doubled (to 400 acres). The park also serves as the northern gateway to the Cultivation Corridor, which Leath co-founded to establish central Iowa as a global center for innovation in agbiosciences, biorenewables and advanced manufacturing.
Research funding in FY16 hit a record $252.5 million.
A renewed emphasis on faculty recognition resulted in four faculty members' election to national academies in the past two years.
Efforts to improve the campus climate included creation of a vice president for diversity and inclusion post, revival of the 2005 Principles of Community and the recent announcement of a campus climate survey scheduled for fall.
The Iowa State campus also has physically changed during Leath's administration. Renovations were completed in Marston Hall, the north end of Lagomarcino Hall for the School of Education and the power plant. New buildings include:
Geoffroy residence hall
Biosciences projects: Addition to Bessey Hall and Advanced Teaching and Research Building
Hansen Agriculture Student Learning Center
Economic Development Core Facility in the research park
Sukup and Elings halls
Jack Trice Stadium's south end project and adjacent plaza
ISU lease of one floor of the Kingland Building in Campustown
Campanile wall
Student Innovation Center, for which construction begins this summer. Leath helped secure $40 million in state funding for the project
ISU leaders currently are seeking a multiyear $100 million state commitment from the 2017 Legislature to replace the Veterinary Diagnostic Laboratory.