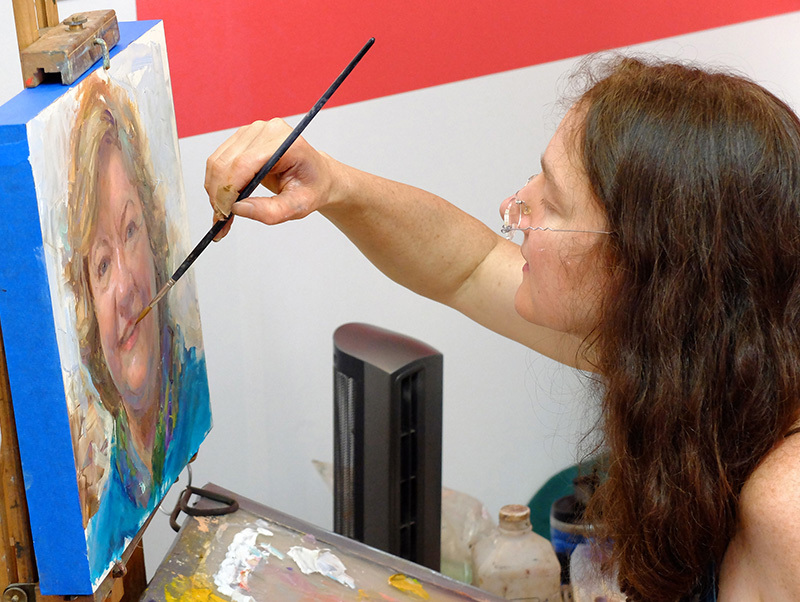 Maquoketa artist Rose Frantzen, who drew state fair goers last August to the Iowa State exhibit where she painted 19 portraits in 11 days, is coming to campus next week to continue her portrait work. During a nine-day residency in the Christian Petersen Art Museum, Morrill Hall, Frantzen will paint the portraits of 13 more Iowa Staters.
"This truly is a feat for an artist to accomplish and an excellent way for students, faculty, staff and the general public to engage with and experience art in the making," said Lynette Pohlman, director and chief curator of University Museums.
Pohlman said Iowa State has a portrait commissioning tradition that stretches back to the 1930s, during the depths of the Great Depression. It was jump-started again in the 1990s, when portraits were commissioned for deans, selected department chairs and accomplished faculty.
"In total, the campus portrait collection celebrates the most accomplished of our campus leaders and preserves their legacies through the fine arts," she said.
All of Frantzen's portrait sitters were identified by University Museums and the ISU colleges as "important and impactful" university alumni, faculty, staff, donors and friends. With two exceptions (past library dean Warren Kuhn and current logistics and support services director Norm Hill), members of the new group of 13 are Iowa State alumni.
Portrait sessions are open to the public in room 3 of Morrill's lower gallery.
Portrait painting schedule
Wednesday, March 29
10 a.m.-2 p.m., Warren Kuhn, retired dean of library services (1989)
3-7 p.m., Larry Ebbers, retired University Professor in higher education (2016)
Thursday, March 30
10 a.m.-2 p.m., Carol Grant, chair of University Museums' curator associates, docent
3-7 p.m., George Burnet, retired professor and chair of the chemical engineering department (1995)
Friday, March 31
3-7 p.m., Monica Lursen, executive director of the Iowa Academy of Nutrition and Dietetics, Clarksville
Saturday, April 1
3-7 p.m., Al Jennings, chief executive officer, board chairman for EFCO concrete forms, Des Moines
Sunday, April 2
2-6 p.m., Dave Miller, retired director of facilities planning and management (2017)
Tuesday, April 4
10 a.m.-2 p.m., Lori Jacobson, project management and planning consultant to University Museums
3-7 p.m., Ed McCracken, retired chief executive officer of Silicon Graphics
Wednesday, April 5
10 a.m.-2 p.m., JaneAnn Stout, retired associate dean of the College of Family and Consumer Sciences and director of ISU Extension to Families (2008)
3-7 p.m., Mary Jane Hagenson, retired vice president of research and technology for Chevron Phillips Chemical Co.
Thursday, April 6
10 a.m.-2 p.m., Norm Hill, director of ISU logistics and support services
3-7 p.m., Alicia Carriquiry, Distinguished Professor of statistics
The 32 Frantzen portraits will make up a "Faces of Iowa State" touring exhibition, which will open in August at the Brunnier Art Museum. Following its Brunnier showing, the exhibition will be featured at sites throughout the state. At the conclusion of the tour, the portraits will become part of the university's Art on Campus collection.