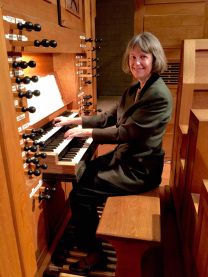 Music composed by women has not received the respect and recognition it deserves, says Miriam Zach, adjunct assistant professor of music and the Charles and Mary Sukup Endowed Artist in Organ.
In 1997, Zach helped remedy the rebuff by establishing the International Festival of Women Composers. Now in its 21st year, the annual event will be held at Iowa State for the first time on March 24 (7:30 p.m.) and March 26 (3 p.m.), with concerts featuring compositions written only by women. The performances, in Music Hall's Tye Recital Hall, are free and open to the public.
Composers' library
The compositions slated for Sunday's concert all are from the Margaret Zach International Women Composers' Library, established in 1994 in Gainesville, Florida, by ISU music faculty member Miriam Zach. Named in honor of her late mother, the library contains a collection of manuscripts, published scores and books, commercial and private recordings, correspondence, interviews, theses, dissertations and other documents by and about women composers. The library is a private archive, accessible upon request by contacting Zach.
Concert details
Friday's concert will showcase compositions written primarily by Iowa State faculty and students, including two world-premiere performances. Musicians include ISU students and faculty performing as vocalists and instrumentalists. Featured instruments include saxophones, a violin and a harpsichord.
The organ is the centerpiece of Sunday's performance, in which the audience will hear compositions by European and American women composers from the Baroque era through today. Zach is the featured organist and will be accompanied by music faculty members Amy Christensen on oboe and James Bovinette on trumpet.
"The repertoire on March 24 and March 26 was chosen for its diversity and excellence, and to share the creative talent of ISU faculty, students and alumni internationally," Zach said.
Additional information about the festival and its concerts is online.