Since mid-January, 70 to 80 workers per day have been hard at it in Marston Hall, including air handling and electrical teams, drywall specialists and even some painters on the top two floors. A fourth-floor skylight and two elevators are in, and a team has begun to erect new steel stairs in the existing west-side stairwells.
Construction work and systems testing on the $27.1 million renovation of Marston are scheduled for completion by early June. Following that will come six weeks of furniture installation, with the first tenants – Engineering student services – set to return in mid-July. All others will follow over the next two weeks. Fall classes will be scheduled in three state-of-the-art classrooms, each with seats for 80 students.
An interior you might not recognize
During demolition, which began in December 2014 and continued for about a year, 75 percent of Marston's interior walls and floors were removed. Crews hauled out 2,993 tons of material, about 97 percent of which – concrete, metal, bricks -- was recycled or reused. A system of steel beams and brick load-bearing walls was replaced with an all-steel network that created larger spaces at the north and south ends of Marston.
One area will remain largely untouched. The building's east entrance and winding staircases to second floor will look much as they have for the last 112 years.
The renovation is in various stages of completion, depending on which floor you visit. Project manager Kerry Dixon, facilities planning and management, estimates that the fourth floor is 85 percent completed, while the first floor is about 40 percent done. Why the distinction?
"It's easier to close off the upper floors and keep them clean once the work is done," she said.
Marston Hall first opened in 1903. In addition to the classrooms, the renovation will create student services, and visitor and student interaction spaces on the first two floors. Engineering career services and more student project rooms will be on third floor. The college's development, communications and dean's office staffs will move to the fourth floor. The three floors of the west rotunda will become a student lounge/welcome center, 177-seat auditorium and conference room/special event space. The project is being paid for by university and college funds (about two-thirds) and private gifts (about one-third).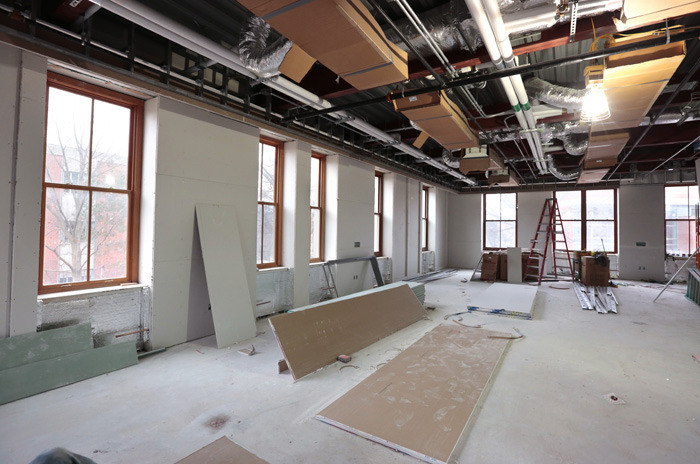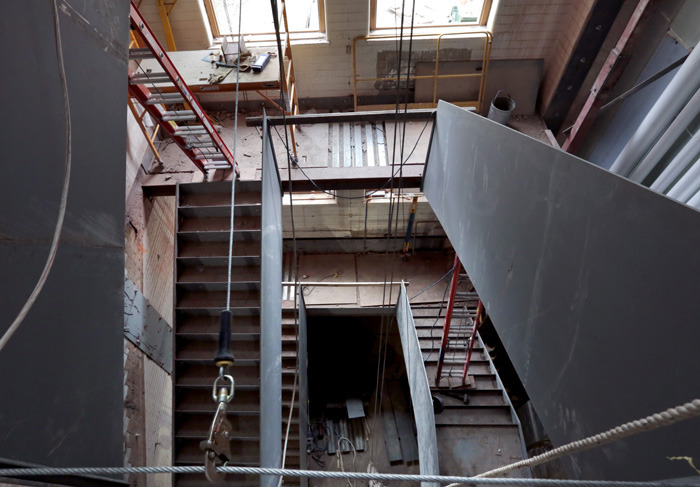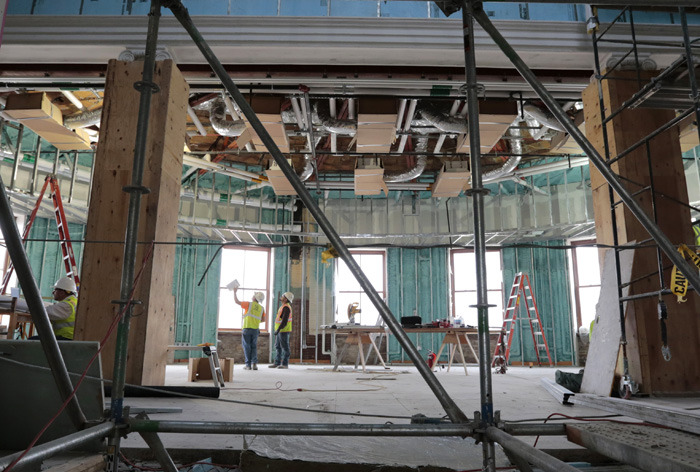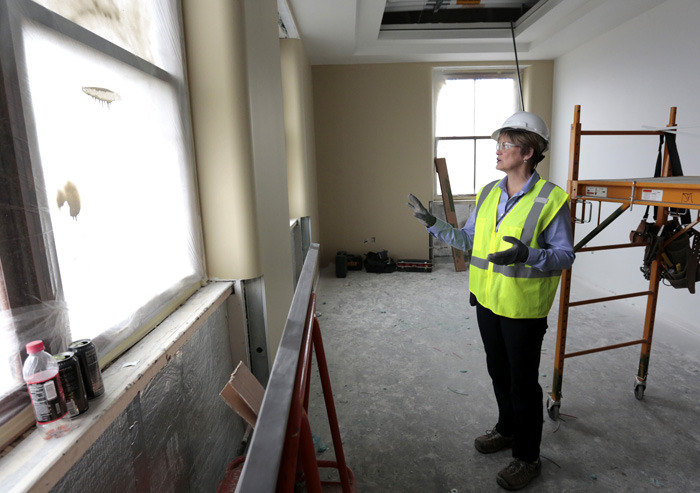 Related stories:
Marston Muses are getting a makeover, Aug. 6, 2015
A peek inside Marston Hall, May 21, 2015
Demo work in Marston turns up a few treasures, Jan. 22, 2015
Interior demolition at Marston begins next month, Nov. 6, 2014
Marston tenants are starting to move, June 5, 2014