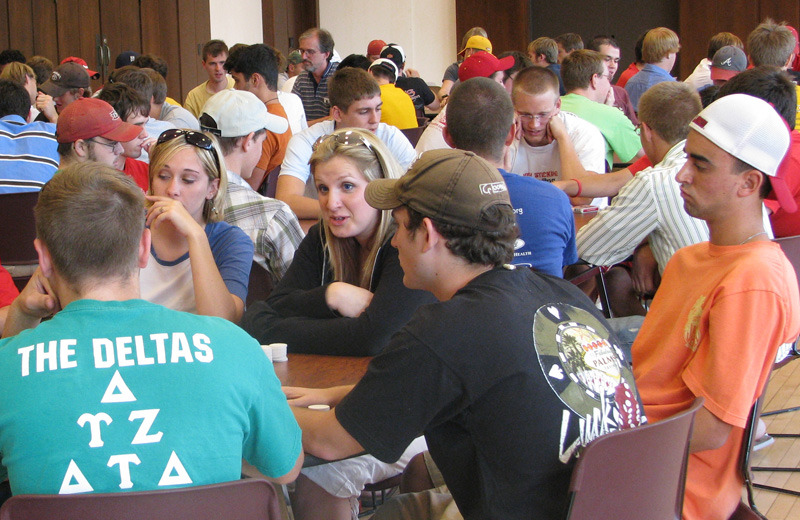 Think your days of organized sports and activities are firmly stuck in the past -- along with the boom box and rotary-dial phone? Here's some good news. Faculty and staff who purchase recreation passes may participate, along with ISU students, in more than 40 intramural sports.
Badminton to bowling
Register for intramurals
If you're interested in participating in rec services' intramurals program, register online.
Administered by recreation services, the variety of intramural sports and activities at Iowa State is vast. Traditional team sports, such as basketball, volleyball, ice hockey and soccer, are part of the mix. Other options include curling, broomball, dodgeball, bag toss, adventure races, or euchre, hearts and Texas Hold 'em card tournaments. Competition is open to male, female, co-ed or open (any gender combination) teams. You can sign up with a team or individually, as a free agent.
Most events take place in the evenings and on weekends. The time commitment is up to you. Employees who choose to play intramural basketball, for example, will compete a couple evenings a week for a few months. But a card tournament is usually wrapped up in an afternoon, and a free-throw shooting competition could be over in minutes.
No experience required
If you're worried that your athletic skills are a bit rusty, individuals and teams are paired up according to their skill levels.
"There is no experience required to participate in intramurals," said Jenny Pollard, marketing and promotions coordinator for recreation services. "We pair people with like skills, and really, intramurals are about trying something new for the first time."
Feeling uneasy about playing sports with college students? Don't, says Michael Davis, assistant director of student assistance and outreach in the dean of students office. He has participated in several ISU intramural sports and finds it a great way to have fun while staying fit.
"For the students, [intramurals] are a great way to see their faculty and staff members outside our offices and classrooms and make connections beyond work," Davis said. "For you, it's fun and a great way to stay active."
Fun, but not free
Recreation fees are $403 for an annual pass, $161 for a semester pass and $81 for a summer membership. Employees with monthly or weekly passes are not eligible to participate in intramurals. Additional fees apply for intramural ice sports to help pay for time at the Ames/ISU Ice Arena. Pricing information is available online.
Employee spouses and dependents (at least 18 years old), retired employees and spouses, approved affiliate employees and alumni association members also may participate in intramurals if they have a rec membership.
University employees also may be able to join one of the 50 student-organized sports clubs, but that is up to the clubs' student leaders. There may be additional fees required to participate.