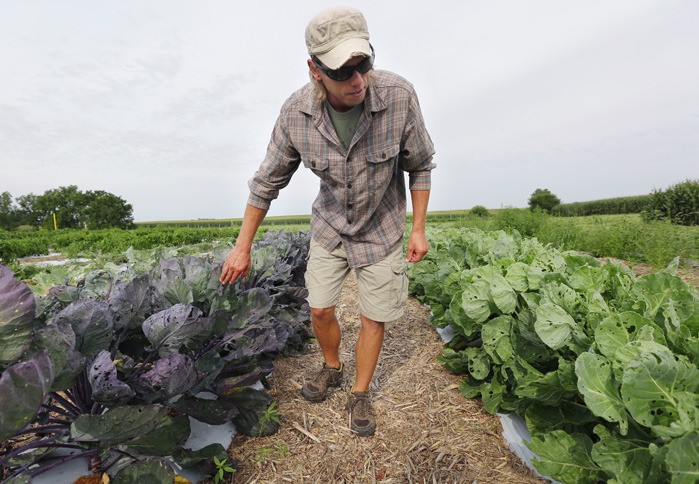 It's that time of year. Rows of vegetables are growing wider and taller, and plants heavier with their fruit. And that's good news for Iowa State employees and students, who have a weekly opportunity to purchase and enjoy the produce.
Launched during spring semester 2014 by students in the Horticulture 465 class – with an emphasis on business management and marketing -- the project features a produce web site and a lot of behind-the-screen labor at the horticulture research farm east of Gilbert.
The website is updated on Monday afternoons (mid-June through late October) with vegetables and fruits available that week. Customers have until noon Thursday to place their orders. Produce is delivered to campus on Fridays for pickup on the plaza east of Curtiss Hall (11:30 a.m.-1:30 p.m.); look for the blue canopy. In the case of rain, distribution moves indoors to Curtiss' Harl Commons.
At pickup, cash and personal check are accepted forms of payment. The website requires an ISU Net-ID, which limits the sale to the university community and steers clear of any concerns about local competition.
The produce all comes from the horticulture farm, from one of three possibilities: Hort 465 students, who planted a little over an acre this year; Student Organic Farm club members who have about two acres to work with; and faculty-led research projects spread out across more than 15 acres. All produce sold is safe for eating.
While the three-semester Hort 465 class ended its run this spring, farm superintendent Nick Howell said the produce sale will continue, whether by staff or horticulture interns seeking a farmer's market type of experience.
Horticulture senior Brad Bathey, who's working at the farm this summer, said he loves Fridays.
"Meeting customers, talking with people about how to prepare or serve the produce they bought -- that's an experience most college horticulture students don't get," he said.