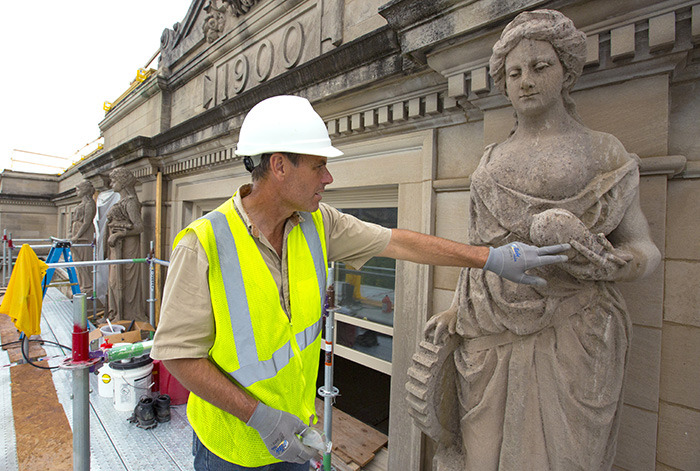 Marston Hall Muses
Each muse holds objects associated with its engineering field of study.
Civil: Level, sextant, Gunter chain, reel measures
Electrical: Sphere, calipers
Mechanical: Bearing, gear, anvil
Mining: Pick, lantern, block of ore
When renovations for Marston Hall began taking shape, so did a plan for restoration work on the sculptures perched atop the east side of the building.
"The Marston Hall Muses are an important part of history for the College of Engineering and all of Iowa State," said University Museums director Lynette Pohlman. "They are so iconic."
The four limestone sculptures, each of which stand eight feet tall and are original to the building, represent the engineering disciplines taught at the college when construction began on Engineering Hall in 1900. Each of the unique Greco-Roman, robed women holds artifacts that symbolize the area of engineering it represents -- (from left to right) mining, civil, mechanical and electrical. They are affixed on pedestals along the fourth-floor parapet of the building and gaze across central campus.
Francis Miller, a Connecticut-based conservator, is on site this week, working from scaffolding that stands four stories high. He and his assistant are cleaning, treating, sealing and repairing the sculptures. The process takes more than two weeks, with a return trip next month to install a replacement piece (mining pick axe) and apply a consolidant to the statues.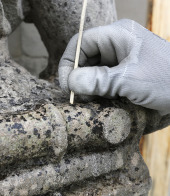 "The limestone surface is soft and very pitted," Miller said. "The consolidant will strengthen the stone and slow down loss."
Miller has worked on several other large campus artworks, including many Christian Petersen sculptures. The artist who created the muses is unknown. Based on the different ways they were carved, Miller suspects there were at least two sculptors.
The project is a collaboration between the College of Engineering and University Museums, with an estimated cost of $40,000.
For more photos, visit the Iowa State Facebook page.