Iowa State's presence in all 99 counties will be showcased at this year's state fair exhibit, themed "Camp Cy: A Statewide Adventure." In partnership with ISU Extension and Outreach, the exhibit will feature interactive stations that demonstrate ways ISU is helping Iowans throughout the state.
"Iowa State is proud of its service to all Iowans, and this year's Camp Cy exhibit captures some of our creative projects that will interest people of all ages," said university marketing director Carole Custer.
Located in the northeast corner of the Varied Industries Building (open 9 a.m. to 9 p.m. daily, Aug. 13-23), visitors will find a campsite with three cardinal and gold tents that house a variety of displays, including:
Forward Learning Experience: Virtual reality roller coaster and 3-D printed replicas of Cy and the campanile
Conservation Station: Soil and water quality activities, including a rainfall simulator
Camp check-in: State map with local, county programming highlights
Featured appearances: 4-H representatives, retired astronaut Clayton Anderson, Insect Zoo, Monarch Conservation Consortium, and Plant and Insect Diagnostic Clinic
Four CyclONE City Cy statues will be situated throughout the exhibit, along with athletics trophies (Big 12 men's basketball championship, Cy-Hawk football, Iowa Corn Cy-Hawk Series) and replicated campsite items -- all perfect spots for Cyclone fans to take photos and selfies.
Thousands of football posters will be distributed and temporary tattoos will be applied, and daily prize drawings -- including gift cards and tickets to athletics events -- will be awarded. Expect guest appearances by Cy the mascot (Aug. 16 and 20), women's basketball head coach Bill Fennelly (Aug. 19), wrestling head coach Kevin Jackson (Aug. 22), President Steven Leath and other ISU administrators.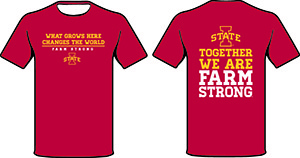 The University Book Store will sell Cyclone merchandise and apparel in the university's exhibit space. Three exclusive state fair T-shirt designs (Farm Strong, Home Grown Cyclone and Cy Tour Guide) will be available for $10 each.
More extension
As part of the Camp Cy theme, ISU Extension and Outreach will offer fairgoers a chance to send Cy a letter from camp. The "postcard" will include a list of other venues at the fair that feature ISU experts, projects and exhibits. Postcards can be placed in a mailbox in the 4-H Exhibit Building, where entrants will be eligible for daily prize drawings and the Apple watch grand prize.
Thousands of statewide youth will participate in the fair with 4-H exhibits, presentations and competitions. An estimated 2,800 4-Hers will bring 3,900 projects and performances to be judged in the 4-H Exhibits Building. Another 2,000 youth will show a combined 6,000 entries -- livestock animals and horticulture -- in the agricultural buildings.
As an alternative to the regularly scheduled live poultry shows cancelled due to the avian flu outbreak earlier this year, an egg cooking contest and poultry "skillathon" will be held on Aug. 13.
Food finder
The State Fair Food Finder mobile app and website is back, powered by a partnership with ISU extension and The Des Moines Register. The location-based app can find food stands (along with nutritional information) and search the fair's schedule of events (including a list of healthy activities).
Animal care
The College of Veterinary Medicine will be well represented at the state fair. Dr. Kelly Still-Brooks, a clinician in veterinary diagnostic and production animal medicine, will serve as the fair's veterinarian. Assistant professor Dr. Troy Brick and four ISU vet med students will assist her in overseeing the health of all exhibit and special event animals.
An estimated 20 ISU Vet Med volunteers -- a mix of students and professors -- plan to take part in the state fair's youth vet camps. The free program provides kids, ages 10 to 18, with a hands-on experience with small animal health and welfare.