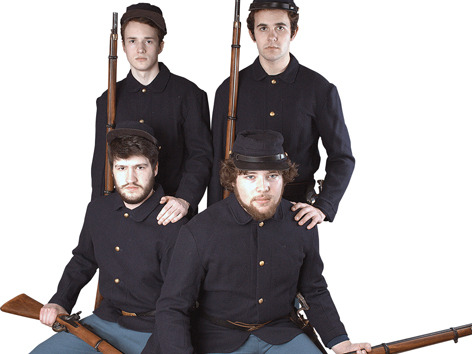 ISU Theatre will reprise its original production of Love and Honor: Iowa in the Civil War for two weekends, Feb. 27-March 1 and March 6-8, in Fisher Theater.
Written and directed by professor Jane Cox, the play is a story about four Iowans who volunteer to fight for the Union Army during the Civil War. Although it's a fictional account, Cox based the play on her research of historical documents, including diaries and letters from ISU's University Archives. Cox said she has reworked part of the script, so expect this year's production to be a little different than the original that debuted in 2008 as part of Iowa State's sesquicentennial celebration.
The soldiers -- John (sophomore Michael Clinkscales), James (sophomore Brady Carnahan), Tom (junior Alexander Criswell) and Alex (sophomore Keegon Jackson) -- have different reasons for joining the fight, and all wind up at the bloody Battle of Shiloh in Tennessee. Their stories also include the impact on the women they left behind -- a mother, wife and fiancee -- played by sophomore Mycallah Salvador (Margaret), freshman Rachel Henderson (Sarah) and junior Emily Linch (Jeannie).
Show times are 7:30 p.m. on Fridays and Saturdays, and 2 p.m. on Sundays. Tickets are $18 ($16 for seniors and $11 for students), available at the Iowa State Center box office or through Ticketmaster.