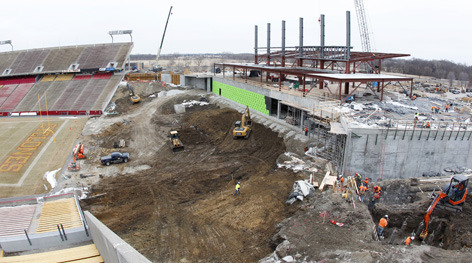 Despite a wet October and a colder than normal two-week period this winter, construction on a new south end for the football stadium is "generally on schedule," according to senior associate athletics director for facilities Chris Jorgensen. Building supply issues – particularly steel and concrete – that plague other sports facility projects in the upper Midwest haven't affected the Jack Trice Stadium project, he said.
The expansion will "bowl in" the south end of the stadium, creating a new south entrance and continuous permanent seating on the lower level, and adding upper-level seating in the south corners. It replaces the former south bleachers and two hillside areas with 13,000 permanent seats, 3,000 of which will be chair-back seats in the End Zone Club. Club ticket holders may use a two-story, indoor club facility, the top level of which will overlook the field. The project also includes a new south video board and an electronic ribbon board around the stadium.
Jorgensen said the target completion date is mid-August, though it's likely that small projects will continue through the Cyclone football team's home opener on Saturday, Sept. 5. Plans at this time are to hold the April 11 spring intrasquad game in the stadium.
When construction is completed, the stadium seating capacity will exceed 61,000, up from nearly 57,000 seats previously.
Jorgensen said that a companion project to replace what now is mostly parking lots separating the stadium and Reiman Gardens, still is in the design phase. The two pieces combined will cost an estimated $60 million, to be covered by a $30 million bond sale scheduled for next month and $30 million in athletics department private gifts and annual revenues.