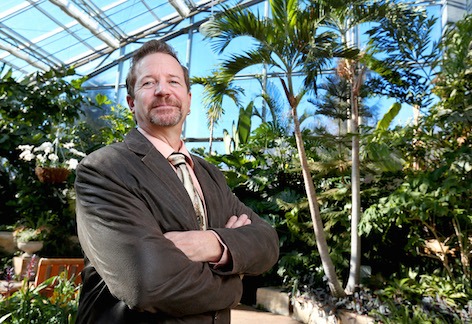 Ed Lyon became director of Reiman Gardens on Jan. 20. He is responsible for leading the operation and continued development of Reiman Gardens' 17-acre site, representing the gardens within the university and externally, and planning and implementing the campus entry project in conjunction with the Jack Trice Stadium expansion.
Lyon, who has more than 20 years experience in the garden industry, comes to Iowa State from Allen Centennial Gardens at the University of Wisconsin, Madison. He earned a bachelor's degree in agricultural economics/animal science from Cornell University, Ithaca, New York, and a master's degree in horticulture from Wisconsin.
Lyon's office is in the visitors center at Reiman Gardens. Contact him by phone at 294-2710 or by email at eslyon@iastate.edu. A public reception welcoming Lyon to Iowa State is planned on Jan. 30 (2-4 p.m., Speer Room, Reiman Gardens). All are welcome to attend. Photo by Christopher Gannon.