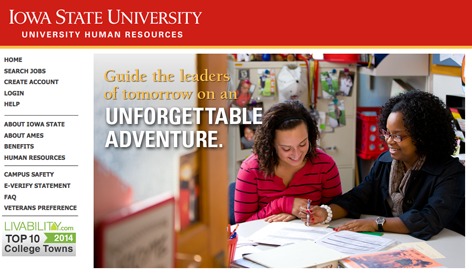 The launch of PeopleAdmin 7, Iowa State's online classification and hiring system, is less than two weeks away. Here's what you need to know prior to the Sept. 9 go-live date.
New look for applicant portal
PeopleAdmin 7 features a new, user-friendly applicant portal (see image above) that makes it easier for applicants to apply for positions at Iowa State and track the progress of their applications through the recruiting process.
On Sept. 9, the new portal will appear at iastatejobs.com, where all job postings can be accessed. Following the launch, the original portal will remain in service for jobs that were posted before Sept. 9. The original system will be retired in July 2015.
"The new portal advances ISU's efforts to attract outstanding faculty and staff," said Julie Nuter, associate vice president, University Human Resources. "We have arrived at the home stretch with broad campus involvement – the PeopleAdmin 7 project team, Iowa State's human resources liaisons, information technology services, the provost's office, university marketing and especially everyone who has received training to date."
Help line and training ensure a smooth transition
Nuter said it's very important for faculty and staff who will regularly use the new system for recruiting and hiring to complete training before the launch date.
Training for faculty and staff is available through face-to-face sessions or online tutorials. Visit the "New Position, Recruiting and Hiring Tools" page for more information about PeopleAdmin training options.
Beginning Sept. 1, the page will include a PeopleAdmin 7 help line. 1. A cadre of HR experts will staff the help line (8 a.m.-5 p.m. Monday-Friday), answering questions related to position management, applicant tracking and user access. Email after-hours questions to UHR at employment@iastate.edu.
Users also can subscribe to PA (PeopleAdmin) News and stay up to date on new position, recruiting and hiring tools.
Contract transfer process changing for Merit staff
Employees covered by the state's collective bargaining agreement with AFSCME will receive a letter next week that outlines changes to the contract transfer process in PeopleAdmin 7. UHR and local AFSCME representatives worked together to streamline the request process for contract transfers.
Beginning Sept. 9, employees wishing to request contract transfers will do so within the online application. They'll no longer need to complete a paper request form.
For more information about the PeopleAdmin upgrade, contact Kristi Darr, 4-3753 or kdarr@iastate.edu.