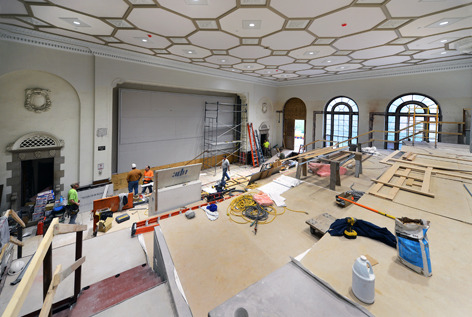 Work continues in MacKay Hall on a $3.23 million renovation, which began in May 2013 and is slated for completion this July. The project includes the transformation of the Catherine J. MacKay Auditorium (above) into a state-of-the-art classroom with new stadium seating for 271 people, rotational chairs for better student interaction, a large projector screen in the stage area and four monitors mounted throughout the space. The vestibule outside the auditorium is shedding its 1970s decor in favor of original 1926 details, including dark-stained wood panels and flooring, and a white ceiling.
A new welcome center (below) for College of Human Sciences students is nestled behind the auditorium and features wood-paneled doors originally used as a stage partition in the auditorium. The space houses two offices and a reception area for orientation sessions and other presentations. The room's capacity is about 40.
As part of the renovation project, old stadium classroom seating in 213 MacKay has been replaced with chairs on wheels for group discussions. Two large monitors and four smaller ones are placed throughout the room, and white boards are affixed to the walls. The room accommodates 36 students. Photos by Bob Elbert.