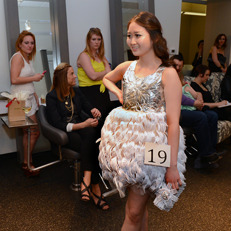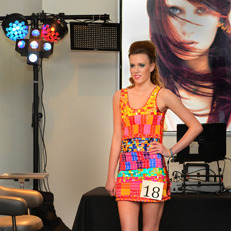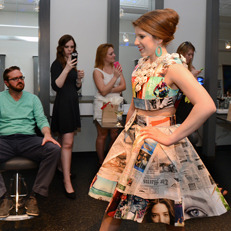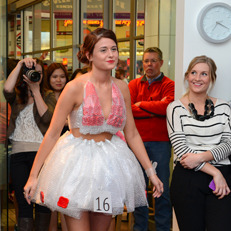 Students in Elena Karpova's "Creative Thinking and Problem Solving" spring class took on a big problem last month: garbage. In 20 teams, Karpova's 49 students identified an environmental problem caused by consumers (think junk mail, picnic ware or plastic shopping bags) and designed a garment to showcase the problem. Their April 25 "Trashion Show," a unique observance of Earth Month, featured one-of-a-kind skirts, dresses and accessories.
A three-judge panel reviewed all 20 designs and awarded distinctions to three of them (pictured clockwise from top left):
Best Impact: A dress made from 1,000 Starburst wrappers (highlights littering, especially of candy wrappers), designed by Tory Pfannkuch and Chelsea Chapko
Best in Show: A dress with a bodice of aluminum foil and skirt of 800 plastic forks (highlights waste associated with convenience eating), designed by Sowoon Park and Jiyoon Hwang
Best Couture: A dress made of newspaper and magazine pages (to encourage readers to look for a paperless option), designed by Mallory Roseen
Also pictured (lower left) is an ensemble created from plastic bubble wrap and the (red) bottoms of plastic cups by student designers Ashton Pederson, Jessica Jensen and Marissa Gibson.
The Trashion Show was hosted by the Aveda salon, North Grand Mall, whose outreach specialist is a College of Human Sciences alumna. Photos by Bob Elbert.